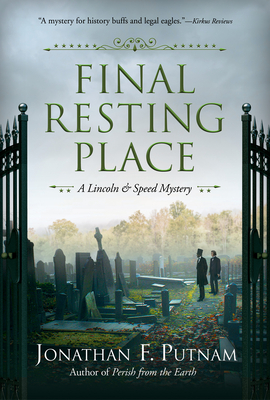 Final Resting Place
A Lincoln and Speed Mystery
Hardcover

* Individual store prices may vary.
Other Editions of This Title:
Digital Audiobook (7/9/2018)
Paperback (2/12/2019)
Compact Disc (7/10/2018)
MP3 CD (7/10/2018)
Compact Disc (7/10/2018)
Description
Twenty-nine-year-old Abraham Lincoln has spent his entire adult life running from his past—from the poverty of the dirt-floor log cabin where he was raised, from the dominion of his uneducated father, and from a failed early courtship. But now, Lincoln's past is racing back to haunt him.

It is the summer of 1838, and Springfield is embroiled in a tumultuous, violent political season. All of Springfield's elite have gathered at a grand party to celebrate the Fourth of July. Spirits are high—until a prominent local politician is assassinated in the midst of fireworks. When his political rival is arrested, young lawyer Lincoln and his best friend Joshua Speed are back on the case to investigate.

It's no ordinary trial, however, as Lincoln and Speed soon face unwelcome complications. Lincoln's ne'er-do-well father and stepbrother appear in town and threaten Lincoln's good name and political future. And before long, anonymous letters start appearing in the local newspapers, with ominous threats that make Lincoln fear for himself and his loved ones.

As the day of reckoning arrives, the threats against Lincoln continue to escalate. Lincoln and Speed must identify the culprit and fast, before Lincoln loses the race to outrun his past in Final Resting Place, the brilliant third installment of Jonathan F. Putnam's acclaimed Lincoln and Speed mysteries.
Praise For Final Resting Place: A Lincoln and Speed Mystery…
Praise for Final Resting Place:
"Putnam's third period mystery is gracefully written, nicely balancing sleuthing with courtroom drama, and should especially please history buffs."
—Kirkus Reviews

"Putnam, a lawyer and amateur Lincoln scholar, wraps everything up neatly in this historical mystery, based on solid research, in a briskly moving narrative that's factually accurate down to the quirks in Douglas' courtroom behavior."
—Booklist

"Jonathan F. Putnam continues to display his extensive knowledge of the courtroom and Lincoln's life with deft, atmospheric flair. Everything from the dialogue to the setting to the cast of characters is rich with historical color and accuracy."
—Criminal Element

"Putnam's competence as a Lincoln scholar is well in evidence. For those who like novels involving actual persons, this novel is highly recommended."
—NY Journal of Books

Praise for Perish from the Earth:
"An entertaining and well-researched murder mystery...both a mystery and a legal thriller, with well-paced courtroom scenes as well as intrigue...Putnam's notes provide context for the historical figures who appear as characters and demonstrate his expertise as a Lincoln scholar."
—Booklist

"Enough historical accuracy to satisfy a Civil War re-enactor and enough courtroom proceedings to reveal the author as the Harvard-trained attorney that he is. A mystery for history buffs and legal eagles."
—Kirkus

"Putnam successfully integrates the politics of 1837 America into his solid second mystery...The dramatic denouement, which features Lincoln's vaunted courtroom skills, provides a satisfying resolution."
—Publishers Weekly

"One of the best books I have read in a long time. I can't recommend it highly enough. If you are either a mystery buff or a history buff, this book is for you. If you happen to be both, I'm certain you will be captivated by its raw and honest look at this part of American history and by the beauty of the language used to portray the people, both real and imaginary."
—MyShelf.com
Crooked Lane Books, 9781683315988, 288pp.
Publication Date: July 10, 2018
About the Author
Jonathan F. Putnam is a writer and attorney. A graduate of Harvard College and Harvard Law School, he is a nationally renowned trial lawyer and avid amateur Lincoln scholar. He currently lives with his family in London, England. This is his third Lincoln and Speed mystery.