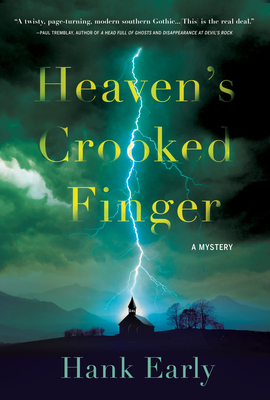 Heaven's Crooked Finger
An Earl Marcus Mystery
Paperback

* Individual store prices may vary.
Other Editions of This Title:
Hardcover (11/7/2017)
Description
2018 Next Generation Indie Book Award Winner!

Eerie, intense, and masterfully-crafted, Hank Early's gripping series debut Heaven's Crooked Finger transports readers to a secretive community in the Georgia mountains.

Earl Marcus thought he had left the mountains of Georgia behind forever, and with them, the painful memories of a childhood spent under the fundamentalist rule of his father RJ's church—a church built on fear, penance, and the twisting, writhing mass of snakes. But then an ominous photo of RJ is delivered to Earl's home. The photograph is dated long after his father's burial, and there's no doubt that the man in the picture is very much alive.

As Earl returns to Church of the Holy Flame searching for the truth, faithful followers insist that his father has risen to a holy place high in the mountains. Nobody will talk about the teenage girls who go missing, only to return with strange tattoo-like marks on their skin. Rumors swirl about an old well that sits atop one of the mountains, a place of unimaginable power and secrets. Earl doesn't know what to believe, but he has long been haunted by his father, forever lurking in the shadows of his life. Desperate to leave his sinful Holy Flame childhood in the past, Earl digs up deeply buried secrets to discover the truth before time runs out and he's the one put underground in Heaven's Crooked Finger, Hank Early's thrilling series debut.
Praise For Heaven's Crooked Finger: An Earl Marcus Mystery…
Praise for Heaven's Crooked Finger:
SIBA Fall 2017 Okra Pick
2017 Foreward INDIES Award Finalist

"You won't put down this powerful and painful tale...a gripping mystery."
—Kirkus starred review

"Can the dead come back to life?...Heaven's Crooked Finger has action, suspense and a cracking good mystery."
—Phillip Margolin, New York Times bestselling author of Violent Crimes and The Third Victim

"A twisty, page-turning, modern southern Gothic that packs an emotional wallop...The real deal."
—Paul Tremblay, author of A Head Full of Ghosts and Disappearance at Devil's Rock

"From the opening pages of this book, you know you're in the hands of a rare talent. Hank Early has penned a fast-paced, thought provoking, and thoroughly satisfying southern mystery. Heaven's Crooked Finger is a truly astonishing debut, and one of the best rural mysteries I've ever read."
—John Rector, Wall Street Journal bestselling author of The Ridge, Already Gone, and The Cold Kiss

"Atmospheric...Readers with a taste for raw, intense mysteries will be rewarded."
—Publishers Weekly

"Gritty and riveting...Distinct pacing, a redolent sense of place, and striking characters. The mystery is suspenseful and action packed. Fans of James Lee Burke and John Hart will want to take note."
—Library Journal

"A skillfully crafted southern gothic page-turner. Ophidiophobes, beware."
—Booklist

"Powerful and profound... Heaven's Crooked Finger is an outstanding work of literary suspense, a tale as devastatingly beautiful as it is powerfully intelligent...Remarkable."
—NY Journal of Books

"With Heaven's Crooked Finger, Hank Early has not only written one of the very best novels I've read this year, but also introduced me to my favorite new mystery detective, Earl Marcus. This book is an expert mixture of action, suspense, and compelling characterization that easily establishes Early as a literary force of nature. From the first page, the tension of the Marcus family's impact on their small town, and the threat that poses to Earl, builds like a charge in the atmosphere, present and deadly threatening, leading to an ending that is electric. Heaven's Crooked Finger is going to be on a lot of Best of 2017 lists."
—Bracken MacLeod, Bram Stoker Award-nominated author of Stranded and Come to Dust

"A first-class mystery—gripping, atmospheric, and tense from beginning to end. Hank Early's storytelling is truly outstanding."
—Andrew Grant, author of False Friend

"The novel's rapid pace hurries toward a conclusion that is surprisingly unexpected...A solid foundation for a new crime series."
—Foreword Reviews

"Riveting...A humdinger of a story told with a fresh voice and more than a lick of understanding."
—Bookpage

"Hank Early's Heaven's Crooked Finger grabs you from the first page and doesn't let go. Evocative place writing, memorable-as-hell characters, sentences that hum, great pacing, and a strutting brutality. Early's a writer of great power."
—William Boyle, author of Gravesend

"A Southern Gothic detective story that will long leave readers catching their breath. This one leaves a mark. Early writes like kudzu: The seed drops in the first chapters. The reader should run, lest they soon find themselves entangled, unable to wrest themselves free."
—Eryk Pruitt, author of Dirtbags, Hashtag, and What We Reckon
Crooked Lane Books, 9781683316060, 336pp.
Publication Date: June 12, 2018
About the Author
Hank Early is a middle school teacher and writer located in Central Alabama. He enjoys good beer, strong coffee, and wild storms. He's married and has two kids who are constantly giving him ideas for his next novel. This is his first Earl Marcus mystery.