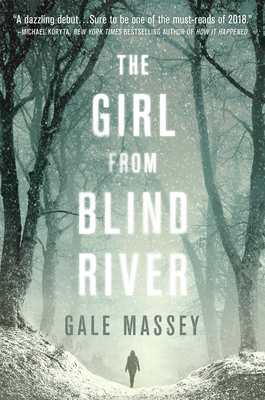 The Girl From Blind River (Hardcover)
A Novel
Crooked Lane Books, 9781683316404, 336pp.
Publication Date: July 10, 2018
Other Editions of This Title:
Compact Disc (7/10/2018)
Compact Disc (7/10/2018)
MP3 CD (7/10/2018)
* Individual store prices may vary.
Description
A gritty tale of how far we'll go to protect the ones we love for fans of Daniel Woodrell's Winter's Bone from Gale Massey, a talented new name in crime fiction.

Everyone says the Elders family are nothing but cheats, thieves, and convicts—a fact nineteen-year old Jamie Elders has been trying desperately to escape. She may have the natural talent of a poker savant, but her dreams of going pro and getting the hell out of the tiny town of Blind River, New York are going nowhere fast. Especially once she lands in a huge pile of debt to her uncle Loyal.

At Loyal's beck and call until her debt is repaid, Jamie can't easily walk away—not with her younger brother Toby left at his mercy. So when Loyal demands Jamie's help cleaning up a mess late one night, she has no choice but to agree. But disposing of a dead man and covering up his connection to the town's most powerful judge goes beyond family duty. When it comes out that the victim was a beloved athlete and Loyal pins the murder on Toby, only Jamie can save him. But with a dogged detective on her trail and her own future at stake, she'll have to decide: embrace her inner criminal, or defy it—and face the consequences.
About the Author
Gale Massey was born on the west coast of Florida. A master's level graduate of Georgia State University, she has received scholarships and fellowships at The Sewanee Writers' Conference and Writers in Paradise. Her flash fiction story The Train Runner was nominated for a Pushcart. She lives in St. Petersburg, FL with her family. The Girl From Blind River is her debut novel.
Praise For The Girl From Blind River: A Novel…
Praise for The Girl From Blind River:
"Massey's immersive tale of a young woman navigating a hardscrabble life will drop readers straight into Blind River, a town filled with bad choices and even worse characters. …Often-piercing language is a bonus, as are the nail-biting poker games whose play-by-plays are drawn out to satisfying effect. Readers who enjoy Wiley Cash and Willy Vlautin should try this notable debut."
—Booklist

"Massey's debut novel manages to be both poetic and propulsive, unfolding a familiar story of the long odds against redemption posed by family dysfunction with power and grace."
—Kirkus Reviews

"Gale Massey peppers the text with authentic, chilling details: the texture of a marked card, the exhaustion of digging a hidden grave. From corpses to counting cards, Blind River plays it close and smooth."
—Foreward Reviews' starred review

"Massey's prose is paired down, vivid, and at times lyrical, reminiscent of Daniel Woodrell's Winter's Bone, and her pacing is breathless…In a family as toxic as the Elders, Jamie's intelligence, grit, and compassion for her gay brother suggest what a family should be, not a hostile patriarchy, but a place of acceptance and freedom."
—Lambda Literary

"Crisply paced and stacked with surprises, Massey's The Girl From Blind River is an impressive debut."
—The Tampa Bay Times

"The author's authoritative, powerful prose and knack for dialogue—especially when dealing with emotions and violence—are more indicative of a seasoned veteran rather than a debut author. This is great news because it means there is much more to come from Massey, and if The Girl from Blind River is any indication, it will be great."
—Criminal Element

"Occasionally, debuts come along that are so tightly-plotted and strongly-written that it is hard to believe they are first novels…but in an embarrassment of riches, Gale Massey manages to provide so much more. This is a writer in charge of every word and phrase, able to seduce readers, keeping them under her spell for the duration."
—BOLOBooks

"A fast-paced, impressive debut…Massey does a terrific job of amping up the tension."
—Midwest Book Review

"With this dazzling debut, Gale Massey arrives as a rare talent, a writer's writer who should be read by the masses. The Girl From Blind River is a swift and thrilling story anchored by compelling characters and scored by graceful prose. The novel is both timeless and timely, and is sure to be one of the must-reads of 2018."
—Michael Koryta, New York Times bestselling author

"A knockout debut novel…Lyrical and unflinching, The Girl from Blind River grabs you on page one and never lets go."
—Ann Hood, bestselling author of The Book That Matters Most

"Smart, sharp and fast, Gale Massey's thriller ratchets up the action, making the reader lean forward till the turn of her last card."
— Stewart O'Nan, award-winning author of The Odds

"A riveting page turner…Jamie Elders—all odds against her—is a heroine you will never forget."
— Jill McCorkle, New York Times bestselling author of Life After Life

"The Girl From Blind River is a part coming-of-age, part redemption story with a razor sharp edge…The plot is twisted and the prose nuanced and graceful, but it's the characters that stick with you…Stellar debut!"
—Kate Moretti, New York Times bestselling author of The Blackbird Season

"One of the most impressive debut novels that has ever come my way. Taut and vivid, it is beautifully textured and it announces the arrival of a very special writer whose work I expect to read for many years…A gem."
—Steve Yarbrough, PEN/Faulkner Award-Nominated Author

"A fast-paced, impressive debut. In a gritty, yet poetic voice, Massey introduces us to the unforgettable Jamie Elders, a young woman desperate to escape her past but unwilling to leave it behind. From an exciting new author to watch, this debut is a definite addition to your 2018 must-read list."
—Lori Roy, award-winning author of The Disappearing

"A tale you won't forget."
—Sterling Watson, award-winning author of Suitcase City

"?A? pitch-perfect page turner…Combining the beautiful prose of Daniel Woodrell with Sarah Waters' keen eye for dramatic tension, Massey has delivered a debut novel that will leave you breathless, exhausted, and, as with any great writer, hungry for more."?
??Nick White, author of How to Survive a Summer