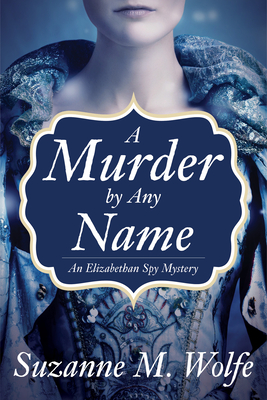 A Murder By Any Name (Hardcover)
An Elizabethan Spy Mystery
Crooked Lane Books, 9781683317142, 336pp.
Publication Date: October 9, 2018
* Individual store prices may vary.
Description
When a brutal murder threatens the sanctity of the Elizabethan court, it's up to a hot-tempered spy to save the day.

The court of Elizabeth I is no stranger to plotting and intrigue, but the royal retinue is thrown into chaos when the Queen's youngest and sweetest lady-in-waiting is murdered, her body left on the high altar of the Chapel Royal in Whitehall Palace. Solving the murder will require the cunning and savvy possessed by only one man. Enter Nicholas Holt, younger brother of the Earl of Blackwell—spy, rake, and owner of the infamous Black Sheep tavern in the seedy district of Bankside. Nick quickly learns that working for the Queen is a mixed blessing. Elizabeth—salty-tongued, vain, and fiercely intelligent—can, with a glance, either reward Nick with a purse of gold or have his head forcibly removed.

When a second lady-in-waiting is slain at Whitehall, the court once again reels with shock and dismay. On the trail of a diabolical killer, Nick and his faithful sidekick—an enormous Irish Wolfhound named Hector—are treading on treacherous ground, and only the killer's head on a platter can keep them in the Queen's good graces.
About the Author
Suzanne M. Wolfe grew up in England and read English Literature at Oxford University. Wolfe is the author of the novels, The Confessions of X, winner of Christianity Today's 2017 Book of the Year Award, and Unveiling. She lives in the Pacific Northwest.
Praise For A Murder By Any Name: An Elizabethan Spy Mystery…
Praise for A Murder By Any Name:
"Captivating...Fans of Fiona Buckley's Ursula Blanchard and Kathy Lynn Emerson's Rosamond Jaffrey will be delighted to add Wolfe to their reading lists."
—Booklist

"[A] promising series launch...Fans of Elizabethan historicals will be satisfied."
—Publishers Weekly

"An excellent series kickoff by Wolfe that cleverly highlights both the mystery and the many ills of Elizabethan times."
—Kirkus Reviews

"In vivid passages, Suzanne Wolfe's novel brings to the reader the light and dark of Elizabethan England, its squalor and splendor, filth and riches, intrigues and delights."
—NY Journal of Books

"A fast-paced read that held my attention strongly throughout...Wolfe crafts a protagonist who is sympathetic as well as empathetic while retaining historical accuracy."
—Historical Novels Review

"A deeply atmospheric and richly textured Elizabethan mystery...I was captivated by Nicholas and Hector as they navigated court treachery and the dark recesses of the lower classes in this compelling Elizabethan mystery."
—Shelley Freydont, New York Times bestselling author

"Wolfe's descriptions are unparalleled, immersing the reader in the time period as they join her wily protagonist on his quest to catch a cold-hearted killer."
—Anna Lee Huber, bestselling author of the Lady Darby mysteries

"I stayed up reading much too late to finish this book! Wonderful Elizabethan atmosphere, well-drawn and unusual characters, action and intrigue and excitement—I felt like I was in the 1570s"
—Amanda Carmack, award-winning author of the Elizabethan mysteries

"Bewitching! Suzanne Wolfe opens the door to Elizabethan life through her masterful creation of the sympathetic spy, Nicholas Holt. An exciting start to a promising new historical mystery series."
—Naomi Hirahara, Edgar Award-winning author of the Mas Arai series

"A classically plotted whodunit set against the background of Elizabethan London and the court of Queen Elizabeth the First, both of them well researched and vividly realized, with a wealth of detail. One can almost smell the reek of the 16th century streets and waterways."
—Fiona Buckley, author of the Ursula Blanchard Elizabethan mysteries