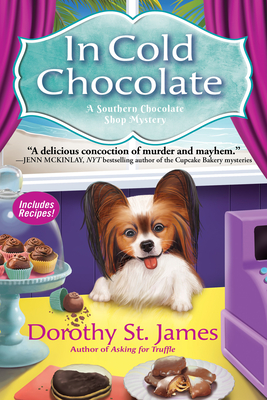 In Cold Chocolate
A Southern Chocolate Shop Mystery
Hardcover

* Individual store prices may vary.
Description
In Dorothy St. James's third delectable Southern Chocolate Shop mystery, a new batch of chocolate and troubles of the heart cause a string of disasters for the Chocolate Box's new owner, Charity Penn.

The vintage seaside town of Camellia Beach, South Carolina seems like the perfect place for romance with its quiet beach and its decadent chocolate shop that serves the world's richest dark chocolates. The Chocolate Box's owner, Charity Penn, falls even further under the island's moonlit spell as she joins Althea Bays and the rest of the turtle watch team to witness a new generation of baby sea turtles hatch and make their way into the wide ocean.

Before the babies arrive, gunshots ring out in the night. Cassidy Jones, the local Casanova, is found dead in the sand with his lover Jody Dalton—the same woman who has vowed to destroy the Chocolate Box—holding the gun. It's an obvious crime of passion, or so everyone believes. But when Jody's young son pleads with Penn to bring his mother back to him, she can't say no. She dives headfirst into a chocolate swirl of truth and lies, and must pick through an assortment of likely (and sometimes unsavory) suspects before it's too late for Penn and for those she loves in Dorothy St. James's third rich installment of the Southern Chocolate Shop mysteries, In Cold Chocolate.
Praise For In Cold Chocolate: A Southern Chocolate Shop Mystery…
Praise for In Cold Chocolate:
"Penn is such a great creation: complicated and flawed while still being relatable and absolutely hilarious. I don't think I've laughed as much while reading a culinary cozy."
—Criminal Element

"A great addition to an outstanding series! This cozy series has everything you could want—great characters, good writing and thrilling mysteries that'll keep you entertained. I highly recommend."
—Night Owl Reviews

Praise for Playing with Bonbon Fire:
"This is a well-written mystery that immediately grabbed my attention and I could not put the book down, quickly becoming a page-turner."
—Dru's Book Musings

"A neat mystery, a touch of romance, and a real feel for the Carolina shagging lifestyle."
—Kirkus Reviews

"Cozy fans will still have fun."
—Publishers Weekly

Praise for Asking for Truffle:
"Compulsively readable...readers will cheer Penn every step of the way."
—Publishers Weekly

"Dorothy St. James has crafted a delicious concoction of murder and mayhem in her debut title Asking for Truffle. The spunky heroine, Penn, makes a refreshingly no nonsense amateur sleuth, working to discover who murdered her longtime friend while taking on the delicious task of learning how to make artisan chocolates with her adorable dog Stella at her side. I enjoyed every bite."
—Jenn McKinlay, NYT and USA Today bestselling author of the Cupcake Bakery mysteries

"Asking for Truffle is a splendid twist on the cozy, offering a complex heroine, a coastal town full of secrets, and surprises around every corner. A heady delight for chocolate lovers and an enticing beginning to a new mystery series. I look forward to many more installments from St. James and her heroine, Penn."
—Bailey Cates, NYT bestselling author of the Magical Bakery mysteries

"Yum! Wear a bib when you read this one! The chocolate descriptions and the recipes will definitely have you drooling. An interesting heroine and a town filled with quirky characters, plus chocolate—what's not to like? Dorothy St. James did a super job."
—JoAnna Carl, national bestselling author of the Chocoholic mysteries

"Asking for Truffle is a story as richly layered as the rare chocolate it features, with interesting and quirky characters readers will love, all wrapped in a lush setting that made me want to stake out a spot in town and stay there. Readers will definitely wish they could visit the Chocolate Box after reading this story."
—Jacklyn Brady, national bestselling author of the Piece of Cake mysteries

"An intriguing premise that will draw you in and keep you guessing, a spunky protagonist turned reluctant chocolatier, and the perfect blend of exotic chocolate makes St. James's new series sure to satisfy your sweet tooth. The mystery of Penn's past looms in this tightly plotted page-turner. Asking for Truffle will leave you hungry for a cup of creamy, rich hot chocolate and wanting to know what's next for Penn and her new found family."
—Ellie Alexander, author of the Bakeshop mysteries

"The first in a new series for St. James features an appealingly reflective heroine and a varied roster of suspects."
—Kirkus Reviews

"Splendid...An easy reading cozy mystery that keeps you hooked from page one with delicious characters and a delightful story."
—Fresh Fiction

"All that's enjoyable about a cozy mystery: quirkiness, danger, feisty pets, humor, and chocolate...An addictive mystery that keeps you up late reading."
—San Francisco Book Review

"I couldn't put the book down...I highly recommend Asking for Truffle as your go-to book for a great September read."
—MyShelf
Crooked Lane Books, 9781683317432, 336pp.
Publication Date: September 11, 2018
About the Author
Dorothy St. James is the author of the White House Gardener mysteries. For the past twenty years she made her home on Folly Beach, an artsy island community in South Carolina with her sculptor husband. Dorothy is a member of Mystery Writers of America (MWA) and the International Thriller Writers (ITW). This is her third Southern Chocolate Shop mystery.
or
Not Currently Available for Direct Purchase