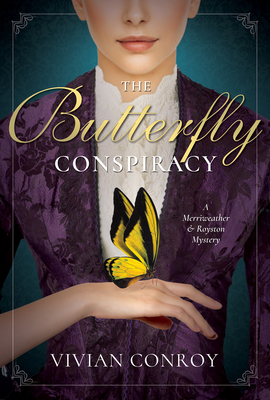 The Butterfly Conspiracy (Hardcover)
A Merriweather and Royston Mystery
Crooked Lane Books, 9781683317654, 304pp.
Publication Date: August 7, 2018
* Individual store prices may vary.
Description
Perfect for fans of Deanna Raybourn's Veronica Speedwell mysteries comes the enchanting series debut from Vivian Conroy, The Butterfly Conspiracy.

In late Victorian times, when new inventions cause both excitement and terror, a mysterious death at a zoological lecture brings together two unlikely allies in a quest through London's upper crust and underbelly to unravel the ingenious murder method and killer behind it.

Miss Merula Merriweather is not like other women her age: instead of hunting for a husband at balls and soirees she spends her time in a conservatory hatching exotic creatures. As the Royal Zoological Society won't accept a woman's accomplishments, she has her uncle Rupert take credit for her achievements. But at a zoological lecture, the guest of honor dies after contact with one of Merula's butterflies, and Merula's uncle is arrested for murder.

In an attempt to safeguard evidence to prove his innocence, Merula almost gets killed but for the timely interference of enigmatic Lord Raven Royston. Viewing natural history as a last resort to regain respectability lost by too many dubious business investments, Raven didn't expect his first lecture to take a murderous turn. Feeling partially responsible because he encouraged Merula to release the gigantic butterfly from the glass case in which it was kept, Raven suggests they solve the puzzle of Lady Sophia's sudden death together by looking closer at her relations with estranged friends, long suffering staff and the man groomed to be her heir, so close to her money and yet unable to touch any of it.

With the police looking for them, and every new discovery raising more questions than answers, especially about the murder method which left no traces of foul play on the body, Merula will have to risk her own life to get at the truth and save her uncle from the gallows in The Butterfly Conspiracy, Vivian Conroy's enchanting series debut.
About the Author
Having spent many afternoons as a teen on the Nile with Poirot or confronting sinister spinsters in sleepy English towns with Miss Marple, it was only natural Vivian Conroy would start writing mysteries of her own. Atmospheric descriptions, well developed characters and clever plotting made several of her cozy mysteries #1 Amazon US and Canada bestsellers in multiple categories. Her new Victorian mystery series features a female zoologist, allowing Vivian to share her fascination with natural history, a field where in the Victorian age costly deceit, questionable experiments and extraordinary theories offer great inspiration for a mystery writer's fertile imagination. Besides writing, Vivian enjoys hiking, collecting stationery and trying new desserts, especially if chocolate is involved.
Praise For The Butterfly Conspiracy: A Merriweather and Royston Mystery…
Praise for The Butterfly Conspiracy:
"Conroy elevates the common Victorian damsel-in-distress setup to a higher level, with intelligent characters, vivid bits of history, and a plot that, while predictable, is light and pleasurable."
—Kirkus Reviews

"A promising start to the Merriweather & Royston series, which effectively combines a cozy feel with a natural-history frame."
—Booklist

"The idea at the story's core—death by butterfly—is fascinating from start to finish."
—NY Journal of Books

"Captivating and entertaining...A tantalizing debut for Conroy's Merriweather and Royston new mystery series."
—Historical Novel Society

"The Butterfly Conspiracy has everything a reader could want, great characters, a smart heroine and most of all a compelling plot that will keep you turning the pages."—Emily Brightwell, New York Times bestselling author

"Vivian Conroy has created a memorable cast of characters certain to become favorites. I'd love to see Merula Merriweather and Deanna Raybourn's Veronica Speedwell meet up for a not-so-genteel tea."
—Tasha Alexander, New York Times bestselling author of the Lady Emily mysteries