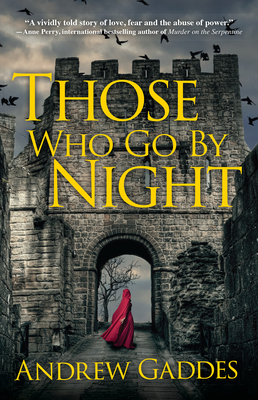 Those Who Go By Night
A Novel
Hardcover

* Individual store prices may vary.
Other Editions of This Title:
Compact Disc (10/1/2019)
MP3 CD (10/1/2019)
Description
A gruesome murder in a sleepy 14th-century English village sets the stage for a taut drama laced with witchcraft, depravity, and long-buried secrets.

England, 1324—a land rife with superstition and gripped by fear of the Church's holy wrath. When a beggar is murdered in the quiet village of Bottesford, his body draped across the altar of St. Mary's church in a perverse pose of pagan sacrifice, the Pope's Inquisitor General places the small hamlet in his sights.

Anxious to stave off the Inquisition, the Bishop of Lincoln dispatches Thomas Lester, son of a disgraced Templar Knight, to investigate—but the Archbishop's fanatical emissary has already arrived to conduct his own inquiry. Thomas's investigation uncovers a viper's nest of perfidious players: the secretive wife of the local lord, a notorious Irishwoman accused of witchcraft, and a depraved assassin who has left a trail of murder and blackmail in his wake. As this sordid drama unfolds, Thomas finds himself falling in love with a woman whose beauty is matched only by her defiance of the Church's fearsome power.

Is the killer poised to strike again? Will the Inquisition bring its hammer down on the hapless hamlet? And could there be a real witch hiding in plain sight? The race is on to conjure the truth.
Praise For Those Who Go By Night: A Novel…
Praise for Those Who Go By Night:
"Excellent...fans of historical mysteries will find this a highly satisfying page-turner."
—Publishers Weekly starred review

"Rooted in the tumultuous history of its unique era, Gaddes' debut novel offers genuine tension and consistent surprises."
—Kirkus

"This is a solid debut historical mystery that rebukes history's treatment of women. Readers of Tania Bayard's In the Presence of Evil or Jeri Westerson's Crispin Guest mysteries will appreciate this new entry that delves into superstition and the power of the church in the 14th century."
—Library Journal

"The sights and sounds are so vividly portrayed that it felt like stepping into a 14th-century English village...There are many secrets to uncover, and Gaddes does a nice job slowly revealing just enough to keep readers turning the pages....A well-crafted historical mystery."
—Historical Novels Review

"Those Who Go By Night is full of interesting characters and makes you want to know what happens to them even after the last page has been turned...If you are looking for a new read, love mysteries, and like a bit of the supernatural mixed in, Those Who Go By Night is a good pick."
—BookReporter

"Those Who Go By Night invites readers into an immersive pilgrimage into the fourteenth century. In elegant and eloquent prose, Gaddes luxuriates in a lush atmosphere of intrigue, mystery and dark secrets."
—Matthew Pearl, New York Times and international bestselling author of the Dante Club series

"A vividly told story of love, fear and the abuse of power. Seems like another world, but look closer...all the human qualities, and the evils are still here!"
—Anne Perry, international bestselling author of the Charlotte and Thomas Pitt mysteries

"A gripping murder mystery...Andrew Gaddes leads us into the dark recesses of the medieval mind, and explores its obsession with the supernatural, superstition and witchcraft. Thoroughly recommended."
—S. D. Sykes, author of the Somershill Manor series

"[Gaddes is] an exciting new talent...Expertly crafted, with an impressive knowledge of the period and background, [Those Who Go By Night] is a breathless journey through the fears, superstitions, witchcraft, intolerance, and dynastic ambitions of the 14th century."
—Peter Tremayne, author of the Sister Fidelma mysteries
Crooked Lane Books, 9781683318408, 304pp.
Publication Date: November 13, 2018
About the Author
Andrew Gaddes grew up in Grantham, England, in the heart of the historic East Midlands. He graduated from Oxford University with a degree in jurisprudence, following which he was admitted as a solicitor of the Supreme Court of England and Wales. After meeting the love of his life when working in Brussels, Belgium, she brought him back to her home state of Pennsylvania where he graduated from the University of Pennsylvania Law School and has since practiced law in and around Philadelphia. He lives in Wayne, Pennsylvania with his wife, Kathy, and their two children, Graham and Sophie.