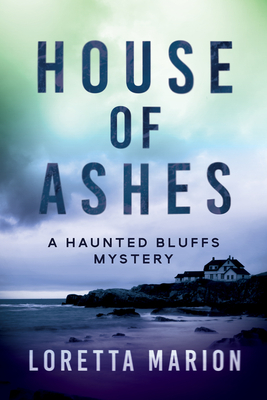 House of Ashes
A Haunted Bluffs Mystery
Hardcover

* Individual store prices may vary.
Description
A family patriarch's dying proclamation, an enigmatic disappearance, and a century-old curse converge in the shadows of a Cape Cod home in this paranormal mystery for fans of Kate Morton 

Thirty-seven-year-old painter Cassandra Mitchell is fourth-generation to live in the majestic Battersea Bluffs, a brooding Queen Anne home originally built by her great-grandparents, Percy and Celeste Mitchell, and still standing despite tragedies that have swept the generations. Local lore has it that there was a curse placed on the family and the house is haunted, though opinions are divided on whether it's by malicious or benevolent spirits. Cassie believes the latter—but now she stands to lose her beloved home to mounting debt and the machinations of her dream-weaving ex-husband.

Salvation seems to arrive when a nomadic young couple wanders onto the property with the promise of companionship and much-needed help—until they vanish without a trace, leaving behind no clue to their identities. Cassie is devastated, but determined to discover what's happened to the young couple...even as digging into their disappearance starts to uncover family secrets of her own. Despite warnings from her childhood friend, now the local Chief of Police—as well as an FBI agent who pushes the boundaries of professionalism—Cassie can't help following the trail of clues (and eerie signals from the old house itself) to unravel the mystery. But can she do so before her family's dark curse destroys everything in its path?
Praise For House of Ashes: A Haunted Bluffs Mystery…
Praise for House of Ashes:
"Enjoyable...a fine cast of well-rounded characters and some intriguing whiffs of ghostly presences."
—Publishers Weekly

"House of Ashes is a haunting, atmospheric tale rich with compelling characters and a compelling mystery. So mesmerizing and immersive it's simply impossible to put down. Mysterious and entertaining, an absolute page turner."
—New York Times bestseller M.J. Rose, author of Tiffany Blues

"Loretta Marion's House of Ashes offers a layered, suspenseful plot, a cast of engaging characters, and a sympathetic heroine dealing with forces both earthly and supernatural...A perfect read for fans of Kate Morton and Susannah Kearsley."
—Rosie Genova, national bestselling author of the Italian Kitchen mysteries

"Loretta Marion has woven a tale of mystery, suspense and family lore that will keep readers guessing until the very end."
—Wendy Webb, bestselling and award-winning author of The End of Temperance Dare

"Loretta Marion laces a powerful sensory magic—from the scent of sugar burning in a long-ago fire that hovers just outside modern-day perception to the power of visual art to bridge the gap between the living and the dead—that makes this haunting story linger long past the final page."
—Heather Young, author of The Lost Girls

House of Ashes provides non-stop thrills and chills, along with gorgeous and haunting atmosphere, endearing characters, and rich history."
—Nina Sankovich, author of Tolstoy and the Purple Chair: My Year of Magical Reading
Crooked Lane Books, 9781683318439, 336pp.
Publication Date: November 13, 2018
About the Author
A true bibliophile, Loretta Marion's affection for the written word began in childhood and followed her like a shadow throughout her life as she crafted Award-winning marketing and advertising copy and educational brochures. When not whipping out words on her laptop, she is traveling, enjoying outdoor pursuits, or is curled up with a delicious new book. Loretta lives in Rhode Island with her husband, Geoffrey, and their beloved Mr. Peabody, a sweet, devoted and amusing "Corgador" (Corgi-Labrador cross).
or
Not Currently Available for Direct Purchase