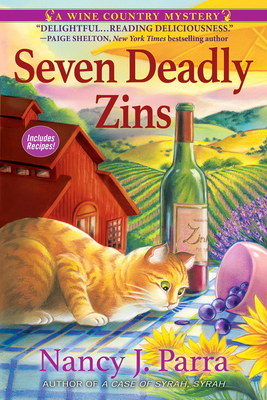 Seven Deadly Zins (Hardcover)
A Sonoma Wine Country Mystery
Crooked Lane Books, 9781683318712, 288pp.
Publication Date: January 8, 2019
* Individual store prices may vary.
Description
The second in Nancy J. Parra's Sonoma Wine Country mysteries is sure to make fans of Ellen Crosby heady with delight. Which suspect drowned an inspector in the Zinfandel? Sonoma tour guide Taylor O'Brian uncorks another intoxicating Sonoma Wine Country mystery. Taylor O'Brian, founder of "Off the Beaten Path," takes small groups on wine country tours of romantic Sonoma County. Friends are everything in the tour business, so Taylor is happy to guide investors to the winery owned by her friend Tim Slade. But vintage turns to vinegar when an FDA inspector is found floating face down in one of Tim's vats of squished grapes. Tim is arrested on suspicion of murder, and Taylor and her friends rally to prove his innocence. But it's not an easy task, especially since the winery proprietor's acidic sense of humor tends to reap a harvest of sour grapes. Taylor's investigation is withering on the vine until she discovers that Tim's girlfriend, Mandy, is having an affair with a self-help guru. But before she has a chance to confront Mandy, Taylor finds Tim standing over the body of the dead guru. This tart turn of events sends a bottle shock through Sonoma. Might Taylor's friend really be a Zin-ful killer? If so, could Taylor be the next victim? The tour guide and her friends come to realize that the true murderer's scent is obscured by an unsavory bouquet of red herrings. A complex mystery designed to delight the palate of wine and cozy mystery enthusiasts alike, Seven Deadly Zins is the second quirky installment in Nancy J. Parra's Sonoma Wine Country mysteries.
About the Author
Nancy J. Parra, also known as Nancy Coco, is the author of the Perfect Proposals mysteries, and the Baker's Treat mysteries. Her writing has been praised as witty and her protagonists plucky by reviewers around the world. She lives in Oregon with her trusty Bichon-Poo. Nancy is a member of Sisters in Crime, Mystery Writers of America, writes for the Killer Character Blog on the eighth of every month and loves to hear from readers.