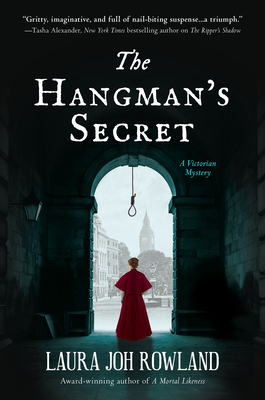 The Hangman's Secret
A Victorian Mystery
Hardcover

* Individual store prices may vary.
Other Editions of This Title:
Digital Audiobook (1/7/2019)
Description
Intrepid photographer Sarah Bain and her motley crew of detectives are back to hunt criminals in the seedy underbelly of Victorian London—but little do they know, the darkness may lurk closer than they first divined

Photographer Sarah Bain and her friends, Lord Hugh Staunton and sometime street urchin Mick O'Reilly, are private detectives with a new gig—photographing crime scenes for London's Daily World newspaper. The Daily World is the latest business venture of their sole client, Sir Gerald Mariner, a fabulously wealthy and powerful banker.
 
One cold, snowy January morning, Sarah, Hugh and Mick are summoned to the goriest crime scene they've ever encountered. A pub owner named Harry Warbrick has been found hanged and decapitated amid evidence of foul play. His murder becomes a sensation for being England's top hangman but was met with the same fate that he inflicted on hundreds of criminals.
 
Sir Gerald announces that the Daily World—meaning Sarah and her friends—will investigate and solve Harry Warbrick's murder before the police do. The contest pits Sarah against the man she loves, Police Constable Barrett. She and her friends discover a connection between Harry Warbrick's murder and the most notorious criminal he ever executed—Amelia Carlisle, the "Baby-Butcher," who murdered hundreds of infants placed in her care.
 
Something happened at Amelia's execution. The Official Secrets Act forbids the seven witnesses present to divulge any information about it. But Harry had a bad habit of leaking tips to the press. Sarah and her friends suspect that one of the other witnesses killed Harry to prevent him from revealing a secret related to the execution. What is the secret, and who hanged the hangman? From award-winning author Laura Joh Rowland, The Hangman's Secret builds suspense about the darkness that lurks within and the deadly secrets that beg to be revealed.
Praise For The Hangman's Secret: A Victorian Mystery…
Praise for The Hangman's Secret:
"With delectably gruesome details, rapid-fire dialogue, an unpredictable plot, and well-developed characters, this top-notch third installment is sure to please fans of Carol McCleary's Nellie Bly and Rhys Bowen's Molly Murphy. Or, to put it another way, think Phryne Fisher meets Constance Kopp in Anne Perry's London."
—Booklist

"Rowland's engaging team of sleuths and a colorful rogues' gallery of suspects make her third Victorian mystery a genuine page-turner."
—Kirkus Reviews

"[Rowland] hits her stride in her third mystery featuring photographer Sarah Bain."
—Publishers Weekly

"Rowland definitely picks up the pace and crispness...A delightful and suspenseful page-turner that is both engaging and keeps readers guessing."
—Historical Novels Review

"The author does a fine job of recreating Victorian London physically and culturally. She captures the various London inhabitants very well."
—Deadly Pleasures Mystery Magazine

Praise for A Mortal Likeness:
"A winning team of outsider heroes and a colorful first-person narrative."
—Kirkus Reviews

"Interesting...Rowland has a certain gift for bringing places in the novel to life. It's easy to immerse myself in her stories, and I feel as if I'm there."
—Tulsa Book Review

Praise for The Ripper's Shadow:
"The whopper of all serial killers, Jack the Ripper, like fire, is to be handled with care, and luckily Rowland knows just how to do it, putting a new twist on old tropes with her witty sleuth, while never sacrificing historical integrity."
—Library Journal starred review

"There are so many fine things about this novel that it's difficult to enumerate them all. The characters are beautifully drawn; the dialogue sparkles; the setting is vividly rendered...This is sure to delight followers of Ripper-themed fiction and all who cherish Victorian-era mysteries."
—Booklist starred review

"Close calls, a surprise ending, and the suggestion of further adventures...Rowland has assembled an appealingly ragtag collection of amateur sleuths and keeps the suspense high."
—Kirkus Reviews

"This is one author who should be given an A+ for a new take on a very old subject. From the brilliant, unique characters to the frightening fog filling London's alleys, this is one tale you will not want to put down."
—Suspense Magazine

"Attention to atmospheric detail, original characterizations, and escalating conflict...This is a fresh, modern take on the streets that produced a murderer 'From Hell.'"
—Strand Magazine

"[Rowland's] wildly diverse cast...brings a special focus on the forgotten and ignored of Victorian society, and provides a fresh, and refreshing, point of view to the otherwise morbid proceedings."
—Mystery Scene Magazine

"Easily one of the best things I've read all year... This is a vivid, enjoyable novel with a likable cast of characters and plenty of intrigue and suspense... I'm keen to see what Sarah Bain gets up to next."
—Ripperologist Magazine

"Great detail is given into the personalities and look of each actual historical victim, therefore easily blending actual history into a believable historical mystery...This book is a good beginning into what looks like a great new series with a female protagonist."
—PCA Mystery & Detective Fiction Reading List, Winter 2017, 4.5 stars

"Laura Joh Rowland reinvents the story of Jack the Ripper in a wholly unexpected way. Gritty, imaginative, and full of nail-biting suspense, The Ripper's Shadow is a triumph."

—Tasha Alexander, NYT bestselling author of A Terrible Beauty

"Please let this be the start of a series. I went into The Ripper's Shadow wondering if I could care about another Jack the Ripper novel, and emerged at the end of it thrilled, off-balance, and astonished at how Laura Joh Rowland was able to bring Victorian England into such vivid life, and a story we all know into new relief. This is a fantastic read."

—Charles Finch, bestselling author of The Inheritance

"Laura Joh Rowland has penned an imaginative, chilling reinterpretation of Jack the Ripper's bloody reign of terror. A dark, seductive peek into the dangerous underbelly of Victorian London."
—C. S. Harris, bestselling author of the Sebastian St. Cyr mysteries

"Tense, pacy and compelling; Laura Joh Rowland commands empathy for the Ripper's victims and sincere affections for her characters."
—Stephen Gallagher, critically-acclaimed author of The Kingdom of Bones and The Bedlam Detective
Crooked Lane Books, 9781683319023, 304pp.
Publication Date: January 8, 2019
About the Author
Laura Joh Rowland is the award-winning author of the samurai detective Sano Ichiro mystery series set in 17th century Japan, as well as a historical suspense series starring Charlotte Bronte. Her work has been published in 21 countries; nominated for the Anthony Award, the Hammett Prize, and the Barnes & Noble Discover Great New Writers Award; won RT Magazine's Reader's Choice Award; and been included in the Wall Street Journal's list of the five best historical mystery novels. Laura holds a Bachelor of Science and a Master of Public Health degree from the University of Michigan. She is a former aerospace scientist, a painter, and a cartoonist. She lives in New York City with her husband Marty. This is her third Victorian mystery.
or
Not Currently Available for Direct Purchase