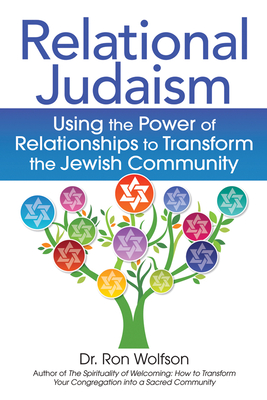 Relational Judaism
Using the Power of Relationships to Transform the Jewish Community
Paperback

* Individual store prices may vary.
Other Editions of This Title:
Hardcover (2/15/2013)
Description
How to transform the model of twentieth-century Jewish institutions into twenty-first-century relational communities offering meaning and purpose, belonging and blessing.
"What really matters is that we care about the people we seek to engage. When we genuinely care about people, we will not only welcome them; we will listen to their stories, we will share ours, and we will join together to build a Jewish community that enriches our lives."
--from the Introduction
Membership in Jewish organizations is down. Day school enrollment has peaked. Federation campaigns are flat. The fastest growing and second largest category of Jews is "Just Jewish." Young Jewish adults are unengaged and aging baby boomers are disengaging. Yet, in the era of Facebook, people crave face-to-face community.
"It's all about relationships." With this simple, but profound idea, noted educator and community revitalization pioneer Dr. Ron Wolfson presents practical strategies and case studies to transform the old model of Jewish institutions into relational communities. He sets out twelve principles of relational engagement to guide Jewish lay leaders, professionals and community members in transforming institutions into inspiring communities whose value-proposition is to engage people and connect them to Judaism and community in meaningful and lasting ways.
Jewish Lights Publishing, 9781683362555, 288pp.
Publication Date: February 15, 2013
About the Author
Dr. Ron Wolfson, visionary educator and inspirational speaker, is Fingerhut Professor of Education at American Jewish University in Los Angeles and a cofounder of Synagogue 3000. He is author of Relational Judaism: Using the Power of Relationships to Transform the Jewish Community; The Seven Questions You're Asked in Heaven: Reviewing and Renewing Your Life on Earth; Be Like God: God's To-Do List for Kids; God's To-Do List: 103 Ways to Be an Angel and Do God's Work on Earth; Hanukkah, Passover and Shabbat, all Federation of Jewish Men's Clubs Art of Jewish Living family guides to spiritual celebrations; The Spirituality of Welcoming: How to Transform Your Congregation into a Sacred Community; A Time to Mourn, a Time to Comfort: A Guide to Jewish Bereavement and Comfort and, with Rabbi Lawrence A. Hoffman, What You Will See Inside a Synagogue (all Jewish Lights), a book for children ages 6 and up. He contributed to May God Remember: Memory and Memorializing in Judaism-Yizkor, Who by Fire, Who by Water-Un'taneh Tokef, All These Vows-Kol Nidre and We Have Sinned: Sin and Confession in Judaism-Ashamnu and Al Chet (all Jewish Lights).