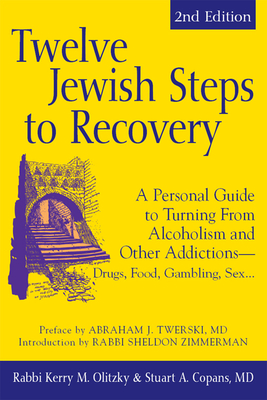 Twelve Jewish Steps to Recovery (2nd Edition)
A Personal Guide to Turning from Alcoholism and Other Addictions--Drugs, Food, Gambling, Sex...
Hardcover

* Individual store prices may vary.
Other Editions of This Title:
Paperback (10/26/2009)
Description
This book is not just for Jewish people. It's for all people who would gain insight-- and strength to heal--from Jewish tradition. - All people who are in trouble with alcohol, drugs, or other addictions--food, gambling, and sex - Anyone seeking an understanding of the Twelve Steps from a Jewish perspective--regardless of religious background or affiliation - Alcoholics and addicts in recovery - Codependents - Adult children of alcoholics - Specialists in recovery and treatment An updated and expanded edition of a recovery classic. A rabbi, a psychiatrist, and many recovering Jewish people share their understanding of the Twelve Jewish Steps of recovery from addiction of all kinds based on conversations with each other--and with God. They present a Jewish perspective on the Twelve Steps and offer consolation, inspiration, and motivation for recovery--for people of all faiths and backgrounds--by drawing on traditional and contemporary Jewish sources and by sharing what recovering people say about their experiences. They explore why some Jews are uncomfortable with the Twelve Steps, as well as how the Jewish understanding of the Twelve Steps differs from the Christian understanding of it.
Jewish Lights Publishing, 9781683364719, 148pp.
Publication Date: October 1, 2009