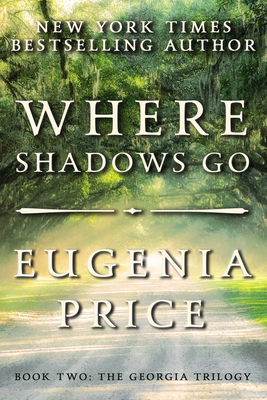 Where Shadows Go (Georgia Trilogy #2)
Paperback

* Individual store prices may vary.
Other Editions of This Title:
Hardcover (11/21/2017)
Description
A new edition of Book 2 in the best selling Georgia Trilogy, presented by Turner Publishing
For more than twenty-eight years, Eugenia Price, America's first lady of storytelling, has enchanted millions of readers worldwide with her gripping and evocative historical sagas. Now, with Where Shadows Go, the sequel to her bestselling novel Bright Captivity, Ms. Price re-creates life on a nineteenth-century plantation for her most dramatic and resonant novel yet.
After giving up a career as a British Royal Marine, John Fraser agrees to his wife Anne's fondest wish: that they return from London to Cannon's Point, her family's plantation on St. Simons Island, Georgia. John learns about coastal planting from Anne's father, Jock Couper, and her brother, James Hamilton, both world-renowned for their agricultural expertise. From day one it's a struggle for John, for he must not only master the techniques of planting and harvesting, but he must-contrary to his deepest beliefs-become a slave owner. Anne, who grew up surrounded by slaves, comfortably resumes her way of life. As John works hard at settling into his new lifestyle, he and Anne begin to raise a family.
Enter the famous English actress Fanny Kemble Butler, who decides to pay a visit. She makes quite a splash on St. Simons, with her sophisticated ways, her outspoken opinions on the evil of slavery, and her stylish riding costumes. With the dynamic and fiercely abolitionist Fanny to influence her, Anne slowly starts to realize how immoral the Southern institution of slavery is. Reluctant to give up her familiar way of life, she is nonetheless forced to begin to rethink her beliefs-especially when it comes to Eve, her personal slave and best friend. For when tragedy strikes the Fraser family, it is Eve who provides Anne with the comfort and spiritual guidance that enable her to live through her life-shattering ordeal.
Filled with characters drawn from history, lore, and Ms. Price's own vivid imagination, Where Shadows Go is a powerful story of love, courage, and friendship that is sure to capture the hearts and minds of new readers and devoted fans alike.
Turner, 9781683367482, 622pp.
Publication Date: November 21, 2017
About the Author
Eugenia Price, 79, Romance Novelist, DiesBy Robert McG. Thomas Jr., May 30, 1996, The New York TimesEugenia Price, who turned a chance visit to coastal Georgia into a career as the South's most popular writer of antebellum romantic fiction, died on Tuesday at a hospital in Brunswick, Ga., not far from her home in St. Simons, the island she made famous through a series of novels. She was 79.Her companion, Joyce Blackburn, said the cause was congestive heart failure.Her hoop-skirted heroines tended to be too unremittingly beautiful, her handsome heroes a shade too dashing and their problems a bit too easily solved for Ms. Price to have won serious literary acclaim. But then again, how many acclaimed authors sell more than 40 million books in 18 languages?That Ms. Price did just that was a tribute both to her ability as a storyteller and her knack for recreating a bygone era with such compelling and authentic historic detail that, according to the St. Simons's Chamber of Commerce, a substantial majority of the thousands of tourists who visit the island each year come there specifically to scout out the houses, marshes and other locales she used in her novels, not to mention the headstones of the actual people she brought back to life as fictional characters.Ms. Price, a dentist's daughter from Charleston, W.Va., was a precocious student who entered Ohio University at 16 and later studied dentistry at Northwestern University before dropping out of school to pursue a writing career.Those familiar with the intensely romantic themes of her fiction would not be surprised that she began her career writing soap operas, initially in Chicago and later in New York and Cincinnati, the headquarters of Procter & Gamble.An intense conversion to Christianity in the late 1940's altered the course of her life and of her writing. Abandoning soap operas, she began turning out inspirational books -- among them Discoveries, Beloved World, and The Eugenia Price Treasury of Faith -- that won her a wide following long before she turned to fiction.Indeed, it was while on a tour in 1960 to promote one of her two dozen inspirational titles that she and Ms. Blackburn, who had been living in Chicago, happened to stop off in St. Simons and were so enchanted by the beauty and ambiance of the place that they decided they never wanted to leave.It was a measure of their immediate and intense devotion to the island that the two women bought cemetery plots there before they built the house they named Dodge after the real St. Simons clergyman who, with his two wives, became the focus of Ms. Price's first novels, Lighthouse, New Moon Rising, and Beloved Invader.Those books were such a succcess that she wrote a Florida Trilogy and a Savannah Quartet before a turning out a final Georgia Trilogy, whose return to the familiar St. Simons settings helped propel the first book of the final series, Bright Captivity (1991), to The New York Times best-seller list. The third, Beauty from Ashes (1995), was also a best seller. Her last book, The Waiting Time, is to be published next year by Doubleday.Ms. Blackburn, a writer who subsumed her own career to serve as Ms. Price's live-in editor, is her only survivor.