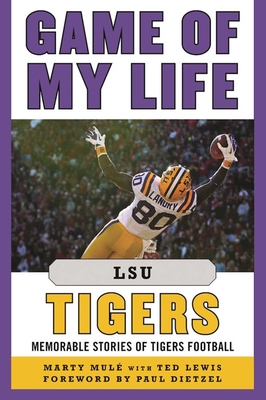 Game of My Life Lsu Tigers (Hardcover)
Memorable Stories of Tigers Football
Sports Publishing LLC, 9781683580331, 296pp.
Publication Date: August 1, 2017
Description
A continuing and ongoing drama, LSU football has been marked by a string of improbable victories and sometimes valiant defeats. Game of My Life LSU Tigers is the chronicle of more than 35 of the greatest players as they tell the story of the game that meant it all. This book features the vivid and poignant single-game stories from three dozen of the most remembered Tigers games of the past eight decades. Readers will relive the fingertip catches, the bone-crunching hits, and the epic touchdowns through the eyes--and from the memories--of the LSU players themselves. The words of Tigers such as Jim Taylor, Billy Cannon, Tommy Hodson, Carlos Carson, Matt Mauck, Rohan Davey, JaMarcus Russell, Marcus Spears, Jarvis Landry, and Leonard Fournette are all part of this storied collection that has become a must-have for any true Tigers fan and Bayou football lover. From the words of Tigers coaching legend Paul Dietzel, "This is really like a Tiger time machine, going back to LSU's greatest football moments with the people who lived them, then and now."

About the Author
Marty Mule was a national award-winning sportswriter for more than 30 years at the New Orleans Times-Picayune. He continued to cover sports, including LSU athletics, as a freelance sportswriter. The author of several Louisiana sports books passed away in March 2016. Ted Lewis is a longtime fixture in Louisiana sports journalism, having worked at the Monroe News-Star, New Orleans Times-Picayune, and Baton Rouge Advocate from 1973 through 2016. He is a past president of the Louisiana Sports Writers Association, a member of the Louisiana Sports Hall of Fame Foundation and selection committee, and a recipient of the Hall of Fame's Distinguished Service Award in Sports Journalism.
Advertisement