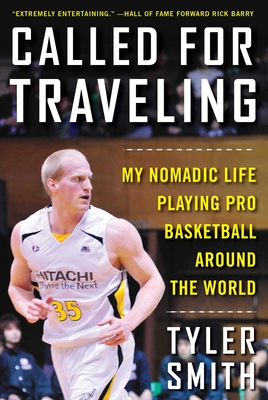 Called for Traveling (Hardcover)
My Nomadic Life Playing Pro Basketball Around the World
Sports Publishing LLC, 9781683580768, 384pp.
Publication Date: October 24, 2017
* Individual store prices may vary.
Description
Called for Traveling is a pro basketball journey that spans four continents, seven countries and twelve teams over eleven hilarious and adventurous years. After playing his college ball at Penn State, Tyler Smith had a path in mind of where he wanted his pro basketball career to lead. Bringing his own toilet paper to away games, courts made of concrete, and fully-geared riot police at every stadium were not part of his original dream. Where were all the big contracts people talked about? Would he even have a job next season--or next week? And would he be playing for free this month because the team didn't feel like paying him? In this highly unstable and unorthodox overseas lifestyle as a professional basketball player, Smith draws readers in quickly with his humor and ability to share his clever stories that seem outrageous, but are 100 percent true. His attitude and faith are tested relentlessly through bounced paychecks, injuries, and the seemingly endless frustrating reality of people around him speaking a language he could not understand. From Italy to Japan to Uruguay, and even the NBA, the challenges and adventures only accelerate as Tyler's wife and kids are added to the overseas equation. His unique story is highly engaging whether or not you're a basketball junkie. Called for Traveling is an honest and entertaining inside look at one man's journey playing pro basketball around the world.

About the Author
Tyler Smith was a three-year starter on the men's basketball team at Penn State and was an Academic All-American. He played a key role during Penn State's run to the 2001 NCAA Sweet 16 when they knocked off North Carolina en route to PSU's best season in almost fifty years. Following his graduation from Penn State, Smith played professional basketball for eleven years in the US and overseas. He lives in State College, Pennsylvania with his wife Cara and daughters Hannah, Lexi, and Tori.