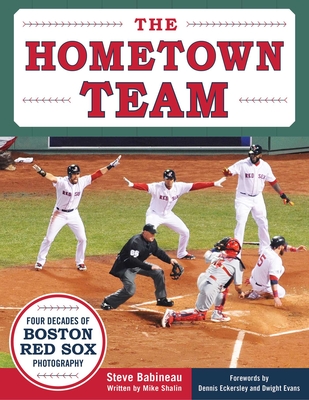 The Hometown Team
Four Decades of Boston Red Sox Photography
Hardcover

* Individual store prices may vary.
Description
For Red Sox fans eager to relive the glory days of their favorite players, The Hometown Team enables them to do just that, through the lens of longtime photographer Steve Babineau. From star and support players, to members of the grounds crew, Red Sox staff, alumni, and some opposing players, this book features Fenway's most memorable characters from the past forty years, with behind-the-scenes images of the ballpark during that time as well.
This scrapbook-style book features fun and insightful commentary from veteran sportswriter Mike Shalin and images of the following BoSox legends: Carlton Fisk, Carl Yastrzemski, Jim Rice, Wade Boggs, Jonathan Papelbon, Dustin Pedroia, David Ortiz, Curt Schilling, Kevin Youkilis, Jon Lester, Manny Ramirez, Pedro Martinez, Jason Varitek, Johnny Damon, Mookie Betts, and many more.
The perfect gift for any fan of Boston baseball!
Sports Publishing, 9781683580935, 320pp.
Publication Date: April 17, 2018
About the Author
Steve Babineau has spent forty-four years photographing Boston-area teams, including the Red Sox, Bruins, Celtics, Manchester Monarchs, and Worcester Sharks. "Babs" has published his photographs in Black and Gold: Four Decades of the Boston Bruins in Photographs and numerous magazines, yearbooks, promotional materials, and online. He was a staff photographer for Fleer baseball card company for fourteen years (1980-1994).

Mike Shalin is a veteran of over four decades in sports journalism, working for the Boston Herald and the New York Post. He spent much of his early career covering hockey before moving on to baseball and college sports. He is now a freelancer in the Boston area and has spent the last fifteen years as an official scorer at Fenway Park. Shalin is the author of Donnie Baseball: The Definitive Biography of Don Mattingly, as well as several books for young readers. He is also the coauthor of Out by a Step: The 100 Best Players Not in the Baseball Hall of Fame and Tales from the New York Rangers Locker Room.
or
Not Currently Available for Direct Purchase