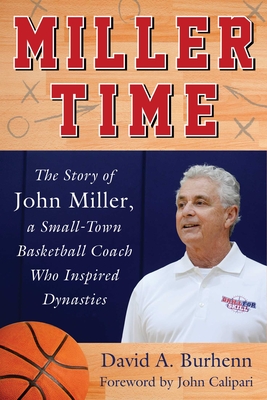 Miller Time (Hardcover)
The Story of John Miller, a Small-Town Basketball Coach Who Inspired Dynasties
Sports Publishing, 9781683581895, 312pp.
Publication Date: March 20, 2018
* Individual store prices may vary.
Description
Arizona. Kentucky. Indiana. It's astounding to think that three elite college basketball programs can trace their success back to one small-town high school coach, Blackhawk High's legendary John Miller.
Coach John Miller was just following his heart's passion and channeling his unbreakable spirit when in the early 1970s he began to use basketball as a platform for developing young players and future leaders. Little could he have known that his two sons, Sean and Archie Miller, and their cousin, John Calipari, would grow up to lead historic basketball programs to national prominence. And over his career, he also inspired countless other young players, who would grow up to become doctors, lawyers, and prominent CEOs. At his retirement in 2005, Coach Miller's record stood at 657–280 over his thirty-five-year career, making him one of the winningest coaches in high school basketball history.
Today, Coach Miller's legacy extends from the tiny hamlet of Beaver Falls, Pennsylvania, to some of the most famous sporting venues in America. He is a legend in the sport, praised by greats such as Kobe Bryant, Thad Matta, Bucky Waters, and Jamie Dixon.
Filled with original photos and behind-the-scenes stories, Miller Time is for every hardwood aficionado.
About the Author
David A. Burhenn was born and raised in Beaver Falls, Pennsylvania. Fascinated with the overwhelming success of the Miller family in basketball and other pursuits, and especially after witnessing the positive effect that Coach John Miller had on his son and others, he decided to try to uncover the secret to the coach's success. Thus, his writing career began. Burhenn lives with his family in Aliquippa, Pennsylvania.

John Calipari is the head coach of men's basketball at the University of Kentucky. He led the Kentucky Wildcats to the 2012 national championship and has been to a total of six Final Fours in his career, including four in a five-year period. He was inducted into the Naismith Memorial Basketball Hall of Fame in 2015. He lives in Lexington, Kentucky.
Praise For Miller Time: The Story of John Miller, a Small-Town Basketball Coach Who Inspired Dynasties…
"Miller Time is a fitting tribute to a great family and an excellent coach." —Tony Dorsett, former NFL Rookie of the Year and Heisman Trophy winner
"Miller Time is an inspiring read for coaches at any level. Coach Miller's life of selfless leadership, teaching and motivating athletes is an example for all of us. His continued energetic commitment is an inspiration for all coaches." —Jay Wright, head coach of men's basketball, Villanova Wildcats
"God bless John. He's given great guidance to so many young folks! Readers will love this tribute!" —Joe Namath, former quarterback for the New York Jets
"Coach Miller's a basketball legend in Pennsylvania, and he continues to teach the game the way it's meant to be played. When he conducts a clinic on campus, I make sure I'm there." —Jamie Dixon, former head coach of men's basketball for the Pitt Panthers and current coach of the TCU Horned Frogs
"It's no surprise both his sons Archie and Sean are big-time college coaches. John Miller's one of the best." —Bucky Waters, announcer for NBC Sports
"Behind every rock-star Division I basketball coach is a small army of hard-working, gifted, and inspirational high school coaches, of which John Miller was one of the finest. His story, in a very real sense, belongs to all of them." —Mark Mehler, coauthor of Madness: The Ten Most Memorable NCAA Basketball Finals
"I was very fortunate to have had John Miller as a coach. Because of his passion and toughness, I, like many others, benefited. This story tells how John's dad and entire family all shared the same work ethic. It is a remarkable story." —Bob Davie, head coach of men's football for the University of New Mexico, former head coach of the Notre Dame Fighting Irish
"Coach Miller is a fantastic teacher and coach. I've been fortunate to get to know him through his sons, Sean and Archie. I can tell they've learned at the feet of a winner. Miller Time tells their story." —Thad Matta, head coach of men's basketball for Ohio State University (retired)
"Miller Time is a must for any basketball fan, player, or coach to read." —Skip Clayton, author of So You Think You're An Eagles Fan? and Philadelphia's Big Five
"John Miller: great coach . . . better man. Miller Time is one of the best sports books of all time."—Rob Pratte, broadcaster for CBS Pittsburgh and KDKA Radio
"David Burhenn captures the real genius of John Miller. What he teaches goes well beyond basketball. Preparation, focus, commitment, sacrifice, and continuous improvement are key life lessons and the core of 'the Miller way.'" —Tom Richards, chairman and CEO of CDW
"Regardless of your level, Coach Miller's instruction will help you reach your potential."—the late Dean Smith, former head coach of men's basketball for the University of North Carolina
"Though not old enough to be on the team, Coach Miller would let me participate in practices, and by doing so, he set me upon a path of athleticism and dedication to every sport or endeavor I would go on to attempt."—Khalid West, HBO Sports
"These days there are a lot of basketball coaches, but very few can teach the game like John Miller. A great read for parents and coaches alike."—Mike Hartsock, broadcaster for the Dayton Flyers
"This book shows the life of basketball's First Family, the Millers."—Mark Neal, broadcaster for ESPN
"Coach Miller is the best basketball coach in Western Pennsylvania history. He has the unique ability to coach and teach every level of player from kids in grade school to NBA players. His best coaching job, however, is the job he did as the father to his four children. This is an excellent story of a coach and a father who has overcome some long odds as a child to become one of the best ever."—Paul Zeise, writer for Pittsburgh Post-Gazette "This book is a must for any basketball junkie, gym rat, or father and son. John Miller came from humble beginnings and became a father, coach, and teacher to be admired. I thought I knew about Coach Miller and his sons, but this book set the record straight."—Michael Pope, MPOS broadcast
"It [Miller Time] is outstanding." —Tuscon.com

"Miller Time is a fitting tribute to a great family and an excellent coach." —Tony Dorsett, former NFL Rookie of the Year and Heisman Trophy winner
"Miller Time is an inspiring read for coaches at any level. Coach Miller's life of selfless leadership, teaching and motivating athletes is an example for all of us. His continued energetic commitment is an inspiration for all coaches." —Jay Wright, head coach of men's basketball, Villanova Wildcats
"God bless John. He's given great guidance to so many young folks! Readers will love this tribute!" —Joe Namath, former quarterback for the New York Jets
"Coach Miller's a basketball legend in Pennsylvania, and he continues to teach the game the way it's meant to be played. When he conducts a clinic on campus, I make sure I'm there." —Jamie Dixon, former head coach of men's basketball for the Pitt Panthers and current coach of the TCU Horned Frogs
"It's no surprise both his sons Archie and Sean are big-time college coaches. John Miller's one of the best." —Bucky Waters, announcer for NBC Sports
"Behind every rock-star Division I basketball coach is a small army of hard-working, gifted, and inspirational high school coaches, of which John Miller was one of the finest. His story, in a very real sense, belongs to all of them." —Mark Mehler, coauthor of Madness: The Ten Most Memorable NCAA Basketball Finals
"I was very fortunate to have had John Miller as a coach. Because of his passion and toughness, I, like many others, benefited. This story tells how John's dad and entire family all shared the same work ethic. It is a remarkable story." —Bob Davie, head coach of men's football for the University of New Mexico, former head coach of the Notre Dame Fighting Irish
"Coach Miller is a fantastic teacher and coach. I've been fortunate to get to know him through his sons, Sean and Archie. I can tell they've learned at the feet of a winner. Miller Time tells their story." —Thad Matta, head coach of men's basketball for Ohio State University (retired)
"Miller Time is a must for any basketball fan, player, or coach to read." —Skip Clayton, author of So You Think You're An Eagles Fan? and Philadelphia's Big Five
"John Miller: great coach . . . better man. Miller Time is one of the best sports books of all time."—Rob Pratte, broadcaster for CBS Pittsburgh and KDKA Radio
"David Burhenn captures the real genius of John Miller. What he teaches goes well beyond basketball. Preparation, focus, commitment, sacrifice, and continuous improvement are key life lessons and the core of 'the Miller way.'" —Tom Richards, chairman and CEO of CDW
"Regardless of your level, Coach Miller's instruction will help you reach your potential."—the late Dean Smith, former head coach of men's basketball for the University of North Carolina
"Though not old enough to be on the team, Coach Miller would let me participate in practices, and by doing so, he set me upon a path of athleticism and dedication to every sport or endeavor I would go on to attempt."—Khalid West, HBO Sports
"These days there are a lot of basketball coaches, but very few can teach the game like John Miller. A great read for parents and coaches alike."—Mike Hartsock, broadcaster for the Dayton Flyers
"This book shows the life of basketball's First Family, the Millers."—Mark Neal, broadcaster for ESPN
"Coach Miller is the best basketball coach in Western Pennsylvania history. He has the unique ability to coach and teach every level of player from kids in grade school to NBA players. His best coaching job, however, is the job he did as the father to his four children. This is an excellent story of a coach and a father who has overcome some long odds as a child to become one of the best ever."—Paul Zeise, writer for Pittsburgh Post-Gazette "This book is a must for any basketball junkie, gym rat, or father and son. John Miller came from humble beginnings and became a father, coach, and teacher to be admired. I thought I knew about Coach Miller and his sons, but this book set the record straight."—Michael Pope, MPOS broadcast
"It [Miller Time] is outstanding." —Tuscon.com