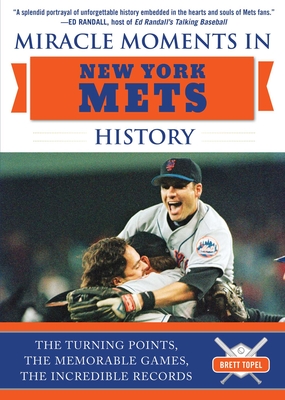 Miracle Moments in New York Mets History (Hardcover)
The Turning Points, the Memorable Games, the Incredible Records
Sports Publishing, 9781683582052, 168pp.
Publication Date: June 12, 2018
* Individual store prices may vary.
Description
In 1969, the New York Mets took on a nickname that was certainly fitting for that season—the "Miracle Mets."

Nevertheless, even beyond 1969, there have been numerous moments in the history of the Mets that have proven miraculous, from the pitcher's mound to the batter's box and from the regular season to the playoffs. In Miracle Moments in New York Mets History, Brett Topel details the team's greatest achievements, from the Mets' first win in franchise history in 1962, to Tom Seaver's near-perfect game in 1969, the 1986 World Series, the trade for Mike Piazza, Al Leiter's two-hitter during the 1999 one-game playoff, Jacob deGrom's 2015 All-Star Game appearance, and much more.

In doing so, Topel highlights the key players and coaches and reveals the high level of excitement that comes with being a Mets fan. Complete with full-color photos, this book makes the perfect gift for young and old fans alike of the New York Mets!
About the Author
Brett Topel is the author of three books—So You Think You're a New York Mets Fan?: Stars, Stats, Records, and Memories for True Diehards, When Shea Was Home: The Story of the 1975 Mets, Yankees, Giants and Jets, and Simply the Best: The Story of the 1929-31 Philadelphia Athletics Dynasty. Topel is the Director of Communications at Buckley Country Day School on Long Island and is an adjunct professor of journalism at Adelphi University.
Praise For Miracle Moments in New York Mets History: The Turning Points, the Memorable Games, the Incredible Records…
"90% of the time being a Mets fan can be a sad, depressing place. I very much enjoyed reliving the 10% of joy we all get from some of these great Mets moments that Brett has selected."

– Evan Roberts, WFAN Radio Host

"This book definitely brings back many memories, especially the little details I had forgotten. It is a pleasure to read."

– Jerry Koosman, 1969 world champion

"For more than half a century the Mets have had a unique bond with their fans—one that was forged by some truly incredible and often unlikely moments. Brett Topel taps into this connection by revisiting these events while cleverly working the actual play-by-play accounts of those games into his narrative. As a broadcaster, that's really cool. As a reader, I think you will love it."

– Howie Rose, Mets broadcaster, WOR Radio 710 AM New York

"When it comes to the Mets, Brett Topel is the passionate voice of authority. It is fitting that he would be the author who gives baseball fans a wonderful gift. Enjoy this delightful romp through the Mets' greatest days. Brett Topel has gone deep again. What a great read, what a splendid portrayal of unforgettable history embedded in the hearts and souls of Mets fans."

—Ed Randall, host, Ed Randall's Talking Baseball

"Brett Topel drives fans through some of the most thrilling moments in Metsdom, providing accounts as colorful as Lindsey Nelson's jackets and evoking memories as powerful as Ralph Kiner's home runs. Heed Bob Murphy's advice and fasten your seatbelts."

—Greg Prince, Faith and Fear in Flushing

"90% of the time being a Mets fan can be a sad, depressing place. I very much enjoyed reliving the 10% of joy we all get from some of these great Mets moments that Brett has selected."

– Evan Roberts, WFAN Radio Host

"This book definitely brings back many memories, especially the little details I had forgotten. It is a pleasure to read."

– Jerry Koosman, 1969 world champion

"For more than half a century the Mets have had a unique bond with their fans—one that was forged by some truly incredible and often unlikely moments. Brett Topel taps into this connection by revisiting these events while cleverly working the actual play-by-play accounts of those games into his narrative. As a broadcaster, that's really cool. As a reader, I think you will love it."

– Howie Rose, Mets broadcaster, WOR Radio 710 AM New York

"When it comes to the Mets, Brett Topel is the passionate voice of authority. It is fitting that he would be the author who gives baseball fans a wonderful gift. Enjoy this delightful romp through the Mets' greatest days. Brett Topel has gone deep again. What a great read, what a splendid portrayal of unforgettable history embedded in the hearts and souls of Mets fans."

—Ed Randall, host, Ed Randall's Talking Baseball

"Brett Topel drives fans through some of the most thrilling moments in Metsdom, providing accounts as colorful as Lindsey Nelson's jackets and evoking memories as powerful as Ralph Kiner's home runs. Heed Bob Murphy's advice and fasten your seatbelts."

—Greg Prince, Faith and Fear in Flushing