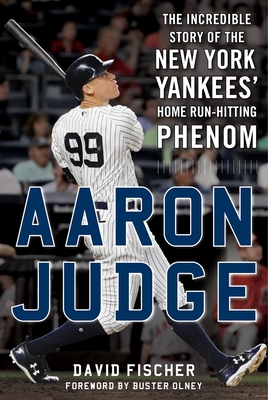 Aaron Judge (Hardcover)
The Incredible Story of the New York Yankees' Home Run–Hitting Phenom
Sports Publishing, 9781683582366, 160pp.
Publication Date: November 21, 2017
* Individual store prices may vary.
Description
All rise for the newest Yankee hero. Aaron Judge has become the face of the New York Yankees, inheriting the lineage that goes from Ruth to Gehrig to DiMaggio to Mantle to O'Neill and Jeter. Will he live up to the hype? Will the Yankees be World Series champs again?

At 6-foot-7 and 285 pounds, Aaron Judge emerged as the biggest story in baseball in 2017 with his monstrous home runs and record-breaking ability. A three-sport athlete in high school and a Division I ballplayer at Fresno State, the Californian was drafted by the New York Yankees in the first round in 2013 and made it to the majors by August 2016. Homering in his first major league at-bat and starting in right field straight out of spring training in 2017, he gave Yankees fans hope for the future, along with "Baby Bombers" teammates such as Gary Sanchez.

After a rough start in which he batted below .200 and struck out in over 40 percent of his plate appearances after joining the Yankees, Judge turned things around and helped get his team off to a fast start in 2017 with 10 homers in April alone, tying the rookie record for the month. He then broke the legendary Joe DiMaggio's team record for most round trippers by the All-Star break with 30, including one that measured at 495 feet.

His mounting popularity enabled him to receive more All-Star votes than any American League player and to the creation of the "Judge's Chambers" section located in the right-field stands of Yankee Stadium. Judge's momentum next led to him winning the 2017 Home Run Derby where he smashed a total of 47, four of which traveled more than 500 feet. It's no wonder that baseball commissioner Rob Manfred has said that Judge is a player "who can become the face of the game." In Aaron Judge: The Incredible Story of the New York Yankees' Home Run-Hitting Phenom, David Fischer brings the exciting story of the Yankees' newest superstar to life.
About the Author
<div><b>David Fischer</b> has written for the <i>New York Times</i> and <i>Sports Illustrated for Kids</i>, and has worked at <i>Sports Illustrated</i>, <i>National Sports Daily</i>, and NBC Sports. He is also the author of <i>Yankee Stadium Scrapbook: A Lifetime of Memories</i> <Aaron Judge</i>, Derek Jeter #2</i>, editor of <i>Facing Mariano Rivera</i>, and co-author of <i>Sports of the Times</i> and <i>Greatest Sports Rivalries</i>. He lives in River Vale, New Jersey.</div>

Buster Olney is a senior writer for ESPN The Magazine and ESPN.com as well as an analyst for ESPN's Baseball Tonight and Sunday Night Baseball. He is the author of The Last Night of the Yankee Dynasty and How Lucky You Can Be.
Praise For Aaron Judge: The Incredible Story of the New York Yankees' Home Run–Hitting Phenom…
"A good read about a phenom that went beyond expectations in his rookie year."

--Rich Mancuso, NY Sports Day

"A good read about a phenom that went beyond expectations in his rookie year."

--Rich Mancuso, NY Sports Day