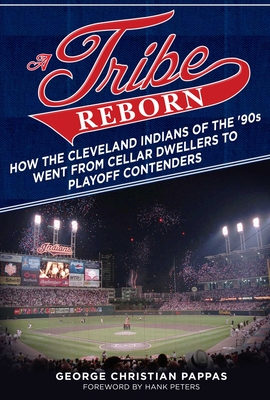 A Tribe Reborn (Paperback)
How the Cleveland Indians of the '90s Went from Cellar Dwellers to Playoff Contenders
Sports Publishing, 9781683582748, 256pp.
Publication Date: February 26, 2019
Other Editions of This Title:
Hardcover (3/4/2014)
* Individual store prices may vary.
Description
For almost fifty years, the Cleveland Indians were a joke. They had won the 1948 World Series with one of the greatest teams of all time, but had not been to the playoffs since 1954 (losing to the New York Giants in the World Series). Even the Major League movies poked fun at their inadequacy. That all changed in the 1990s, when the Indians became one of the most dominant teams of the decade.

A Tribe Reborn tells the story of a failing franchise, from "The Mistake by the Lake" to "The Curse of Rocky Colavito," and how a laughingstock team that was on the verge of relocating changed its ways to become a dominant franchise.

With the building of the state-of-the-art Jacobs Field (which the Indians sold out a record 455 consecutive games, from 1995–2001) to changes in how their scouting, front office, and locker room were run, the team that nobody cared about became front-page news across the country.

With interviews from Jim Thome, Omar Vizquel, Mike Hargrove, John Hart, and many more, A Tribe Reborn is a fantastic look inside how a losing franchise changed its ways to become a perennial powerhouse. While the Indians of the '90s never won a World Series (appearing twice in 1995 and 1997), they are still remembered for their hard play, amazing talent, and rabid fan base.
About the Author
George Christian Pappas works in baseball operations with the Tampa Bay Rays and has contributed to many media outlets, including the St. Petersburg Times and CBS Sports. Pappas has covered and worked in baseball for the New York Yankees (baseball operations) and ESPN Radio (writer and analyst). A Tribe Reborn is his first book. He currently resides in Clearwater, Florida.

Henry J. "Hank" Peters is a former Major League Baseball executive whose career spanned five decades. He became only the sixth president in the history of the National Association of Professional Baseball Leagues in 1972 and went on to become the president and general manager of the Baltimore Orioles. He was named MLB Executive of the Year by the Sporting News in 1983. As president of the Cleveland Indians, he was considered the architect of the club's on-field renaissance. Peters is now retired and lives in Florida.
Praise For A Tribe Reborn: How the Cleveland Indians of the '90s Went from Cellar Dwellers to Playoff Contenders…
"Quite often, it's difficult to appreciate the full breadth of a team's turnaround as it is happening. In A Tribe Reborn, George Christian Pappas retraces the steps of the Indians' renaissance, giving fresh insight into one of the more remarkable baseball stories in the last quarter century."
—Ken Rosenthal, baseball reporter, Fox Sports, MLB Network

"Indians fans will enjoy this retelling of a modern turnaround story. By opening a new ballpark and locking up young talent, the Indians provided the rest of baseball with a new blueprint of rebuilding."
—Tom Verducci, senior writer for Sports Illustrated, MLB Network analyst, and coauthor of the New York Times bestseller The Yankee Years with Joe Torre

"The Cleveland Indians of the 1990s are one of the most remarkable success stories in memory, and George Pappas breaks down their transition from afterthought to powerhouse with diligence, insight, and the passion of a kid who watched it all unfold from a seat in the left field bleachers at Jacobs Field. The franchise has a compelling tale to share, and he's just the person to tell it." —Jerry Crasnick, ESPN.com

"George Christian Pappas provides a wonderfully comprehensive and personal account of the rise of the Cleveland Indians in the 1990s. I learned so much reading this book."
—Tim Kurkjian, baseball analyst for ESPN and author of Is This a Great Game, or What?

"George Christian Pappas takes you inside the Indians of the late '90s, the best team never to win a World Series. And as a Cleveland kid, I couldn't help but smile at the stories of Albert, Kenny, Carlos, Manny, Thome, and the others who taught me to love baseball."
—Jeff Passan, baseball columnist for Yahoo! Sports and coauthor of Death to the BCS

"Pappas' 225-page work serves as both an academic and a narrative examination of how a long-suffering franchise reversed its fate. . . . Where the book truly entertains and informs, though, is in its attention to detail about all the twists and transactions that led to that point. . . . In terms of providing a thoughtful examination of the many special factors that aligned to usher in an era unlike any other in Cleveland sports history, Pappas' book achieves its mission. And it arrives just in time for a new season in which the Indians hope to bring that magic feeling back again."—Anthony Castrovince, MLB.com

"George Pappas does a wonderful job of navigating through how a dormant franchise was reborn while uncovering several trends and process that still live on."—ESPN.com's The Process Report

"A quick and riveting read."—The News-Herald

"Pappas is part of the new generation of baseball front office 'whiz kids.'  [His] book is the bible of modern day player development. Executives on the major and minor league levels should have A Tribe Reborn distributed to staff for required reading."—Don Laible, Observer-Dispatch
 

"Quite often, it's difficult to appreciate the full breadth of a team's turnaround as it is happening. In A Tribe Reborn, George Christian Pappas retraces the steps of the Indians' renaissance, giving fresh insight into one of the more remarkable baseball stories in the last quarter century."
—Ken Rosenthal, baseball reporter, Fox Sports, MLB Network

"Indians fans will enjoy this retelling of a modern turnaround story. By opening a new ballpark and locking up young talent, the Indians provided the rest of baseball with a new blueprint of rebuilding."
—Tom Verducci, senior writer for Sports Illustrated, MLB Network analyst, and coauthor of the New York Times bestseller The Yankee Years with Joe Torre

"The Cleveland Indians of the 1990s are one of the most remarkable success stories in memory, and George Pappas breaks down their transition from afterthought to powerhouse with diligence, insight, and the passion of a kid who watched it all unfold from a seat in the left field bleachers at Jacobs Field. The franchise has a compelling tale to share, and he's just the person to tell it." —Jerry Crasnick, ESPN.com

"George Christian Pappas provides a wonderfully comprehensive and personal account of the rise of the Cleveland Indians in the 1990s. I learned so much reading this book."
—Tim Kurkjian, baseball analyst for ESPN and author of Is This a Great Game, or What?

"George Christian Pappas takes you inside the Indians of the late '90s, the best team never to win a World Series. And as a Cleveland kid, I couldn't help but smile at the stories of Albert, Kenny, Carlos, Manny, Thome, and the others who taught me to love baseball."
—Jeff Passan, baseball columnist for Yahoo! Sports and coauthor of Death to the BCS

"Pappas' 225-page work serves as both an academic and a narrative examination of how a long-suffering franchise reversed its fate. . . . Where the book truly entertains and informs, though, is in its attention to detail about all the twists and transactions that led to that point. . . . In terms of providing a thoughtful examination of the many special factors that aligned to usher in an era unlike any other in Cleveland sports history, Pappas' book achieves its mission. And it arrives just in time for a new season in which the Indians hope to bring that magic feeling back again."—Anthony Castrovince, MLB.com

"George Pappas does a wonderful job of navigating through how a dormant franchise was reborn while uncovering several trends and process that still live on."—ESPN.com's The Process Report

"A quick and riveting read."— The News-Herald
or
Not Currently Available for Direct Purchase