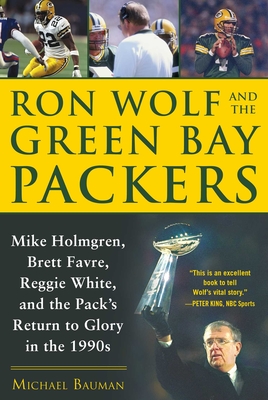 Ron Wolf and the Green Bay Packers
Mike Holmgren, Brett Favre, Reggie White, and the Pack's Return to Glory in the 1990s
Hardcover

* Individual store prices may vary.
Description
The true story of the general manager who brought victory back to the NFL's Green Bay Packers, filled with stories of life in and on Lambeau field—Brett Favre, Reggie White, and more!
In November 1991, Ron Wolf took over a Green Bay franchise that had been in a twenty-four-year decline since the departure of Vince Lombardi. Wolf, driven by his inherently competitive nature, and by a heart attack the previous year that left him believing that whatever he did had to be done quickly, proceeded to rebuild a team and a franchise. His work in Green Bay was characterized by a single-minded devotion to the Packers' success, and by an ability to make personnel decisions that, while sometimes unlikely and unpopular, proved to be almost invariably successful.
With Wolf in charge, the Packers never had a losing season. They subsequently captured three straight NFC North Division titles, and went to two Super Bowls, winning Super Bowl XXXI. Wolf had set a goal of winning one hundred games in ten years with the Packers. He was victorious in 101games in nine years, including the postseason.
During his time with the Packers, Wolf brought in some major names, including:
Brett Farve
Reggie White
Santana Dotson
Ted Thompson
Gilbert Brown
Sean Jones
Eugene Robinson
Wolf's impact on Packers football cannot be overstated. Even today, Wolf's legacy remains in place. Ted Thompson came through the scouting ranks under Wolf's direction. During Thompson's tenure as general manager, the Packers qualified for the playoffs in eight straight seasons and won one Super Bowl. After the 2017 season, Thompson was replaced as GM by Brian Gutekunst, another man who had been brought into the Packers' scouting operation by Wolf.
An in-depth look at one of the greatest NFL GMs of all time,
Ron Wolf and the Green Bay Packers
is a must-read for every football fan.
Praise For Ron Wolf and the Green Bay Packers: Mike Holmgren, Brett Favre, Reggie White, and the Pack's Return to Glory in the 1990s…
"This book captures the essential qualities that made Ron Wolf successful, including his knowledge of football, his passion for the game, and the remarkable persistence that made the restoration of the Green Bay franchise possible." —Bill Parcells, former head coach of the New York Giants

"A spectacular pairing: Ron Wolf, one of the NFL's greatest GMs, and Michael Bauman, one of America's greatest sportswriters. In these pages the hard-driving Wolf spares few details in a retelling of how he seized a failing franchise by the throat and returned it to prominence. Beyond that, Wolf and others provide a fresh, deep dive into what makes him tick. Hundreds and hundreds of Packers books have been written. This one is indispensable." —Bob McGinn, former sports writer for the Milwaukee Journal Sentinel

"No GM in modern NFL history built a foundation for a team as rock-solid as Ron Wolf did in Green Bay starting in late 1991—hiring Mike Holmgren as coach, trading for Brett Favre as franchise QB, and changing the image of a small-market outpost of a franchise by convincing Reggie White to sign as a free-agent. Imagine importing a top-five coach, quarterback and defensive player in eighteen months. That's what Wolf did. The Packers have been winners for three decades since. I'm happy Michael Bauman has finally devoted the time, energy and this excellent book to tell Wolf's vital story." —Peter King, NBC Sports 

"This is a great book for not only Green Bay Packers fans, but any football fans. If you want to learn how to do the right thing in life, it's not always doing what's popular, but what's right. When Ron Wolf went to Green Bay that wasn't a popular place to go. He needed a quarterback and he got Brett Favre. That wasn't a popular move. He needed an outstanding coach and he got Mike Holmgren. He needed a dominant defensive player and he got Reggie White. We knew all these stories, but we didn't know the stories behind them." —John Madden, NFL commentator and former head coach of the Oakland Raiders

"I have had the pleasure of knowing Ron Wolf, since 1968, the year I was drafted by the Oakland Raiders, on Ron's recommendation to Al Davis, the owner. Since that time, I have seen him ascend to the top of his profession as a genius talent evaluator, general manager, and president of the Green Bay Packers. This book shows the culmination of all his hard work, and how the Packers reaped the rewards of his genius." —Art Shell, former coach of the Oakland Raiders and member of the Football Hall of Fame
 
Sports Publishing, 9781683582779, 280pp.
Publication Date: September 10, 2019
About the Author
Michael Bauman is a former sports columnist for the Milwaukee Journal and theMilwaukee Journal-Sentinel, where he covered the Brewers and the Packers. Bauman also wrote for MLB.com from 2001 to 2016, when he retired. He lives with his family in Glendale, Wisconsin.
or
Not Currently Available for Direct Purchase