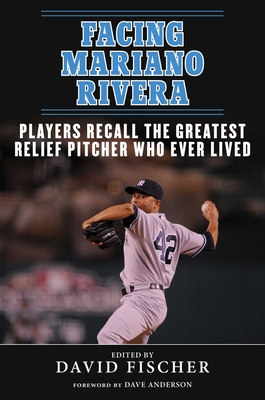 Facing Mariano Rivera (Paperback)
Players Recall the Greatest Relief Pitcher Who Ever Lived
Sports Publishing, 9781683582793, 312pp.
Publication Date: March 5, 2019
Other Editions of This Title:
Hardcover (3/4/2014)
* Individual store prices may vary.
Description
The all-time career leader in saves, with 652, Mariano Rivera is one of the greatest professional athletes in history. Since taking over the closer's role for the New York Yankees in 1997, until his retirement in 2013, Rivera saved 30 or more games in every season but one. In addition, he has an astonishing MLB record 42 postseason saves, with 11 of them coming in the World Series. After 19 seasons in the Major Leagues, his preeminence among relief pitchers is assumed and his induction into Cooperstown assured.

And he accomplished it all, mostly, with one devastating pitch: his signature cut fastball. As third baseman Corey Koskie put it: "You knew what pitch [Rivera's] going to throw, a cutter. . . . You start to swing at the pitch and the next thing you know, the ball explodes your bat. I tried multiple things hoping to figure out a way get the barrel [of the bat] on one of his pitches. . . . Nothing worked."

Far from a conventional biography, Facing Mariano Rivera offers perspectives and testimonials from opponents and teammates alike, including Rivera's minor-league roommate and the final batter he faced in the major leagues. Some opponents had uncommon success against "The Sandman," and they share their secrets for hitting him. Most, however, echo the sentiments of five-time All-Star Mike Sweeney: "When you're at Yankee Stadium and Mariano Rivera is coming in the game, it feels like a horror movie . . . when you hear the music and you're scared to death, because you know what's going to happen."

Truly dominant pitchers come along only rarely. This book tells the reader what it's like to battle one of the all-time best, in the words of the players who did just that.
About the Author
<div><b>David Fischer</b> has written for the <i>New York Times</i> and <i>Sports Illustrated for Kids</i>, and has worked at <i>Sports Illustrated</i>, <i>National Sports Daily</i>, and NBC Sports. He is also the author of <i>Yankee Stadium Scrapbook: A Lifetime of Memories</i> <Aaron Judge</i>, Derek Jeter #2</i>, editor of <i>Facing Mariano Rivera</i>, and co-author of <i>Sports of the Times</i> and <i>Greatest Sports Rivalries</i>. He lives in River Vale, New Jersey.</div>

Dave Anderson joined the New York Times in 1966 after working at the New York Journal-American and the Brooklyn Eagle. He became a Sports of The Times columnist in 1971 and won a Pulitzer Prize for distinguished commentary in 1981. Among many other honors, he was inducted into the National Sports Writers and Sportscasters Hall of Fame in 1990 and in 1991 received the Red Smith Award for contributions to sports journalism from the Associated Press Sports Editors.
Praise For Facing Mariano Rivera: Players Recall the Greatest Relief Pitcher Who Ever Lived…
"I wondered what it must be like to bat against [Mariano Rivera]. After reading David Fischer's book. . ., it's no longer a mystery. The comments Fischer got were priceless."
-Tampa Tribune

"A fitting tribute to one of the game's all-time greats. A wonderful addition not just for all Yankee fans but for all readers who love America's pastime."—Library Journal

"I wouldn't be wearing World Series rings without Mariano Rivera. . . . He's the best I've ever been around." —Joe Torre

"Ever imagine trying to put a Mariano Rivera cutter in fair play? In Facing Mariano Rivera, David Fischer collects stories from the men who confronted this monumental challenge in fascinating detail, putting the reader a lot closer than 60 feet and 6 inches away from the greatest closer and most devastating pitch of all time. A must read for all fans of the iconic Rivera, and all those he tormented." —Ian O'Connor, author, New York Times bestseller The Captain: The Journey of Derek Jeter

"Page after page in Facing Mariano Rivera, you will read how he not only baffled the best major league hitters with his cut fastball, he often shattered their bats. . . . And as challenging and frustrating as facing him was, they seem to enjoy having had the opportunity—and now the opportunity in these pages to describe what it was like." —From the foreword by Dave Anderson

"The short interviews are genuine in their spontaneity and recollection and provide a great . . . volume of indelible Rivera impressions in the player or manager's experience with the closer. . . . I highly recommend Facing Mariano Rivera, yet another fine book from Sports Publishing." — Aethlon

"[An] astute piece of oral history." — The Daily Beast

"Required reading for all fans of the great Mariano." —Dr. Harvey Frommer, SportsBookShelf

"If you've ever wondered what it's like to stand in the box and know what pitch is coming, and still not be able to hit it, this book will help get you there. . . . Nearly every player says one thing that really stands out, that helps you more fully understand the opponents' mindsets when they faced Rivera—with the game close enough for him to be in there, but still seemingly out of reach." --River Ave Blues

"I wondered what it must be like to bat against [Mariano Rivera]. After reading David Fischer's book. . ., it's no longer a mystery. The comments Fischer got were priceless."
-Tampa Tribune

"A fitting tribute to one of the game's all-time greats. A wonderful addition not just for all Yankee fans but for all readers who love America's pastime."—Library Journal

"I wouldn't be wearing World Series rings without Mariano Rivera. . . . He's the best I've ever been around." —Joe Torre

"Ever imagine trying to put a Mariano Rivera cutter in fair play? In Facing Mariano Rivera, David Fischer collects stories from the men who confronted this monumental challenge in fascinating detail, putting the reader a lot closer than 60 feet and 6 inches away from the greatest closer and most devastating pitch of all time. A must read for all fans of the iconic Rivera, and all those he tormented." —Ian O'Connor, author, New York Times bestseller The Captain: The Journey of Derek Jeter

"Page after page in Facing Mariano Rivera, you will read how he not only baffled the best major league hitters with his cut fastball, he often shattered their bats. . . . And as challenging and frustrating as facing him was, they seem to enjoy having had the opportunity—and now the opportunity in these pages to describe what it was like." —From the foreword by Dave Anderson

"The short interviews are genuine in their spontaneity and recollection and provide a great . . . volume of indelible Rivera impressions in the player or manager's experience with the closer. . . . I highly recommend Facing Mariano Rivera, yet another fine book from Sports Publishing." — Aethlon

"[An] astute piece of oral history." — The Daily Beast

"Required reading for all fans of the great Mariano." —Dr. Harvey Frommer, SportsBookShelf

"If you've ever wondered what it's like to stand in the box and know what pitch is coming, and still not be able to hit it, this book will help get you there. . . . Nearly every player says one thing that really stands out, that helps you more fully understand the opponents' mindsets when they faced Rivera—with the game close enough for him to be in there, but still seemingly out of reach." --River Ave Blues