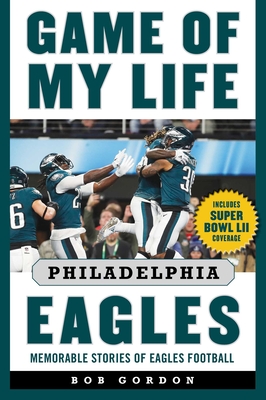 Game of My Life Philadelphia Eagles (Hardcover)
Memorable Stories of Eagles Football
Sports Publishing, 9781683582922, 256pp.
Publication Date: September 18, 2018
Other Editions of This Title:
Hardcover (4/1/2013)
Hardcover (8/1/2013)
* Individual store prices may vary.
Description
In the newly updated Game of My Life Philadelphia Eagles, several legendary Eagles players share their fondest memories as each one recalls the game that sticks out the most from his Eagles career. The games they choose may very well be the ones with which you most associate them—a championship game, a playoff game, or a heralded comeback. But a fair number of choices may surprise you, as some Eagles cite encounters that time has buried deep within history's vault. No matter which game each player chooses as his most memorable, each one tells a story. Each fills in a bit more of the complex legacy that defines the Philadelphia Eagles. More importantly, and certainly more poignantly, each story humanizes the larger-than-life warriors who strapped on their winged helmet each Sunday and played for the glory of the city of Philadelphia.

Some of the former Eagles players profiled in this book are:

•Chuck Bednarik
•Brian Dawkins
•Tommy McDonald
•Bill Bergey
•Seth Joyner
•Keith Jackson
•Mike Quick
•Brian Baldinger
•Claude Humphrey
•Bill Bradley
•Lito Sheppard
•Vince Papale

The new edition includes insight on the 2018 Super Bowl run.
About the Author
Bob Gordon has written for major publications in the United States and England. His previous works include books about beloved, overachieving Philadelphia teams like the 1960 Eagles, the 1993 Phillies, and the 1985 Villanova Wildcats. He is also a professional engineer with a successful consulting business, respected travel and restaurant writer, humor columnist, French tutor, and guitar teacher/performer.