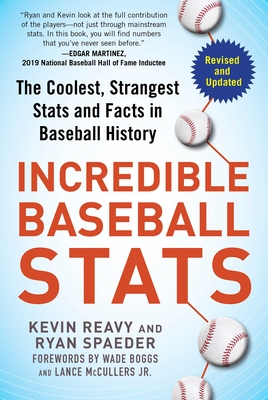 Incredible Baseball Stats
The Coolest, Strangest Stats and Facts in Baseball History
Paperback

* Individual store prices may vary.
Other Editions of This Title:
Paperback (5/3/2016)
Description
With forewords by Wade Boggs and Lance McCullers, Jr, here is a modern stat book for modern fans. Whether you follow the Yankees, Red Sox, Dodgers, Giants, or another Major League team, you fill find something new and fascinating!

As America's pastime since the mid-1800s, baseball offers the sights, sounds, and even smells that are deeply entrenched in our culture. But for some, the experience can be less sensory. Some, such as Ryan Spaeder and Kevin Reavy, live for baseball statistics. Stats give the game historical context and measurables for past, present, and predictive analysis.

Incredible Baseball Stats, newly updated, helps tell unique baseball stories, showcasing extraordinary stats and facts in baseball history, through the 2018 season.

For example, in 2015, the Nationals' Bryce Harper broke out in a major way. He batted .330/.460/.649 with 42 home runs en route to his first MVP Award. It was his fourth MLB season, but he was still younger than NL Rookie of the Year Kris Bryant. He became the youngest player to lead the league in both on-base percentage and homers in the same season since Ty Cobb in 1909.

The authors have scoured the records for untold tales and looked at familiar ones with new statistical insights, to create Incredible Baseball Stats, a perfect book for baseball fans from coast to coast.
Praise For Incredible Baseball Stats: The Coolest, Strangest Stats and Facts in Baseball History…
"Ryan and Kevin have a real passion for baseball, and the numbers within the game. This book looks at the full contribution of the players—not just the mainstream stats. In this book, you will find numbers that you've never seen before."
--Edgar Martinez, 2019 National Baseball Hall of Fame Inductee

"It seems like someone is always coming up with new ways to quantify value in this great game of ours. This book has a really unique take on the 'Coors Effect,' and the 'Hangover Effect' might completely change the way you think about baseball at high altitude."
--Larry Walker, Five-time All-Star; 1997 NL MVP

"In an era where seemingly everything can be looked up in a flash,  Incredible Baseball Stats proves otherwise.  There is still a world of fascinating stories and trivia if you have the ability to dig deeper and ask more sophisticated questions.  An excellent primer on the history of baseball, from Sisler to Altuve, this book shows how statistics are supposed to be used; to tell fascinating stories in their proper historical context.  A ton of fun, and a must for the thinking fan"
--Brian Kenny, studio host, MLB Network; author, Ahead of the Curve

"I wish Kevin and Ryan would have written a book like this back when I was playing. There is stuff in here about my career I didn't even know! The stats and stories in this book are really eye-opening." 
--Tim "Rock" Raines, National Baseball Hall of Famer
Sports Publishing, 9781683583127, 360pp.
Publication Date: April 16, 2019
About the Author
Kevin Reavy, a Chester County native and lifelong Philadelphia sports fan, is the co-author of This Day in Philadelphia Sports, with Brian Startare. His writing and media credits include contributions to the magazine Fusion and CBS Local's Sports Verdict.
Ryan Spaeder is one of the leading baseball researchers in alternative media. Known for his Twitter account, @theaceofspaeder, Ryan's baseball research has been credited by ESPN, Fox, CBS, Yahoo, Grantland, and he has contributed to outlets like NBC Sports World and Sporting News.