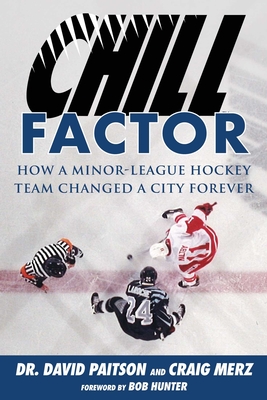 Chill Factor
How a Minor-League Hockey Team Changed a City Forever
Paperback

* Individual store prices may vary.
Other Editions of This Title:
Hardcover (3/3/2015)
Description
Learn how a minor-league hockey team helped bring the NHL to Columbus, Ohio.

The city of Columbus, Ohio, had always struggled to support any professional sports franchise. It's a town where Ohio State University reigns supreme, and everything else is less important. That was until 1991, when the Columbus Chill, a minor-league hockey franchise, arrived. Using Veeckian marketing tactics and on-ice shenanigans, the Chill became the talk of the city and gained a religious local fan base. Based on the success of the Chill, from 1991–99, the city of Columbus was awarded with the Columbus Blue Jackets in 2000, the city's own NHL franchise.

Chill Factor follows the wild ride through the eyes of team president and general manager David Paitson, from the early formation of the minor-league franchise through the decision to rattle the status quo by going to the edge and beyond with a marketing and promotional plan that was both edgy and controversial.

The success of the Chill after their first season gave the organization the impetus to challenge local civic and business leaders to build a world-class arena and emerge from the shadow of OSU. There were setbacks and triumphs on and off the ice, and eventually the realization that the Columbus of today would not be possible without the aid of the Chill.

Chill Factor takes readers into the front office and onto the rink, giving every angle of how a small town was able to get behind a working-class team that fought both on and off the ice. This thrilling account will appeal to those who remember the Chill's reign, as well as those who enjoy seeing the underdog climb the ladder to sports supremacy.

Skyhorse Publishing, as well as our Sports Publishing imprint, are proud to publish a broad range of books for readers interested in sports—books about baseball, pro football, college football, pro and college basketball, hockey, or soccer, we have a book about your sport or your team.

Whether you are a New York Yankees fan or hail from Red Sox nation; whether you are a die-hard Green Bay Packers or Dallas Cowboys fan; whether you root for the Kentucky Wildcats, Louisville Cardinals, UCLA Bruins, or Kansas Jayhawks; whether you route for the Boston Bruins, Toronto Maple Leafs, Montreal Canadiens, or Los Angeles Kings; we have a book for you. While not every title we publish becomes a New York Times bestseller or a national bestseller, we are committed to publishing books on subjects that are sometimes overlooked by other publishers and to authors whose work might not otherwise find a home.
Praise For Chill Factor: How a Minor-League Hockey Team Changed a City Forever…
"Chill Factor is a fun story of off-the-wall marketing and keen vision turning a college sports town into a major league NHL city." -Joe Pelletier, HockeyBookReviews.com

"Chill Factor is both an entertaining tale of an underdog sports franchise that beat the odds and a highly compelling marketing case study. At times it reads like a novel—with fun characters both on the ice and in the front office—but it really happened.  It's a terrific story, well told, and the marketing and leadership lessons will stay with you long after you put it down."
—Kevin Sullivan, founder, Kevin Sullivan Communications, Inc.
 
"Does doing funky things with a minor league team guarantee its success? Absolutely not! There are plenty of teams that aren't successful that do crazy things. What the Columbus Chill had is hard to quantify, but I think it was soul. Their antics were genuine and touched their audience far deeper than anyone could expect. Their soul's divinity was to entertain the fans. Fun was so imbedded into their DNA that their success amazingly spawned a major league team. If I could get into a time machine I'd go back and enjoy those Columbus Chill games."
—Jon Spoelstra, author of Marketing Outrageously Redux, and co-author with Steve Delay of The Ultimate Toolkit
 
"The Columbus Chill grew the interest in hockey in Ohio, creating the opportunity for the NHL to expand there and without the hockey fanatics the Chill had created, I am not sure the NHL would be there now. Chill Factor is a great historical story of the game of hockey, from minors to majors in small town USA. David Paitson was a visionary when it came to running and marketing a minor league sports franchise .He knew how to put a great product on the ice and ran a first class program and knew how to survive as a franchise in a very volatile minor league climate. I once interviewed there for the coaching vacancy and came back to my wife and said "this program is first class and this guy is brilliant and, if I were to get into coaching, Columbus would be my first choice."
— Craig Laughlin, NHL Alumni, ECHL Richmond Renegades, Comcast Sportsnet
 
"My life as a rock star began in the fall 1991 and, for me, lasted through the spring of 1993. At that time I was a player for the Chill and living in the sudden, and shocking, hockey utopia of Columbus, Ohio. An eccentric creation, the Chill was unconventional in every manner. Their wacky approach to sports marketing and in-game operations roused the people of the city, galvanized them to dream bigger, and in the process created a cult following unlike anything I've seen in my twenty-plus years in the sports business. Chill Factor is the intriguing story of this happening and the mastermind behind it, team President David Paitson, whose approach in life is akin to Jerry Seinfeld and his promotions like Bill Veeck on steroids."
 —Don Granato, head coach, US National Team
 
"I remember finishing up many a Blue Jacket Radio Network postgame show and then standing around the main concourse of Nationwide Arena to talk hockey with the hardcore fans—many of which used to be Chill fans. Many a story was told about the Chill, from the on-ice excitement and shenanigans to the off-ice marketing and promotions, which seemed to go from the bizarre to off the charts! The on-ice success of the Chill would eventually result in a minor league record for consecutive sellouts and help set the table for the arrival of the NHL Blue Jackets in the fall of 2000. You will find Chill Factor to be a fun and informative read on the running of a successful minor league franchise in Columbus, Ohio."
—George Matthews, original voice of the Columbus Blue Jackets
Sports Publishing, 9781683583691, 384pp.
Publication Date: November 24, 2020
About the Author
Dr. David Paitson was the president and general manager of the Columbus Chill from 1991–98 and a career sports business executive. Paitson has worked in public relations and marketing capacities with the Indiana Pacers (NBA), with the Columbus Blue Jackets (NHL), and as president of the Columbus Destroyers (AFL). He currently works as director of athletics at Lake Superior State University. He and his wife, Lauren, currently reside in Sault Ste. Marie, Michigan


Craig Merz, a lifelong Columbus resident, has witnessed the evolving sports scene there from the stands and the press box, including a quarter century of reporting for the Columbus Dispatch. He has covered the  Stanley Cup Final, NHL All-Star Game, NHL Draft, and the NCAA Frozen Four. Merz has been an NHL.com independent correspondent covering the Columbus Blue Jackets since 2013, and is a freelance reporter for the Associated Press, Buckeye Sports Bulletin, and Field Level Media, among others.

Bob Hunter was a sportswrit­er for the Columbus Dispatch for more than forty years (1975[en dash]2016), the last twenty-four as a columnist. During that time, he covered all sports[em dash]including hockey and the Colum­bus Chill. Hunter is the author of ten books, including Saint Woody: The History and Fanaticism of Ohio State Football and Players, Teams and Stadium Ghosts, and has won numerous writing awards. He re­sides in Westerville, Ohio.

 
or
Not Currently Available for Direct Purchase