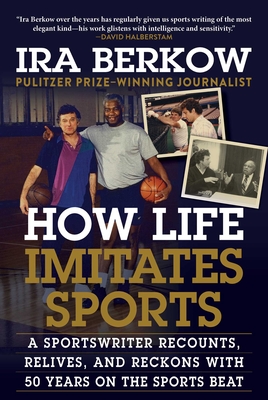 How Life Imitates Sports
A Sportswriter Recounts, Relives, and Reckons with 50 Years on the Sports Beat
Hardcover

* Individual store prices may vary.
Description
Memorable Stories From a Half Century of Sports Journalism

For the last half century, Pulitzer Prize–winning sportswriter Ira Berkow has been at the center of some of the most memorable moments in sports history. From the World Series, NBA Finals, and Super Bowl, to Heavyweight Title Fights, the Olympics, and The Masters, he has seen and covered them all. After fifty years covering sports, with more than twenty-five as a journalist for the New York Times, How Life Imitates Sports shares how these events—and their participants—have significantly shaped how we as a nation have come to understand and perceive our culture (and even our politics). They are a historical record of one significant sphere of our life and times: sports.

From Muhammad Ali to Mike Tyson, Michael Jordan to LeBron James, Jackie Robinson to Derek Jeter, Billie Jean King to Tonya Harding, O. J. Simpson to Tiger Woods and beyond, this collection is a historical record of our times over this past half century, in terms of society, race and gender, politics, legal issues, and the fabric of our sports passions and human condition, ranging from pathos to humor, from introspection to perception.

Including additional commentary on when these events first occurred and how they have impacted us today, Berkow shares the knowledge of someone who sat ringside, in the press box, and on the sidelines for some of the most notable moments in our history. So whether you're a fan of baseball and basketball, or tennis and soccer, How Life Imitates Sports shows you our history from someone who witnessed it first-hand; a worthy collection for anyone who appreciates the highest quality sports journalism.
Praise For How Life Imitates Sports: A Sportswriter Recounts, Relives, and Reckons with 50 Years on the Sports Beat…
Praise for How Life Imitates Sports

"In his lengthy career, Berkow has seen and heard plenty and his past—filled with players and coaches and games and fans—pops off the pages of his latest book, a thick and pleasurable compendium of his decades as one of this country's premiere sportswriters." —Rick Kogan, Chicago Tribune

"In How Life Imitates Sports, Ira Berkow [does] remind us how great sportswriters have enriched us by writing about the world, on and off the court." —George Vecsey, author of Baseball: History of America's Favorite Game

"Berkow offers a wide-ranging collection of pieces on athletes and sports events from 1970 forward....the book serves as a fine retrospective of 50 years on the sports beat. For those who value sports journalism, Berkow's work is certain to endure." —Booklist

"Ira Berkow is a veteran sports writer whose career has mirrored the span of sporting events and athletes vicariously witnessed by the reviewer. His respective book, How Life Imitates Sports, with witty and erudite observations, will evoke memories which readers of a similar vintage have used to mark their own passages through time." —Lincoln Journal Star

Praise for Ira Berkow
 
"Ira Berkow gets inside people. It can be stated as a law that the sports writer whose horizons are no wider than the outfield fences is a bad sports writer because he has no sense of proportion and no awareness of the real world around him. Ira Berkow knows that what is important about a game is not the score but the people who play it." —Red Smith, from the foreword to Beyond the Dream
 
"Ira Berkow is one of the best sportswriters around, so it is no surprise that his basketball odyssey is one of the best sports books of this or any other year….Very few sports columnists have the genius to produce a timely piece that is also timeless. Ira Berkow has that ability in spades." —George Plimpton (for To the Hoop: The Seasons of a Basketball Life)
 
"With the keen eye of a reporter, the literary touch of a highly skilled writer, and above all a feel for the humanity in every story, Ira takes his readers to a place beyond and above what even competent sports writing generally delivers." —Bob Costas
 
"Ira Berkow over the years has regularly given us sports writing of the most elegant kind—his work glistens with intelligence and sensitivity." —David Halberstam
 
"Like anyone else who I think is good, Ira Berkow can write just as well about things other than sports as he can about sports." —Dick Schaap
 
"Ira Berkow is simply one of America's best writers, sports or otherwise." —Jim Bouton (for Pitchers Do Get Lonely: And Other Sports Stories)
Sports Publishing, 9781683583790, 424pp.
Publication Date: August 4, 2020
About the Author
Ira Berkow is both a Pulitzer-prize winner for national reporting and a Pulitzer-prize finalist for distinguished commentary, and the author of twenty-six books, including the bestsellers Red: A Biography of Red Smith, Maxwell Street: Survival in a Bazaar, and Rockin' Steady: A Guide to Basketball and Cool (with Walt Frazier), as well as nine anthologies of his journalism. A sports reporter and columnist for the New York Times for over two decades, his work has regularly been reprinted in literary anthologies, college rhetoric textbooks, in the prestigious annual anthology Best American Sports Writing, as well as The Best American Sports Writing of the Century. He resides in New York City.
or
Not Currently Available for Direct Purchase