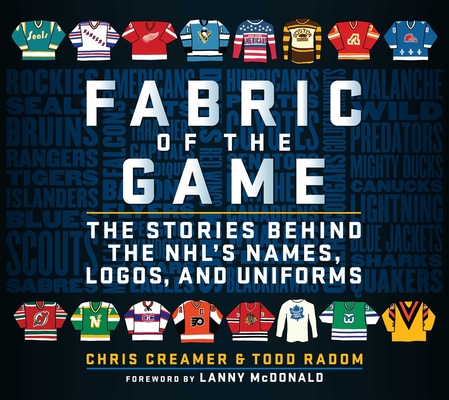 Fabric of the Game
The Stories Behind the NHL's Names, Logos, and Uniforms
Hardcover

* Individual store prices may vary.
Description
An in-depth look into the origins of how each NHL team was named, received their logo and design, with interviews by those responsible. Written by those most knowledgeable, you'll learn why every hockey team to every play in the National Hockey League looks the way it does.

Nothing unites or divides a random assortment of strangers quite like the hockey team for which they cheer. The passion they hold within them for the New York Rangers, Toronto Maple Leafs, Montreal Canadiens, or Boston Bruins allows them to look past any differences which would have otherwise disrupted a perfectly fine Thanksgiving dinner and channels it into a powerful, shared admiration for their team.

We decorate our lives with their logos, stock our wardrobe with their jerseys, and, in some cases, even tattoo our bodies with their iconography and colors. They're so ingrained in our lives we don't even think to ask ourselves why Los Angeles celebrates royalty; why Buffalo cheers for not one, but two massive cavalry swords; or why the Broadway Blueshirts named themselves for a law enforcement agency in Texas (or why they even wear blue shirts, for that matter).

All that and more is explored in Fabric of the Game, authored by two of the sports world's leading experts in team branding and design: Chris Creamer and Todd Radom. Tapping into their vast knowledge of the whys and hows, Creamer and Radom explore and share the origin stories behind these and more, talking directly to those involved in the decision processes and designs of the National Hockey League's team names, logos, and uniforms, pouring through historical accounts to find and deliver the answers to these questions. Learn more about the historied Detroit Red Wings and Chicago Blackhawks, as well as the lost but not forgotten Hartford Whalers and Quebec Nordiques, all the way to the lesser-known Kansas City Scouts and Philadelphia Quakers. Whichever team you pledge allegiance, Fabric of the Game covers them in-depth with research and knowledge for any hockey fan to enjoy.
Praise For Fabric of the Game: The Stories Behind the NHL's Names, Logos, and Uniforms…
"Fabric of the Game is a sensational book, as you'd expect from Chris Creamer and Todd Radom—you should own it. The text is packed with quotes and passages from archival sources, and is supplemented by tons of color photos and illustrations (including some developmental logo sketches, which are fascinating!)." —Paul Lukas, Uni Watch

"True to the title, Fabric of the Game is a one-stop resource to learn how 47 NHL franchises—current, relocated, defunct, and even the roster-less Seattle Kraken—were named and outfitted." —Nick Faris, The Score

"[Fabric of the Game] is filled with photos and stories of teams past and present. You want the Quebec Athletics of 1919 or the Quebec Nordiques? You can get it. You want the July unveiling of the Seattle Kraken? The book waited for it to get its final chapter in on the NHL's newest team." —Mike Harrington, Buffalo News

"Fabric of the Game: The Stories Behind the NHL's Names, Logos and Uniforms is a perfect read over the holidays for anyone looking to brush up on everything they need to know (and never thought they needed to know) about hockey jerseys. Also a great study guide for your next trivia night when we can hang out with people again." —Alex Wong, Yahoo! Sports

"[Creamer and Radom] delve deeply into the historical past of every NHL franchise and the way it got here into its title and uniform....It's a sensory delight for the eyes and assured to please any hockey fan (or those that recognize the aesthetics of sports uniforms)." —Phil Stacey, Salem News
Sports Publishing, 9781683583844, 280pp.
Publication Date: November 3, 2020
About the Author
Chris Creamer is a writer, historian, and world-renowned expert on sports logos and uniforms based in the Toronto area. His passion for logos resulted in the creation of SportsLogos.Net, an ongoing 20+ year project dedicated to the history of team logos and uniforms. He has worked closely with the National Hockey League acting as a historical consultant for their centennial season celebration, written for NHL.com, the Buffalo News, and has been featured or quoted in several publications including The Hockey News, Washington Post, Toronto Star, and Sporting News.

Todd Radom is a graphic designer, sports branding expert, and writer. His work includes the official logos for Super Bowl XXXVIII, the 2009 NBA All-Star Game, the graphic identities of multiple Major League Baseball teams—including the Washington Nationals and Los Angeles Angels—and league and team identity and branding for the BIG3 basketball league. He has provided commentary about sports logos and branding for ESPN, National Public Radio, and the New York Times. In addition, he has been profiled or quoted in numerous publications including the Washington Post, Philadelphia Inquirer, Chicago Tribune, Sports Illustrated, The Athletic, and Sporting News. Radom is the author of Winning Ugly: A Visual History of Baseball's Most Unique Uniforms.