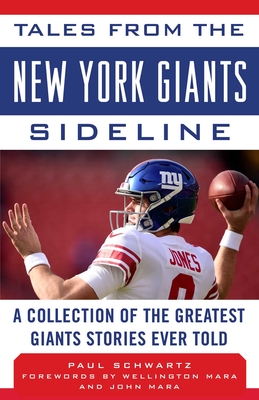 Tales from the New York Giants Sideline
A Collection of the Greatest Giants Stories Ever Told (Tales from the Team)
Hardcover

* Individual store prices may vary.
Other Editions of This Title:
Hardcover (10/3/2017)
Description
Few sports franchises can match the long, storied history, rich tradition, and legion of passionate, loyal fans of the New York Giants. In this newly-updated edition of Tales from the New York Giants Sideline, memories, anecdotes, names, faces, games, cheers, and tears come rushing back, along with new twists to old fables and old remembrances revitalized with fresh insight.

Learn about so many Giants players, including Frank Gifford, Y. A. Tittle, Lawrence Taylor, Eli Manning, Saquon Barkley, and coach Bill Parcells. There is Phil Simms, nearly perfect in the biggest game of his life, Phil McConkey's heart, David Tyree's magic helmet, and Odell Beckham's magic hands. Relive the Super Bowl victories in the 1980s, 1990s, 2000s, and 2010s. Experience the fearsome opponents, the feared defenses, the quarterbacks who could, and the ones who could not, with reminiscences bursting back to life in the words of the men who played the game.

Tales from the New York Giants Sideline tells the inside story of one of the NFL's most popular teams. This book is unquestionably a must-read for all fans of the Big Blue. 
Sports Publishing, 9781683583882, 264pp.
Publication Date: October 6, 2020
About the Author
Paul Schwartz is a sportswriter for the New York Post, where he has covered the New York Giants since 1994. He is an honors graduate of the University at Albany. In addition to Tales from the New York Giants Sideline, he is also the author of You're Wrong and You're Ugly with Sid Rosenberg. He lives in Great Neck, New York.

Wellington Mara (1916–2005) was an icon of the NFL. In 1925 his father, Tim Mara, founded the Giants. In 1959, Mara became co-owner and vice-president. He was inducted into the Pro Football Hall of Fame in 1997.

John Mara is the president and chief executive officer of the New York Giants.