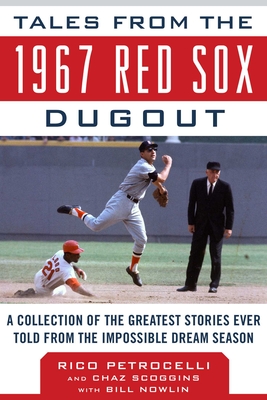 Tales from the 1967 Red Sox Dugout
A Collection of the Greatest Stories Ever Told from the Impossible Dream Season (Tales from the Team)
Hardcover

* Individual store prices may vary.
Other Editions of This Title:
Hardcover (4/25/2017)
Description
By the end of 1966, the Boston Red Sox were a team in serious trouble. The Red Sox had not won a pennant in twenty years and had not posted a winning record in eight. Pampered by their benevolent owner, Tom Yawkey, the Red Sox had developed a reputation as a team that cared more about having a good time than winning baseball games. The "Gold Sox" (or "Jersey Street Jesters") were sometimes playing before fewer than 1,000 fans at Fenway Park. Yawkey, disillusioned, began seriously considering selling the team or moving the franchise to another city.

Then, in 1967, a brash rookie manager named Dick Williams took charge of a hungry, but very young and inexperienced team that did not know how to win. A strict disciplinarian, Williams had no tolerance for nonsense, and he taught the Red Sox how to play the game right. Yet, when he predicted that the Red Sox would win more games than they'd lose in 1967, no one took him seriously. The Red Sox forged a 10-game, midseason winning streak. Adopting the theme song from the hit Broadway musical, Man of La Mancha, the 1967 Red Sox season became "The Impossible Dream." The fans grew excited again and started flocking to Fenway Park or tuning their radios to the broadcasts of the games. Over the season's final six weeks, the Red Sox never led or trailed by more than 1 1/2 games. Three teams were still in the pennant race during their final game. When that day was over, the Red Sox had become the first and only team in major-league history to rise from ninth place to league champion.

The Red Sox remain indebted to the 1967 champions, and they will be indebted forever. Rico Petrocelli, one of Boston's most beloved athletes and a twenty-four-year-old shortstop on that "Impossible Dream" team, recaptures the thrills of that improbable season through his unique anecdotes. Rico chronicles both the nightmare that threatened to swallow an organization and the resurrection that would reinvigorate a team and a city that share the same heart. 

Now updated to include the Red Sox's successes since the 1967 season, Tales from the 1967 Red Sox Dugout is a must-have for all BoSox fans.
Praise For Tales from the 1967 Red Sox Dugout: A Collection of the Greatest Stories Ever Told from the Impossible Dream Season (Tales from the Team)…
VOICES FROM THE "IMPOSSIBLE DREAM" SEASON

"This club has become a cruise ship overrun with captains and players thinking they are captain. The cruise is over, and you don't need a captain anymore. You have a new boss now: me." —DICK WILLIAMS 

"Other teams aren't taking us for granted no more. Used to be they'd go out there with an it's-just-another-ballgame attitude toward us. Now they're worrying about us as much as anyone else in the league." —JOE FOY

"I heard a hissing sound, and I thought I was going to die." —TONY CONIGLIARO

"The Red Sox are in the pennant fight, and I think we're going to win it." —KEN HARRELSON

"When I go to the ballpark now, I'm thinking only one thing: I try to hit every pitch out of the ballpark." —CARL YASTRZEMSKI

"What made Yaz really great was that he wasn't just focused on himself. He focused on what other guys were doing, too. He was like an extra coach. Yaz was everything to us that year." —RICO PETROCELLI

"Everything the Red Sox are today, all the sellouts, stems from 1967. That team can never be honored enough. Nineteen sixty-seven is the great dividing line in Red Sox history." —BOB RYAN 
Sports Publishing, 9781683583936, 264pp.
Publication Date: June 8, 2021
About the Author
Bill Nowlin was born and raised in Boston. He is the author of over twenty-five Red Sox–related books, including Red Sox by the Numbers and Fenway Park at 100. In 2004, Nowlin was elected vice president of the Society for American Baseball Research (SABR). He lives in Burlington, Massachusetts.