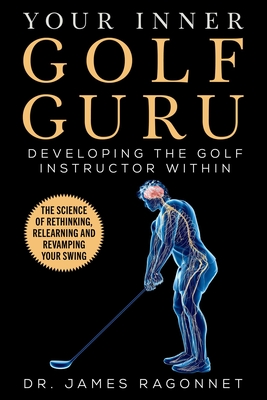 Your Inner Golf Guru (Paperback)
The Science of Rethinking, Relearning, & Revamping Your Golf Swing
Sports Publishing, 9781683583981, 312pp.
Publication Date: October 6, 2020
* Individual store prices may vary.
Description
Lower your handicap and revamp your swing as you become your own best golf instructor.
Conventional methodologies, which emphasize ball-striking dictated mostly by bio-mechanics and kinesiology, have failed to enhance the competencies of worn, weary, and wishful golfers. To diagnose and correct your dysfunctional swing, you must understand how your mind, brain, muscles, and club function. 
Your Inner Golf Guru
 explores the untapped potential of applying cognitive neuroscience and systems theory to govern your golfing game. Dr. James Ragonnet offers advice on:   
Unlearning harmful habits
Focusing attention and sharpening awareness
Adjusting movement patterns
Breaking down a complex swing into predictable components
Individualizing your golfing methodology
And more!
Although there's no prescribed or ready path for all golfers, you can improve your game by applying the lessons in 
Your Inner Golf Guru
 to become your own optimal golfing expert.    
About the Author
James L. Ragonnet, PhD, is a retired Navy Commander and English Professor at Springfield College in Massachusetts. Winner of the U.S. Navy Region One Golf Tournament and nominated for the USGA's "Herbert Warren Wind Annual Book Award," he is an experienced golfer and coach. Dr. Ragonnet is the author of Golf's Three Noble Truths: The Fine Art of Playing Awake, The Relationship Between Rhetorical and Scientific Discovery, and Successful College Teaching: The Complete Desktop Edition DVD. He resides in Williamsville, NY.