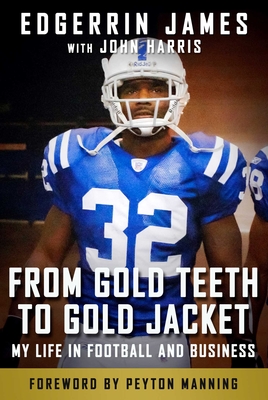 From Gold Teeth to Gold Jacket
My Life in Football and Business
Hardcover

* Individual store prices may vary.
Description
How a young man with a solid work ethic carried himself out of poverty to the pinnacle of professional sports and business.

Before he turned sixteen, Edgerrin James had already developed the critical thinking and mental discipline required for him to become one of the most astute business minds in professional sports.
 
Acclaimed as one of the greatest running backs of his generation who was inducted into the 2020 Pro Football Hall of Fame, James is a self-made financial whiz and philanthropist.
 
Selected by the Indianapolis Colts with the fourth overall pick in the 1999 NFL Draft and signing the largest contract for a rookie running back in league history, James amassed over 12,000 rushing yards, was a four-time NFL All-Pro, and led the league in rushing in each of his first two seasons.
 
In his new memoir, From Gold Teeth to Gold Jacket, with award-winning sports journalist John Harris and a foreword from fellow teammate and Hall of Famer Peyton Manning, James shares his unique, no-holds-barred perspective in becoming an all-time NFL great while also building a financial empire while raising six children.
 
The product of a single-parent household in one of the most downtrodden rural areas in the state of Florida, James balanced life as a young father as he became one of the best players in college football at the University of Miami. Later, facing what seemed like an insurmountable obstacle after reaching the pros, he overcame a devastating knee injury to leave an indelible mark on the sport.
 
When his football career ended prematurely following the tragic death of the mother of his children, James made a seamless transition to become a successful businessman. This tell-all book, featuring colorful anecdotes from his football career and personal life delivered in conversational prose, draws parallels between sports and business and guides readers on how to develop their own personal game plan to reach their maximum potential.
 
Praise For From Gold Teeth to Gold Jacket: My Life in Football and Business…
"You saw how unbelievably hard this guy worked. That's the first thing that I noticed, the fact that he wanted to be good. He didn't want to let his teammates down. He wanted to be out there." —TONY DUNGY, HALL OF FAME COACH

"We really arrived when Edgerrin arrived. . . . When you looked at the horseshoe, when you look at what it stands for, when you look at why people love it and respect it, it's because of people like Edgerrin. Only a handful of guys you can point to and say he created this legacy." —JIM IRSAY, OWNER OF THE INDIANAPOLIS COLTS

"One of the things that I'm most proud of is we helped to change the perception both inside the building and outside the building of who the Arizona Cardinals were. Edge was a huge part of that. Even though he was there a short period of time, it was his leadership and his ability to bring guys together and his willingness to step in. He helped usher in what is this era of the Arizona Cardinals and people perceiving the
organization completely differently because of willingness and perspective and really just the person he was." —KURT WARNER, HALL OF FAME QUARTERBACK AND TEAMMATE OF EDGERRIN WITH THE ARIZONA CARDINALS
Sports Publishing, 9781683584322, 336pp.
Publication Date: February 8, 2022
About the Author
Edgerrin James is a Pro Football Hall of Fame running back who starred for teams including the Indianapolis Colts and Arizona Cardinals after being selected fourth overall in the 1999 NFL Draft. Among the most astute businessmen in professional sports, he was AP Offensive Rookie of the Year and earned four Pro Bowl and four All-Pro selections during his illustrious career. He currently resides in Miami, Florida. You can follow James online at edgerrinjames.com, or on Instagram @edgerrinjames.

John Harris is a journalist based in Austin, Texas. He has covered sports, culture, race and the executive search industry for the Philadelphia Inquirer, Tampa Bay Times, ESPN's The Undefeated, CBS Sportsline, Hunt Scanlon Media and others. Harris has covered major sporting events throughout his career, including Super Bowl XLIII, which Edgerrin James participated.

Peyton Manning is one of the most recognized and revered players in NFL history. Taken number one overall in the 1998 draft, Manning played seventeen seasons in the league, winning two Super Bowls (one with the Indianapolis Colts and one with the Denver Broncos), was a 14-time Pro Bowler, five-time MVP, and will be inducted into the Pro Football Hall of Fame in 2021. A celebrity both on and off the field, he spent seven seasons as a teammate with Edgerrin James, where the two built a friendship that lasts to this day.