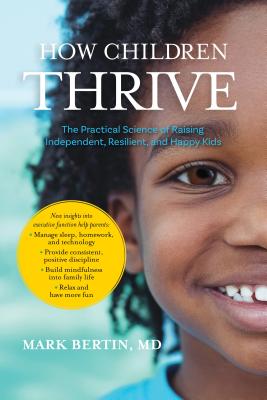 How Children Thrive
The Practical Science of Raising Independent, Resilient, and Happy Kids
Paperback

* Individual store prices may vary.
Other Editions of This Title:
Digital Audiobook (7/30/2018)
Description
Discover the proven ways parents can help their children learn, overcome adversity, get along with others, and become independent—while you relax and enjoy being a parent

How do children thrive? As a parent, you probably think about this all the time. You want your children to have happy, healthy, and meaningful lives—but what's the best way to support them? In How Children Thrive, developmental pediatrician and parent Dr. Mark Bertin provides a positive, simple, and empowering approach for raising children of all ages. Bringing together mindfulness, new science on brain development, and the messy reality of being a parent, Dr. Bertin has a created a breakthrough guide that will help children—and their parents—flourish.
Research has shown that the key to raising resilient, kind, and independent children lies in executive function, our mental capacity to manage just about everything in life. "Despite its wonky, overly scientific name, there is nothing complicated about building executive function," Dr. Bertin writes. "It's actually a lot more straightforward and less anxiety-provoking than most of the parenting advice out there." Through concise, easily applied chapters, Dr. Bertin provides simple strategies for helping your children develop healthy EF while taking care of yourself and enjoying your family. Highlights include:

Mindfulness—how it directly builds EF and how to incorporate mindful practices for the whole family
• The importance of free play, the science behind it, and how to encourage more of it
• Technology—how much is too much? At what age is screen time OK? Help your kids have a healthy relationship with media.
• Create simple routines that support independence around homework, nutrition, sleep, friendships, and more
• Age-appropriate advice for toddlers, teens, and even your twenty-somethings
• Limits and discipline: How to determine—and stick with—consequences for unwanted behavior
• Understand markers for whether your child is developmentally on track or if extra support might be needed
• Find the advice you need when you need it with short, independent chapters full of concrete practices
• Bring more calm, ease, and joy to your parenting while taking care of yourself—even when family life gets chaotic
• Give yourself permission to make mistakes and adapt along the way
"The pressure to be the perfect parent is overwhelming," writes Dr. Bertin, "but the truth is the job is too challenging and varied to ever be done to perfection." With compassion and reassurance, Dr. Bertin presents a relaxed, instinctual, and evidence-based approach to raising children who thrive.
Praise For How Children Thrive: The Practical Science of Raising Independent, Resilient, and Happy Kids…
"The great challenge of parenting is that children don't come with an instruction manual. Dr. Mark Bertin helps to rectify that, with insights and information about how your child's brain and nervous system operate and develop as they progress from dependence to independence to interdependence. The advice in this user's manual is gentle and empowering and definitely something you can try at home." —Barry Boyce, editor-in-chief of Mindful magazine and mindful.org

"Dr. Bertin reminds parents that with just a little gentle letting go (of perfectionism, consumerism), and inviting in (of mindfulness, self-compassion), they will discover that they already have the tools and wisdom they need to help their children and teens thrive!" —Dzung X. Vo, MD, FAAP, author of The Mindful Teen: Powerful Skills to Help You Handle Stress One Moment at a Time

"Dr. Bertin has done it again, laying out an empowering, positive, and most of all fun pathway to resilient kids and families." —Chris Willard, PsyD, author of Growing Up Mindful

"Dr. Bertin is a reassuring, practical, compassionate, and humble guide through the complex territory of parenting. Better yet, he provides readers with a reliable compass for navigating all our modern parenting dilemmas. This compass—executive function—allows us to navigate the varied developmental terrain each of our children traverses on their way to healthy adulthood—home life, school, play, extracurriculars, sleep, nutrition, technology, family relationships, friendships, responsibilities, privileges, and even behavioral consequences." —Amy Saltzman, MD, author of A Still Quiet Place for Teens: A Mindfulness Workbook to Ease Stress and Difficult Emotions

"Dr. Bertin elevates the focus on executive function in childhood/adolescent development to new heights. His clear, scientific, and practical approach will change my practice and, I hope, the practice of many of my colleagues. In a world of executive dysfunction, Dr. Bertin's approach should be included in the basics of child development, pediatric temperament, and constructive family dynamics." —Elio Gizzi, MD, chief of General Pediatrics, East Bay, The Permanente Medical Group

"The real title should be How Children (and Their Parents) Thrive! Dr. Bertin's nonjudgmental and reassuring tone is the perfect antidote for the parenting book that makes us feel like we're doing everything wrong. Understanding a child's developmental capabilities at different ages and working to their strengths is worth the price of admission. And that's only Chapter 1! I can't do my twins' first ten years over again, but now I'll go into their second decade MUCH more confident that I have the tools to handle what's ahead." —Wendy Mass, New York Times bestselling author of A Mango-Shaped Space

"How Children Thrive is a breath of fresh air. Mark Bertin cuts through all the overwhelming theories on how to optimally raise children and presents an elegant, effective, yet simple approach that can help your child develop into the best version of themselves (while maintaining your sanity!). If you've ever felt overwhelmed as a parent, this book is a must-read!" —Elisha Goldstein, PhD, founder of A Course in Mindful Living

"How Children Thrive is a book I highly recommend not only for parents but also for professionals who work with children and their families. Mark Bertin has done a masterful job of explaining the key role of executive function (EF) in a child's development and has offered very specific, practical suggestions for nurturing EF, self-discipline, and resilience in children. As Mark shares his insights about parenting, I was especially impressed with his ability to do so in an empathic manner. His warmth and humor as well as appreciation for the challenges parents face were evident throughout the book—making it easier for parents to understand, accept, and apply the information he conveys. This book is a wonderful resource for parents in developing self-compassion and resilience in their own lives so that they are better equipped to develop these same qualities in the lives of their children." —Dr. Robert Brooks, coauthor of Raising a Self-Disciplined Child and The Power of Resilience

"In How Children Thrive, Mark Bertin offers a clear, accessible overview of child development. He makes the important point that a parent's state of mind powerfully affects the development of the child and presents a wealth of mindfulness-based practices to help both parents and kids." —Sharon Salzberg, author of Real Love

"Mark Bertin has provided a smart, readable, and immensely valuable guide to the development of resilience and executive skills. It's exactly the type of book I was looking for when my children were growing up." —Susan Kaiser Greenland, author of The Mindful Child and Mindful Games
Sounds True, 9781683640202, 256pp.
Publication Date: May 1, 2018
About the Author
Mark Bertin, MD, is a developmental pediatrician and author. His previous books, Mindful Parenting for ADHD and The Family ADHD Solution, integrate mindfulness with other evidence-based ADHD care. He is also a contributing author for the book Teaching Mindfulness Skills to Kids and Teens. Dr. Bertin is a faculty member at New York Medical College and the Windward Teacher Training Institute, and is on the advisory boards for the nonprofit organizations Common Sense Media and Reach Out and Read. His blog is available through HuffPost, Mindful magazine, Mindful.org, and Psychology Today. For more information, please visit his website at developmentaldoctor.com.

CHRISTOPHER WILLARD, PSYD, is a clinical psychologist and consultant specializing in bringing mindfulness into education and psychotherapy. The author of Child's Mind (Parallax, 2010) and other books on the topic, Dr. Willard lives in Cambridge, Massachusetts and teaches at Harvard Medical School and Lesley University. For more, visit drchristopherwillard.com.
or
Not Currently Available for Direct Purchase