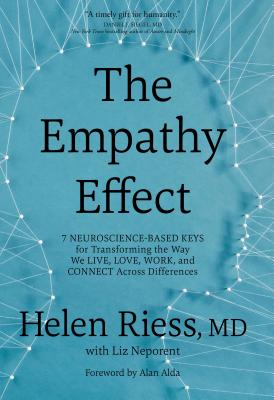 The Empathy Effect
Seven Neuroscience-Based Keys for Transforming the Way We Live, Love, Work, and Connect Across Differences
Hardcover

* Individual store prices may vary.
Other Editions of This Title:
Compact Disc (11/27/2018)
Paperback, Chinese (7/21/2020)
MP3 CD (11/27/2018)
Description
"We are all connected on a neurobiological level far more than we have previously realized. Consciously or not, we are in constant, natural resonance with one another's feelings. When we are engaged in shared mind awareness, the possibilities for mutual aid and collaborative problem solving abound."
—Helen Riess, MD

A Revolutionary Guide for Understanding and Changing the Way We Connect

Empathy is undergoing a new evolution. In a global and interconnected culture, we can no longer afford to identify only with people who seem to be a part of our "tribe." As Dr. Helen Riess has learned, our capacity for empathy is not just an innate trait—it is also a skill that we can learn and expand. With The Empathy Effect, Dr. Riess presents a definitive resource on empathy: the science behind how it works, new research on how empathy develops from birth to adulthood, and tools for building your capacity to create authentic emotional connection with others in any situation.

Dr. Riess emerged as leading researcher on empathy by creating a breakthrough training curriculum now used internationally in health care, business, and education. Drawing from this successful program and the latest science, she presents:

• The E.M.P.A.T.H.Y.® method—a powerful seven-step system for understanding and increasing empathy, starting with Eye Contact and ending with Your Response
• How empathy works—a comprehensive synthesis emerging from neuroscience, sociology, developmental psychology, and evolutionary theory
• Tools for recognizing and promoting empathic behavior in yourself and others
• Parenting and teaching empathy in kids—guidance for every stage of development
• Texts, emojis, and digital empathy—the modern challenge of authentic connection in the information age
• Empathy through art and literature—exploring the power of creative expression to expand our emotional experience
• Leading with empathy—how political and business leaders can combine compassion with efficiency through group empathy skills and shared mind intelligence
• Digging deep for empathy—how to reverse scapegoating and recognize shared humanity with those we normally keep at a distance
• Self-compassion—why your ability to express love toward yourself affects every other relationship in your life

"Nourishing empathy lets us help not just ourselves," says Dr. Riess, "but also everyone we interact with, whether for a moment or a lifetime." The Empathy Effect is a life-changing book that will revolutionize the way you understand yourself, relate to your loved ones, and connect to every person in your life.
Praise For The Empathy Effect: Seven Neuroscience-Based Keys for Transforming the Way We Live, Love, Work, and Connect Across Differences…
"Timely, informative, and compassionate, [THE EMPATHY EFFECT] explains how empathy helps break down the barriers between "us" and "them," expanding our boundaries and our caring." —Foreword Reviews, STARRED review

"Excellent...The Empathy Effect couldn't have come out at a better time." —Spirituality & Health

"Every person…needs to read this book." —Retailing Insight, reviewed by Anna Jedrziewski

"Everyone who cares about others will benefit from Dr. Helen Riess's book. An important contribution in these challenging times." —Paul Ekman, PhD, professor emeritus, University of California Medical School, San Francisco, author of Unmasking the Face and Emotions Revealed

"Empathy has always been a secret strength of the healer's art. In The Empathy Effect Dr. Helen Riess, a compassionate physician herself, updates this ancient tool, making it a practical and accessible skill for anyone in the healing professions–and everyone else, too." —Daniel Goleman, New York Times bestselling author of Emotional Intelligence

"This wonderful exploration of a vital topic coming from a world-class scientist reads like a page-turning novel, with heart-touching stories, fascinating research, and tons of practical takeaways. At a time when the fabric of human society seems to be fraying, this book offers hope and help for individuals, couples, families, organizations, and communities to mend it together." —Rick Hanson, PhD, New York Times bestselling author of Resilient, Buddha's Brain, and Hardwiring Happiness

"What's at the intersection of neuroscience research, masterful storytelling, and practical application? The Empathy Effect. Yes, empathy can be learned, and medical schools are leading the way, thanks to Dr. Reiss. Business schools should make The Empathy Effect required reading!" —Margaret H. Greenberg, MAPP, PCC, co-author of the bestselling Profit from the Positive: Proven Leadership Strategies to Boost Productivity and Transform Your Business

"Any effective middle school teacher understands that kids learn more if they know you love them. We're not going to be their best friends, nor should we be, but if kids know we care they can soar. Dr. Riess has done a huge service articulating the science behind what good teachers know. She supports this science with concrete example and pragmatic advice that will help fundamentally change the trajectory for many children." —The Rev. Dr. John H. Finley IV, co-founder and head of Epiphany School, Boston

"Dr. Riess operationalizes the word 'empathy,' honing it from an often-proclaimed but poorly defined modern cliché to a tool that will help readers connect, grow, and flourish." —Joseph Lee, MD, ABAM, medical director of Youth Continuum at Hazelden Betty Ford Foundation

"In an age of epidemic meanness, the media catalogue daily events that shock us with their rudeness, even cruelty. How will we re-learn civility? In this wonderful, new, accessible book, Helen Riess weaves the story of her discoveries and their implementation to raise our levels of empathy. From 'shared mind intelligence' through the 7 keys of empathy to the politics of empathy in leadership, Dr. Riess describes in the simplest terms the neurobiology of empathy and why it is critical to healthcare and every other service offered to humans. She succeeds brilliantly in the challenge of her title—to transform life, love, work, and human connection." —Richard I. Levin, MD president and CEO, The Arnold P. Gold Foundation, professor emeritus, New York University and McGill University

"The Empathy Effect offers us a deep dive into one of the most important human capacities—to sense, understand, and care about others. In a time when compassion is often in short supply, our eloquent guide reveals the science of how empathy and compassion overlap and shows us the key ingredients to cultivating both in our lives. Built upon years of practical applications and scientific studies, this book is a timely gift for humanity." —Daniel J. Siegel, MD, New York Times bestselling author of Aware: The Science and Practice of Presence and Mindsight

"In this remarkable book, Dr. Riese dissects empathy with rate insight, offering us all a path to examining our own hearts by listening carefully to those whom we serve." —Jim O'Connell, MD, president of Boston Health Care for the Homeless Program and assistant professor of medicine at Harvard Medical School

"Through story and science, Dr. Helen Riess describes an understated but pivotal emotion: Empathy. We learn how our glances, posture, and tone of voice can envelope or isolate—can create healthy children, great workplaces, and inspiring political leadership, or promote cyber-bullying, lawsuits, and social disorder. The Empathy Effect is a must-read for anyone interested in understanding relationships, from the personal to the political." —Barbara Bradley Hagerty, New York Times bestselling author of Life Reimagined: The Science, Art, and Opportunity of Midlife

"A fast and interesting read, full of big aha moments about what actually happens when we experience another's pain." —Suzie Reider, managing director of advertising sales at Google

"This book had me at hello. As a faculty member and teacher trainer at the Kripalu Center for over 30 years, and an ongoing movement and yoga teacher for the Parkinson's community and those with special needs, I have learned a thing or ten about empathy. Reading this book is teaching me much more about the topic. The authors carefully analyze and 'dig deep for empathy,' while offering readers seven critical components of empathy. As I read these wise, wonderful words, I only wished this book had been written three decades earlier to help me navigate the often-treacherous path of training people to be compassionate and empathetic. I am so grateful The Empathy Effect came to me and hope it will be read around the world." —Megha Nancy Buttenheim, MA, chief joy officer: Let Your Yoga Dance® LLC and author of Expanding Joy: Let Your Yoga Dance

"Everyone knows that empathy is an enormously powerful asset in the work of healing. But few knew that it could be developed through systematic training. Now, this book puts the development of the skillful practice of empathy fully in the reach, not just of health care professionals, but, frankly, anyone who wants to be a better listener and carer." —Donald M. Berwick, MD, president emeritus and senior fellow, Institute for Healthcare Improvement
Sounds True, 9781683640288, 248pp.
Publication Date: November 27, 2018
About the Author
HELEN RIESS, MD, is associate clinical professor of psychiatry at Harvard Medical School. Her work has been featured in the New York Times, HuffPost, JAMA, and more. She lives in Boston, Massachusetts. For more, visit empathetics.com.

LIZ NEPORENT is an award-winning health and medical journalist, and is currently a managing editor at Medscape/WebMD. She lives in New York City and upstate New York. For more, visit liznep.com.