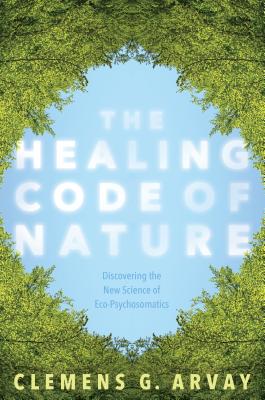 The Healing Code of Nature
Discovering the New Science of Eco-Psychosomatics
Paperback

* Individual store prices may vary.
Description
Human beings are inseparable from the natural world, co-evolving with all of life. In order to thrive, we need to nourish this bond. In The Healing Code of Nature, biologist Clemens G. Arvay illuminates the miraculous ways that the human body interprets the living "code" of plants, animals, and our larger natural habitat for healing and sustenance. Here is a book as inspiring as it is fascinating, offering a new vision for the future of medicine and the way we relate to our environment.

Learn more about:

• The new science of eco-psychosomatics: the study of the close connection between mind, body, and nature
• The biophilia effect and the healing relationship between humans and trees
• Epigenetics and the mounting evidence of how environmental experiences of a living being can directly affect genetic material
• The role of evolutionary medicine in understanding and treating cancer
• Regenerating in nature and taking a time-out from the stressors of modern living
• Unleashing the healing potential of encounters with animals
• Moving beyond the materialist view to reclaim nature as an unsolvable mystery
Praise For The Healing Code of Nature: Discovering the New Science of Eco-Psychosomatics…
"The biologist Clemens Arvay has given us a concise, utterly fascinating critique of the still-dominant reductionist, materialist view of the natural world. More important, he is one of the handful of modern eco-philosophers helping to paint a portrait of a future we can still help create, where human beings are not defined by the color of their skin or even the content of their brains, but by their integration with all of life." —Richard Louv, author of The Nature Principle and Last Child in the Woods: Saving Our Children from Nature-Deficit Disorder

"The Healing Code of Nature is a science-based manifesto about the growing field of 'nature medicine' that carefully outlines what human lives need as we move forward in a world in which all forms of nature are disappearing at unprecedented rates. Clemens Arvay writes convincingly and eloquently about how, when we get 'out into nature,' we not only can sustain healthy bodies and minds, but also cure ourselves. He stresses that nature as a whole must be preserved not only for the benefits we reap when we get out and enjoy magnificent landscapes and fascinating nonhuman animals, but also to save natural diversity for future generations who may need getting outdoors more than we do now. The book shows that as we become aware of the benefits that accrue when we immerse ourselves in the great outdoors, it'll be a win-win for all animals human and nonhuman, as well as for diverse flora, living bodies of water, and inanimate entities. Written for a broad and global audience, I hope that Clemens Arvay's new book will be enjoyed by the masses and shared widely." —Marc Bekoff, PhD, professor emeritus of ecology and evolutionary biology, University of Colorado, Boulder; author of Rewilding Our Hearts: Building Pathways of Compassion and Coexistence and Canine Confidential: Why Dogs Do What They Do

"In his deeply researched book, Clemens Arvay accumulates a host of empirical evidence that humans must not be understood as physically separated from non-human life. The message is profound: we cannot heal if we don't understand that nature's suffering is literally our own. Letting the web of life die means cutting the ties to our own immune system—not in symbolic, but in a literal sense. Arvay's book is one of the pioneering works heralding a new, post-dualistic era of thinking, in which we understand ourselves as part of a vast commons of life." —Andreas Weber, PhD, author of Matter & Desire, Biology of Wonder, and Enlivenment
Sounds True, 9781683640318, 216pp.
Publication Date: August 1, 2018
About the Author
Clemens G. Arvay is an Austrian biologist who studied landscape ecology at Graz University and applied plant sciences at the University of Natural Resources and Life Sciences in Vienna. Arvay examines the relationship between humans and nature, focusing on the health-promoting effects of contact with plants, animals, and landscapes. The author also addresses a second range of topics that includes ecologically produced food along with the economics of large food conglomerates. Clemens G. Arvay has written numerous books including The Biophilia Effect. More at clemensarvay.com.
or
Not Currently Available for Direct Purchase