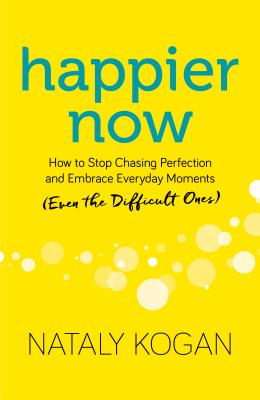 Happier Now (Hardcover)
How to Stop Chasing Perfection and Embrace Everyday Moments (Even the Difficult Ones)
Sounds True, 9781683641100, 256pp.
Publication Date: May 1, 2018
Other Editions of This Title:
CD-Audio (6/1/2018)
Paperback (2/25/2020)
* Individual store prices may vary.
Description
Experience more joy and meaning each day—and have greater resilience when times get tough
What if you could be happier, right now, without radically changing your life? As nationally recognized happiness expert Nataly Kogan teaches, happiness is not a nice feeling or a frivolous extra. It's a critical, non-negotiable ingredient for living a fulfilling, meaningful, and healthy life—and it's a skill that we can all learn and improve through practice. In Happier Now, Nataly shares an illuminating, inspiring, and science-based guide to help you build your happier skills and live with more joy, starting now.
Nataly's own journey from Russian refugee to successful investor, tech executive, and founder and CEO of Happier taught her an important lesson: no matter how much you accomplish, how much you live the "right" way, or even how much gratitude you practice, life won't always be smooth. "We experience genuine and lasting happiness when we stop trying to turn the negative into the positive," Nataly writes, "and when we embrace the full range of our human emotions with compassion and strength."
Throughout this engaging guide, Nataly describes how she went from being cynical and resistant to the ideas behind self-improvement and spirituality, to studying everything she could on the science of happiness, to completely shifting her mind-set. You'll learn five core practices for building your happier skills—acceptance, gratitude, intentional kindness, knowing your bigger why, and self-care—along with the scientific research that supports each one.
Highlights include:
Daily Anchors—Cultivate a custom set of simple daily practices, fine-tuned for your emotional health needs
• Bring more joy and meaning into your life as it is—without needing to make difficult or time-consuming changes
• How happiness leads to many of the things you want in life, rather than results from them
• Learn an effective five-minute happier workout for whenever you need a boost
• Strengthen your "emotional immune system" so you can be okay when times are tough—and bounce back to happy sooner
• Specific instructions for tools and techniques that work—based on what's actually happening in your brain
• Effective exercises, journaling prompts, and key insights for developing each core happier skill
As Nataly says: "It's time to stop saying 'I'll be happy when . . .' and start saying 'I'm happier now because . . .'"
About the Author
Nataly Kogan is an entrepreneur, speaker, and author on a mission to help millions of people cultivate their happier skills by making simple, scientifically backed practices part of their daily life. Nataly immigrated to the US as a refugee from the former Soviet Union when she was 13 years old. Starting her life in the projects and on welfare, she went on to reach the highest levels of corporate success at companies like McKinsey & Company and Microsoft. When she still found herself unfulfilled, Nataly set out to discover what really leads to a fulfilling, happier life. Her explorations led her to create Happier, a company whose award-winning mobile application, online courses, and "Happier at Work" training programs have helped more than a million people improve their emotional health.
Nataly is a sought-after keynote speaker and has appeared in hundreds of media outlets, including the New York Times, the Wall Street Journal, TEDx Boston, SXSW, The Harvard Women's Leadership Conference, and The Dr. Oz Show. She is a self-taught abstract artist and a devoted yogi. Nataly lives with her husband Avi and daughter Mia outside of Boston, although Nataly will always be a New Yorker at heart. For more, visit happier.com.
Praise For Happier Now: How to Stop Chasing Perfection and Embrace Everyday Moments (Even the Difficult Ones)…
"Natalys passion is contagious and persuades us that happiness might be possible even when life is hard. By making habit changes practical, by helping us reconnect to the meaning in our lives, and by opening up about the challenges she's overcome, Nataly's hopeful optimism is indomitable, inspiring, and life-changing." —Shawn Achor, New York Times bestselling author of Big Potential and The Happiness Advantage
"In Happier Now, Nataly Kogan traces her own journey to everyday happiness. What she discovers is that chasing one big goal rarely brings an end to self-doubt, fear, and unhappiness. Instead, true satisfaction is more often found in facing our negative emotions, cultivating self-care, and finding purpose in life. This book can be a guide to a life of genuine happiness." —Daniel H. Pink, author of Drive and A Whole New Mind
"Happier Now will feed your soul and nourish your mind. Expect inspiration, practical advice, and greater confidence that true, lasting happiness is within reach." —Elena Brower, author of Practice You
"By synthesizing a treasure trove of psychology, neuroscience, and behavioral economics research, Nataly has created an immensely practical approach of what we can do every day to create more joy, feel more gratitude, and be happier. This is a book we can all learn from—no matter what our baseline levels of serotonin!" —Bob Kocher, MD, former special assistant for health-care and economic policy for President Obama; adjunct professor, Stanford University; and partner at Venrock
"Through doable, accessible practices, Nataly teaches us how to find joy in everyday moments, rather than hanging our happiness on the next big milestone, and how to avoid being guided by our ego and remember that we're a being, not a doing. As a mom, my biggest takeaway was the importance of teaching my kids that it's okay to not be happy sometimes instead of giving them a distraction to make them happy." —Fran Hauser, startup investor, former president of digital at Time Inc., and author of The Myth of the Nice Girl
"Nataly rocks! Her journey is not only honest and vulnerable but also practical and inspiring—no easy feat! Happier Now isn't your standard cliché-filled slog. Instead, it's a refreshing, insightful, and actionable guide to making small changes that add up to a more resilient and joyful life." —Derek Flanzraich, CEO and founder of Greatist
"What I love about Nataly's book is that she challenges us all to forgive ourselves for saying 'I'll be happier when . . .' and instead start telling ourselves 'I'm happier because . . .' Gratitude is a strategy. This realization has helped me in my life, and I know it will help you too." —Amy Jo Martin, entrepreneur & New York Times bestselling author
"Every person on planet Earth wants the same thing—happiness. And yet it eludes most of us. With a skillful blend of scientific research and inspiring stories, Nataly teaches us that the keys to happiness are right in our hands." —Bert Jacobs, cofounder of Life Is Good and coauthor of Life Is Good: The Book
"Nataly Kogan has a profound insight: that happiness is not just a feeling but something that we can practice. Happier Now is chock full of both the philosophy and tools we all need to transform and enrich the way we think about our lives—an invaluable resource for turbulent times." —Diane Hessan, entrepreneur, researcher, and CEO of Salient Ventures
"Part touching memoir, part practical workbook, Happier Now leads the reader on an entertaining and useful journey to increase life's joy and meaning." —Alex Korb, PhD, author of The Upward Spiral: Using Neuroscience to Reverse the Course of Depression, One Small Change at a Time
"This book, like Nataly herself, is a shining beacon if you are at a point of absolute exhaustion or crisis in your life. Serving as your trusted guide, Nataly's road-tested wisdom will lead you into a deeply personal awakening and a happier, more fulfilling life. If you believe in 'signs,' then noticing this book at this exact point in YOUR life means that it was meant for YOU. Pick it up. Apply its lessons. Emerge Happier Now." —Amy Gray, New Leaf Speaker Management
"Nataly Kogan shows us that being happier isn't easy, but it is doable—and Happier Now offers insight into how to get there." —Michael Norton, coauthor of Happy Money: The Science of Happier Spending