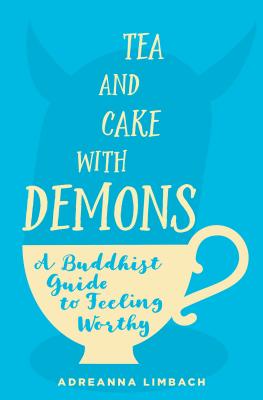 Tea and Cake with Demons
A Buddhist Guide to Feeling Worthy
Paperback

* Individual store prices may vary.
Description
In Tea and Cake with Demons, Adreanna Limbach brings secular Buddhist teachings to a new generation by addressing one of the most pressing concerns we all face—authentic self-worth. "Our ambition, goal-setting, self-helping, and even our spiritual practices are often driven by the underlying sense that we just aren't enough," writes Limbach. "But what if we could accept ourselves just as we are? Open our hearts and invite our demons to tea?"
These demons, Limbach teaches, manifest for many of us as a chronic sense of "not-enoughness," inherited through cultural stories that send us conflicting messages: we're supposed to feel happy and confident, but we're also never quite worthy of those feelings. Using the Four Noble Truths as a guide, Limbach shares meditation practices, personal anecdotes, and traditional Buddhist tales that help us learn to befriend ourselves—even the more unsavory bits—so we can realize our full potential. A popular mindfulness teacher and emerging voice in modern Buddhism, Limbach brings a playful, fresh, and at times joyfully irreverent tone to walking the Eightfold Path.
Praise For Tea and Cake with Demons: A Buddhist Guide to Feeling Worthy…
Limbach, a meditation instructor, introduces Buddhism through a discussion of the negative effects of self-doubt and feelings of unworthiness in her engaging debut. . . With a keen eye and lucid prose, Limbach offers up novel understandings of key Buddhist concepts. . . Readers unfamiliar with Buddhist concepts or those looking for fresh interpretations will find this guide a welcome entry point." —Publishers Weekly
Sounds True, 9781683641223, 208pp.
Publication Date: July 9, 2019
About the Author
Adreanna Limbach is a personal coach and a lead meditation instructor at MNDFL, NYC's premier drop-in meditation studio. Her teachings have been featured in the New York Times, Women's Health, and Refinery29. She lives in New York City. For more, visit adreannalimbach.com.