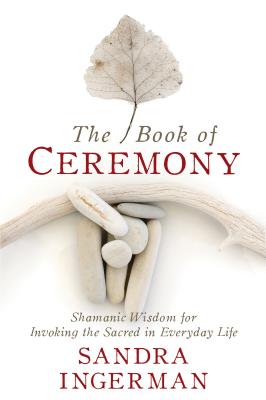 The Book of Ceremony
Shamanic Wisdom for Invoking the Sacred in Everyday Life
Paperback

* Individual store prices may vary.
Other Editions of This Title:
Digital Audiobook (12/11/2018)
Description
We perform ceremonies to mark important events and celebrate holidays—yet our modern approach to ceremony only scratches the surface of its true potential. With The Book of Ceremony, shamanic teacher Sandra Ingerman presents a rich and practical resource for creating ceremonies filled with joy, purpose, and magic. "We are hungry to connect with more than what we experience with our ordinary senses in the material world," writes Sandra. "By performing ceremonies, you will find yourself stepping into a beautiful and creative power you might never have imagined."

Weaving shamanic teachings together with stories, examples, and guiding insights, The Book of Ceremony explores:

• The elements of a powerful ceremony—including setting strong intentions, choosing your space, preparing ceremonial items, and dealing gracefully with the unexpected
• Stepping into the sacred—key practices for leaving behind your everyday concerns and creating a space where magic can happen
• Guidance for working alone, in community, and across distances with virtual ceremonies
• Invoking spiritual allies—the power of working with the elements, the natural world, ancestor spirits, and the creative energy of the divine
• Sacred transitions—including ceremonies for weddings, births, rites of passage to adulthood, funerals, honorable closure, and new beginnings
• Ceremonies for energetic balance—healing and blessing, resolving sacred contracts, getting rid of limiting beliefs, creating Prayer Trees, and more
• Life as a ceremony—how to infuse your entire life with ceremonial practice, from planting a garden to revitalizing your home or office to helping heal our planet

The Book of Ceremony is more than a "how-to" guide—it will inspire you to create original ceremonies tailored to your own needs and the needs of your community. When you invoke the sacred power of ceremony, you tap into one of the oldest and most effective tools for transforming both yourself and the world. As Sandra writes, "If you perform one powerful and successful ceremony for yourself, the principle of oneness ensures that all of life heals and evolves."
Praise For The Book of Ceremony: Shamanic Wisdom for Invoking the Sacred in Everyday Life…
"Compassionate...personal...Ingerman's comforting ceremonies will provide interested, believing readers with practices for times of strife, stress, and uncertainty." —Publishers Weekly

"Sandra Ingerman invites you on a life-transforming magical carpet ride in her new release, The Book of Ceremony. She reminds you that rituals and ceremonies are the drawbridges to a lush landscape where the ordinary can seamlessly evolve into the sacred. Easy-to-follow directions will guide you to confidently prepare, plan, and execute rituals and ceremonies for all circumstances. This engaging read is perfect for those of you just beginning to recognize and explore your spiritual path, all the way up to the most seasoned and gifted shamans. Whether your occasion is a joyful event such as the birth of a new baby, tough times like transitions, hardships, or endings, or even welcoming nature's changing seasons, the tools are there. Sandra takes her profound insights and knowledge and weaves it all into relevant stories that will lovingly grab you right from page one. The way she meshes new technology with ancient wisdom is brilliant and exciting. While immersing myself in this wondrous work, I experienced a myriad of emotions from laughter to compassionate tears. Keep this book handy. You and your community will visit it often for its simple reminders on how to live life fully as an expression of your gratitude for the unseen world of spirit." —Renee Baribeau, the Practical Shaman, Wind Whistler, and author of Winds of Spirit: Ancient Wisdom Tools for Navigating Relationships, Health, and the Divine

"Our word 'ceremony' is derived from the Latin word caerimoni. It covers a range of meanings from observance and solemnity to sanctity or holy deed. Ceremony means performing a sacred act. During a ceremony, the veil between the worlds dissolves and the gates to our soul open while the hands of our ancestors cradle us. Hope, healing, and miracles all live in this place. As Sandra says in this book: ceremony is a sacred tool so powerful that we cannot keep it for ourselves—it must be shared! Thank you, Sandra Ingerman, for giving the world a book that preserves the mystery of ceremony yet tells us how ceremony is actually done, allowing all of us to taste a drop of eternity." —Imelda Almqvist, international teacher of sacred art and shamanism, author of Natural Born Shamans: A Spiritual Toolkit for Life and Sacred Art, a Hollow Bone for Spirit: Where Art Meets Shamanism

"In these pages, you'll find a wide range of ceremonial medicine including altar-making, traditional fire and water ceremonies, coming-of-age ceremonies, blessing ceremonies, relationship 'unwinding' ceremonies, energy-balancing ceremonies for body and earth, innovative virtual ceremonies for online sessions, and Ingerman's beautiful transfiguration ceremonies. All are punctuated by practical advice on length ('keep it short'), intention, unforeseen situations, holding safe space, and allowing the helping spirits to 'work with you, not for you.'
"A great teacher leads not only with fine instruction but with her inner light and way of being in the world. As a graduate of Sandra's shamanic teacher training program, I saw firsthand how she could lead and light up an entire room with simple, well-designed ceremonies for transforming our personal lives, communities, and the wounded earth. This book shows you how she did that with clear intention, complete trust in her helping spirits, gentle humor, and great love." —Jeff Nixa, JD, MDiv, director of Great Plains Shamanic Programs and author of The Lost Art of Heart Navigation: A Modern Shaman's Field Manual

"Ingerman stresses the importance of incorporating ceremonies into our everyday lives as individuals, but also shows that we can use them to bring ourselves together with others in community. More experienced shamanic practitioners as well as beginners at working in the shamanic realms will find a cornucopia of powerful ideas here for creating and engaging in ceremonies that provide a sense of meaning, healing, and connection." —Carl Greer, PhD, PsyD, author of the bestselling, award-winning Change Your Story, Change Your Life

"The Book of Ceremony will be one to refer to many times through the coming years whenever there is a call to honor transitions, celestial events, celebrations, or for any other reason that you want to invoke the conscious presence of Spirit in action. A longtime practitioner and teacher of shamanism, Sandra Ingerman has led and participated in hundreds of ceremonies for a variety of purposes. She offers abundant examples of various types of ceremony along with examples that will inspire you and give you guidelines for doing your own, whatever the designated purpose. It's a must-have book for anyone, whether a beginner or an experienced practitioner!" —Steven Farmer, PhD, author of Sacred Ceremony and Earth Magic, leader of Earth Magic®

"A big part of the genius of this book is it is not drawing on any indigenous tradition, rather we are encouraged and empowered to create sacred ceremonies that speak to our own time and place, and which come from our collaboration with the compassionate helping spirits. Great care for a new reader is taken in this book, showing them how to create beautiful, moving ceremonies for themselves. I found the reading of it to be as nourishing as bread: 'Ceremony brings the sacred into everyday life.' It's a very lucid style of writing that lifts up the essence and reminds us, with our short attention spans, that we do well to craft simple ceremonies from the heart." —Unknown

"With my background in extreme religion, I was never really equipped nor empowered to be a prophet or leader of my own life, spiritually speaking. I was conditioned to be a repeat customer of organized religion, as well of 'gurus,' once I broke from religion. For the longest time, I had a fear that I was living life wrong." —Unknown

"When we undertake ceremonies with reverence and intentionality, we can more easily release old beliefs, emotions, and obstacles to transformation and bring in both new energy for healing and growth as well as insights about our lives and our stories about them. In The Book of Ceremony, Sandra Ingerman explains that ceremony directly connects us to the invisible, sacred realms and helps us achieve joy, peace, and transformation. She encourages readers to ponder the ultimate realities of life and use ceremony to engage and more deeply experience transitions that serve as initiations into a new stage of being. Beautifully describing many types of ceremonies, Ingerman provides examples of the profound effects they can have on those who participate, their descendants, and others in their communities and in the world. Explaining how to work with nature and its elements outdoors or indoors, she provides ideas for simple as well as more involved ceremonies, all of which have a beginning, middle, and end. Even so, within those structures lies the potential for the unexpected to deepen their meaning, and her stories remind us of the importance of remaining open to Spirit's ideas about what we need to learn and experience." —Unknown

"In The Book of Ceremony, Sandra Ingerman has created something I've never encountered before! To say that The Book of Ceremony is comprehensive in its scope would be a gross understatement. Sandra offers instruction and examples for ceremonies that apply to virtually any life situation or circumstance I could imagine. And paradoxically, the book feels concise and to the point. In each chapter, Sandra shares her vast wisdom and experience with an abundance of information on the categories of ceremony she explores. Sandra's loving reverence for the earth and all beings is evident on every page, and it's obvious that she is a teacher who 'walks the walk' with immense integrity and authenticity." —Unknown

"One of the many outstanding qualities I love most about Sandra's teaching and writing is her unique ability to transmit and articulate shamanic wisdom teachings that can seem very complex and esoteric to those unfamiliar with shamanism and related topics. Her writing is clear and accessible to virtually anyone at any level. As a seasoned shamanic practitioner and teacher, ceremony and ritual have a central role in my life. Yet I found myself being continuously inspired by the many 'gems' I discovered while reading this book, and I am already incorporating some of these into my life." —Unknown

"I am deeply moved by this new book by Sandra Ingerman. She is so loving and so gentle in her communication of profound principles of spiritual living. Her style is always so simple, clear, and yet profound. It nourishes our deep need for reconnecting with the Sacred and for having a line of communication open through ceremony to help us transmute our selves, transform our world, manifest our intentions, and make our dreams come true. There is SO much wisdom in this offering to guide us in ceremonial work." —Unknown

"Sandra Ingerman just seems to have thought of everything we need to be aware of for virtually any kind of ceremony. It is a relatively small book, chock-full of useful ideas. There are suggestions on how to trust your own ceremonial genius—your own wisdom and creativity. She shows you how you can elegantly design and facilitate ceremonies that bring in light and a loving energy that is so beautiful that even the household pets like coming into sacred space." —Unknown

"I found that part of the joy of reading this book is that it's like reading sacred poetry, relaxing the soul and feeding the hungry heart with real bread. The author really doesn't offer confining rules. She doesn't want us to put ourselves, or the spirit world, or anyone or anything else in 'boxes.' We are empowered to open to the mystery. Based on decades of experience in creating ceremonies, she offers suggestions and guidelines for making our own powerful ceremonies." —Unknown

"The Book of Ceremony is a gem! Sandra Ingerman is a master—of ceremonies, of spiritual leadership, and of bridging shamanic practice and everyday life. The Book of Ceremony is packed with practical step-by-step guidance for creating profound ceremonial work. It's inspiring and joyful to read so many examples of healing from this work. One of Sandra's many gifts is her ability to meet us where we are while motivating us to go deeper. In The Book of Ceremony, she gives us an intimate look at her own personal ceremonies and shows how we can create beautiful and meaningful ceremonies for ourselves, our loved ones, and our community. You will return to this wonderful book again and again." —Mara Bishop, MS, author of Inner Divinity: Crafting Your Life with Sacred Intelligence and 365 Journeys: Shamanism for Every Day

"For anyone interested in shamanism, shamanic practice, and earth-based spirituality, The Book of Ceremony is a 'must-have'!" —Byron Metcalf, PhD, transpersonal psychologist and author of The Shaman's Heart Meditation Training Program

"Sandra Ingerman reminds us that we enter the dreamtime in sacred ceremony; we enter the space where intentions are planted like seeds, like dreams that will grow into actualities if we nourish them in ceremony. When something invisible happens in ceremony, it tends to flow into manifestation in a passage of some time. I give thanks to Sandra Ingerman for decades of work and devotion, her innovations, her humility, her groundedness, her compassionate teaching spirit, her joyous heart, and for this wonderful book." —C. Michael Smith, PhD, psychologist, shamanic teacher, author of Jung and Shamanism in Dialogue, director of Crows Nest Center for Shamanic Studies International, and teaching member of the Cercle de Sagesse

"Shamanism is an ancient spiritual tradition in which shamans use their own body and mind to create a bridge between the personal world of form and the transpersonal world of spirit. They do this with ceremony, and when this bridge is formed, it allows the healing gifts and the power of the spirits to flow across that bridge and into our world. This is when the miraculous happens. Sandra Ingerman is a master shamanic teacher who reveals how performing ceremony may bring the sacred into our ordinary lives. Experiencing goodness and joy is one of our birthrights, and The Book of Ceremony is a gift, enabling us to open a line of connection between our self and the power of the universe to manifest healing and our soul's desires in these times of change." —Hank Wesselman, PhD, anthropologist and author of The Re-Enchantment: A Shamanic Path to a Life of Wonder, The Bowl of Light: Ancestral Wisdom from a Hawaiian Shaman, and the Spiritwalker Trilogy

"Sandra Ingerman has done something remarkable to my life—she has in fact taught me through applicable guidance and direction (in her written work alone) how to be a prophet of my own life. One might say it is a horrible business model to empower your repeat customers to no longer need your services, but because you know she moves from a place of altruism, you will always keep coming back." —Lance Allred, first deaf player in NBA history, inspirational speaker, TEDx star, and author of Longshot: The Adventures of a Deaf Fundamentalist Mormon Kid and His Journey to the NBA

"The book in your hands is a treasure trove of wisdom for creating powerful ceremonies for any occasion, packed with case studies, practical advice, and step-by-step instruction from a master healer and beloved teacher. Whether you need a simple practice for your personal life, or are facilitating a large gathering for a whole community, The Book of Ceremony provides a wide range of fresh, innovative ceremonies for those new to shamanism and experienced practitioners alike." —Unknown
Sounds True, 9781683641490, 216pp.
Publication Date: October 1, 2018
About the Author
Sandra Ingerman, MA, is an award-winning author of 12 books, including Soul Retrieval: Mending the Fragmented Self, Medicine for the Earth: How to Transform Personal and Environmental Toxins, Walking in Light: The Everyday Empowerment of a Shamanic Life, and The Book of Ceremony: Shamanic Wisdom for Invoking the Sacred in Everyday Life. She is the presenter of eight audio programs produced by Sounds True. Sandra is a world-renowned teacher of shamanism and has been teaching for close to 40 years. She has taught workshops internationally on shamanic journeying, healing, and reversing environmental pollution using spiritual methods. Sandra is recognized for bridging ancient cross-cultural healing methods to our modern culture, addressing the needs of our times.

Sandra is known for gathering the global spiritual community together to perform powerful transformative ceremonies, as well as inspiring us to stand strong in unity so we do our own spiritual and social activism work while keeping a vision of hope and being a light in the world.

She is passionate about helping people to reconnect with nature. Since the 1980s, thousands of people have healed from past and present traumas through the classic cross-cultural shamanic healing method Sandra teaches called Soul Retrieval.

She is a licensed marriage and family therapist and professional mental health counselor. She is also a board-certified expert on traumatic stress. Watkins Mind Body Spirit magazine honored Sandra by including her on its 100 Most Spiritually Influential Living People of 2020.

She was awarded the 2007 Peace Award from the Global Foundation for Integrative Medicines. Sandra was chosen as one of the Top 10 Spiritual Leaders of 2013 by Spirituality & Health magazine.

Sandra joined in partnership with Renee Baribeau to do a weekly 30-minute podcast, The Shamans Cave. For more information, visit shamanstv.com.

www.sandraingerman.com
www.shamanicteachers.com
www.shamanstv.com