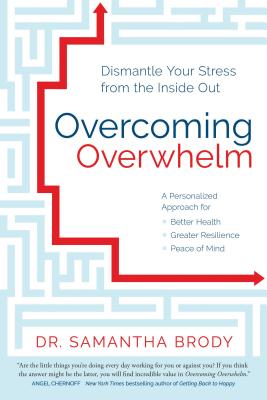 Overcoming Overwhelm
Dismantle Your Stress from the Inside Out
Paperback

* Individual store prices may vary.
Description
A Groundbreaking Four-Step Solution to Stress and Overwhelm—Tailored to Your Life

Do more. Be more. Try harder.

It's the battle cry of our culture, and it's making millions of us sick, tired, and frustrated. Why? Because we simply can't solve stress and overwhelm by doing more and more of what we've been doing.

With Overcoming Overwhelm, Dr. Samantha Brody offers an alternative.

"You don't need new ways to manage your stress," teaches Dr. Samantha, "you need to prevent it from overwhelming you in the first place."

Using her proven and practical techniques that have already helped thousands, this pioneering naturopathic physician teaches you how to systematically undo overwhelm, with four simple steps:

Step 1) Find Your True North. Clarify what is truly important to you. Who do you want to be, how do you want to feel, and what do you want your day-to-day life to look like?

Step 2) Establish Your Foundation. Identify what roadblocks may get in your way of making the changes that will help you live the life of ease you crave. You'll make a plan for assembling a team that can help you reach your goals, and you'll fortify your mindset to prepare for success.

Step 3) Take Your Overwhelm Inventory. Determine your unique causes of stress (some obvious, and many that will surprise you) in your physical surroundings, health, habits, relationships, thinking patterns, and more.

Step 4) Create and Launch Your Personal Plan. Start making the targeted changes that will help you rid your life of overwhelm and radically improve your well-being on all levels—body, mind, and spirit.

For decades, Dr. Samantha has helped people to transform their lives with her innovative approach. Now you can use the same tested tools and guidance to experience the freedom of better health, greater resilience, and peace of mind.
Praise For Overcoming Overwhelm: Dismantle Your Stress from the Inside Out…
"This book will change your life . . . more importantly, it will help you save your life. Dr. Samantha motivates and inspires you to get clear about what you truly want in order to choose that which will truly serve you best. That is the definition of real self-care." —Alexandra Jamieson, author of Women, Food, and Desire, co-creator of Super Size Me

"Overcoming Overwhelm does three important things in one easy-to-digest book. First, it gives you a new understanding of why you feel so stressed. Then it helps you think about what you really want. Finally, it guides you in making active decisions and implementing simple changes to get it. Read it when you're ready for change!" —Chris Guillebeau, author of Side Hustle and The Happiness of Pursuit

"Dr. Samantha offers more than a gentle push in the right direction. With Overcoming Overwhelm, she guides us through a labyrinth of self-discovery—the good, the bad, and the difficult—to help us build the lives we've always dreamed of having. I highly recommend this transformational book." —Carla Birnberg, author of What You Can When You Can

"Dr. Samantha easily guides us from frustration to freedom, from anxiety to calm, from overwhelm to outstanding. Have fun with this book; it will serve you well." —Dr. Tom O'Bryan, author of The Autoimmune Fix

"Dr. Samantha Brody shares the escape route for overwhelmed, overstressed humans and gives us the path back to a passionate, intentional life." —Jen Hansard, rawkstar-in-chief of Simple Green Smoothies

"What Dr. Brody offers is rare: a chance to really transform your life. Overcoming
Overwhelm applies the practical side of naturopathic medicine to the messiness of human experience to pave a highly accessible path toward a better, happier you." —Dr. Paul Anderson, coauthor of Outside the Box Cancer Therapies

"With society questioning so many systems at a core level, Dr. Samantha's book Overcoming Overwhelm could not come at a better time. Her insights will leave you feeling hopeful and inspired to take action to live the life YOU have designed to live for you—not your parents, neighbors, or coworkers. Take time to not only read this book but take action. You deserve it!" —Dr. Michelle Robin, holistic healer, founder of Your Wellness Connection, and bestselling author of Small Changes Big Shifts

"Without examining our innermost values, goals, and desires, we can't expect to ever have a life that lines up with who we are and how we want to feel. With incredible wisdom and empathy, Dr. Samantha forces us to pay attention. From there she will educate and inspire you with exactly how to take action to move towards better health— without just adding more stuff to your to-do list!" —Dr. Jessica Drummond, founder and CEO, The Integrative Women's Health Institute

"Dr. Brody's four-step plan in Overcoming Overwhelm is a testament to how change of perspective, self-exploration, and perseverance can improve your health. It is a valuable guide to holistic healing." —Alan Gaby, MD, author of Nutritional Medicine

"Happiness is not a frivolous extra, but a critical, non-negotiable ingredient in living a fulfilling, meaningful, healthy life. Dr. Samantha sets us straight on the path with Overcoming Overwhelm and gives us the much-needed permission to pursue health and happiness on our own terms. I am HAPPY to endorse this important book!" —Nataly Kogan, founder, happier.com, bestselling author of Happier Now

"Dr. Brody is my go-to person when my bucket isn't just full, it's cracked at the seams. Without sugarcoating how hard it is to manage everything, she'll help you find breathing room inside even the most jam-packed, overworked, too-many-demands life. If you're overwhelmed, get this book. It is exactly the companion you need." —Megan Devine, author of It's OK That You're Not OK

"Dr. Samantha nails the overwhelm dilemma and knows how to fix it. Her approach shows us all a new way to think about our lives, our stress, and our health holistically so we can get overwhelm under control for good. Dr. Samantha, thank you for this treasure!" —Vanessa Van Edwards, behavioral investigator and author of Captivate

"Dr. Samantha Brody has put together an inspiring, realistic and very doable plan for handling overwhelm and stress. As a holistic wellness and fitness expert, I am thrilled to see stress and overwhelm approached in such a practical way, rooted in science that does not make your eyes glaze over. Overcoming Overwhelm will help you become more centered and loving to yourself and others." —Erin Stutland, holistic wellness and fitness expert, author of Mantras in Motion

"We've got one shot at life, people, and Dr. Samantha Brody offers a beautiful reminder that to live our best life and show up in the most meaningful ways for those we love, we must prioritize self-care in ways that will actually work for us in our lives. This book is rad—full of awesome, practical advice. Buy it, let it sink in, and allow it to change you." —Richie Norton, author of The Power of Starting Something Stupid

"Dr. Samantha Brody shares insightful tips to change our lives for the better, helping us fight the societal messages that demand that we stay preoccupied and stressed. She lays out a path to explore our sources of overwhelm and guides the reader to develop their own action plan, showing that we can choose happiness one step at a time. If you're ready to rethink your stress, this is a great place to start." —Shawn Achor, New York Times bestselling author of Big Potential and The Happiness Advantage

"When I experience the mounting stress of 'too much,' I want two things: a feeling of not being alone and a practical plan to help relieve the pressure. Overcoming Overwhelm offers both and so much more. This down-to-earth companion is a powerful resource for anyone looking to glean insight, regain self-direction, and enhance their life quality naturally and effectively." —Julie Morris, New York Times bestselling author and founder of Luminberry

"Slipping, or falling, into overwhelm happens to us more and more in this modern age of a bajillion options and the drive to be (or appear) perfect. It creates so much pain, and yet we aren't taught what to do to when we're drowning in it. With humor and kindness, Dr. Samantha lights the way on your journey to less overwhelm and a better quality of life. This book will certainly be one that opens the way and that you'll refer to over and over again." —Briana Borten, founder of The Dragontree and author of The Well Life

"Overwhelm is a chronic issue for so many because the platitudes and superficial fixes that people receive don't get to the root causes. Dr. Samantha eschews those platitudes and instead helps you create specific, actionable, and unique-to-you solutions that will help you make overwhelm a thing of the past. Get this book to stop coping with overwhelm and start doing more that matters to you." —Charlie Gilkey, author of Start Finishing

"As someone who teaches people how to address anxiety and stress in their lives, Dr. Samantha's approach resonates deeply with me. With incredible wisdom and empathy, she shows readers how to examine what they can change, what they can't change, and what they choose not to change so it becomes easier to accept what is and to implement strategies to make choices that will lead to a life of less stress and greater ease." —Jessica Ortner, New York Times bestselling author of The Tapping Solution for Weight Loss and Body Confidence

"How are you managing your life? Are the little things you're doing every day working for you or against you? If you think the answer might be the latter, you will find incredible value in Overcoming Overwhelm. It's not always easy, but with Dr. Samantha's guidance, we're encouraged to take the smallest steps we need to make progress with ease." —Angel Chernoff, New York Times bestselling author of Getting Back to Happy
Sounds True, 9781683641612, 240pp.
Publication Date: January 1, 2019
About the Author
Dr. Samantha Brody is a naturopathic physician and acupuncturist and founder of Evergreen Natural Health Center in Portland, Oregon. Licensed as a primary care provider with extensive training and experience in both complementary and Western medicine, she has worked with over 30,000 patients and clients in the past twenty years. Her mission is to empower people to address the stress in their lives and help them to make changes that are in alignment with their personal health goals and values. She holds a doctoral degree in naturopathic medicine and a master's degree in oriental medicine from the National University of Natural Medicine. She is a sought-after international speaker who educates lay and professional audiences on the issues of stress and health. Dr. Samantha writes for a variety of publications and has been quoted extensively in books and media outlets including the Los Angeles Times, Wall Street Journal, HuffPost, and Shape. Learn more at drsamantha.com.
or
Not Currently Available for Direct Purchase