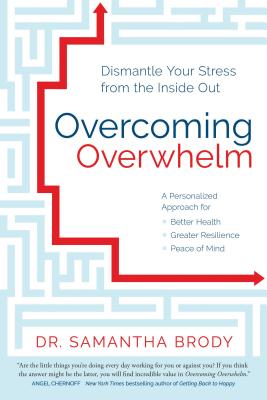 Overcoming Overwhelm (Paperback)
Dismantle Your Stress from the Inside Out
Sounds True, 9781683641612, 240pp.
Publication Date: January 1, 2019
* Individual store prices may vary.
Description
Do more. Be more. Try harder. It's the battle cry of our culture --and it's making millions of us sick, tired, and frustrated. Why? According to Dr. Samantha Brody, "We simply can't solve stress and overwhelm by doing more and more of what we've been doing."
With Overcoming Overwhelm, this pioneering naturopathic physician offers an alternative. In this step-by-step guide, she helps us restore balance and sanity by showing how we can take back control of every dimension of our lives: our physical health, nutrition, commitments, work and home environments, relationships, and more. With practical guidance and many self-assessment tools, readers embark upon a simple four-step plan tailored to those unique issues--for better health, greater resilience, and peace of mind.
About the Author
Dr. Samantha BrodyDr. Samantha Brody is a licensed naturopathic physician and acupuncturist and founder of Evergreen Natural Health Center in Portland, Oregon. As a primary care provider with extensive training and experience in both complementary and Western medicine, she has worked with over 40,000 patients for over twenty years. Her mission is to empower patients to address the stress in their lives and help them to make changes that are in alignment with their health goals and values. She holds a doctoral degree in naturopathic medicine and a master's degree in oriental medicine from the National University of Natural Medicine. She is a sought-after international speaker who educates both lay and professional audiences about stress and health. She writes for a variety of publications and has been quoted extensively in books and media outlets including the Los Angeles Times, Wall Street Journal, HuffPost, and Shape. Learn more at drsamantha.com.