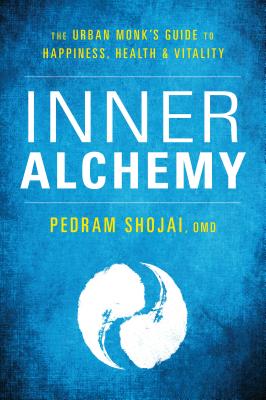 Inner Alchemy (Paperback)
The Urban Monk's Guide to Happiness, Health, and Vitality
Sounds True, 9781683641674, 256pp.
Publication Date: January 1, 2019
* Individual store prices may vary.
Description
Bestselling author Pedram Shojai, "The Urban Monk," presents a comprehensive guide on how Taoist alchemical practices can help you release stress, harness life force energy, and awaken your true self.
"We have fallen asleep to the knowledge of our true nature, and now it is time to wake up."
--Pedram Shojai
There is a way to break free from trance of modern life and awaken to your true, limitless nature. The path lies in an ancient system of Taoist alchemy, and with
Inner Alchemy
, qi gong master, physician, and former monk Pedram Shojai presents an in-depth guide for harnessing the transformational power of this wisdom in your own life:
Part 1 lays out Taoist principles and philosophy for understanding the body's energy matrix and the nature of our current challenges--all in down-to-earth language
Part 2 covers specific exercises and techniques for mastering your energy and awakening your true power--including diet, meditation, exercise, sleep, lifestyle tips, and traditional qi gong sets
Part 3 provides an advanced exploration of traditional Taoism for modern times, along with a 100-day practice formula to help you regulate your energy, wake up from the hypnotic daze of daily life, and make the world we live in a better place
"The process of turning the material 'lead' of our human experience into the 'gold' of awakening is the essence of this ancient science of spirituality," writes Shojai. "My promise is that if you practice what you learn in this book, your life will change in ways that you have never imagined.
About the Author
Pedram ShojaiPedram Shojai, OMD, is the author of the New York Times bestseller The Urban Monk and The Art of Stopping Time. He is the founder Well.Org, the producer of the movies Vitality, Origins, and Prosperity, and the host of The Urban Monk podcast. An ordained priest of the Yellow Dragon Monastery in China, Shojai is an acclaimed qi gong master, master herbalist, and Doctor of Oriental Medicine. His no-nonsense approach teaches esoteric concepts to Western readers in an easy-to-understand way. Shojai's DVD series, The Alchemy of Qi Gong, received acclaim at the COVR awards, and he is currently involved in a number of philanthropic causes that revolve around public health, fair trade, and education. For more, visit theurbanmonk.com.