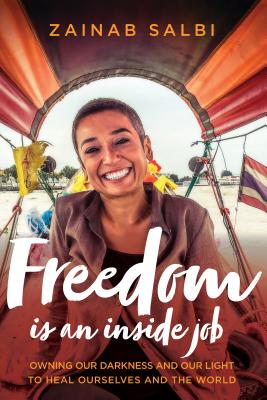 Freedom Is an Inside Job
Owning Our Darkness and Our Light to Heal Ourselves and the World
Hardcover

* Individual store prices may vary.
Other Editions of This Title:
CD-Audio (11/1/2018)
Description
From national bestselling author and humanitarian Zainab Salbi, a powerful look at what happens when we heal our shadows and align with our core values.

"May this book help create bridges to a much bigger and kinder world." —Gloria Steinem, author of My Life on the Road and Revolution from Within

"If you want to know what true self-power is, then read this book. It will open your inner eye to the beauty of your own being." —Deepak Chopra, MD, author of The Healing Self and The Seven Spiritual Laws of Success

How can we transform our collective fear and the deep divisions between us into meaningful change? In Freedom Is an Inside Job, bestselling author, humanitarian, and TV personality Zainab Salbi shares that to transform our outer world, we must turn towards our inner world.

After years of working as a successful CEO and change-maker, Salbi realized that if she wanted to confront and heal the shadows of the world, she needed to face her own shadows first. Holding nothing back, Salbi shares pivotal moments from her personal life alongside poignant and fascinating stories from her encounters around the world. Through her stories, we learn that if we want to create real change, we need to heal the inconsistencies within our own values, actions, and goals.

As Salbi explores her own riveting journey to wholeness, readers learn how embarking on such a journey enables each of us to create the world we want to live in. "So long as we are conflicted within, we will continue to have conflict without," writes Salbi. "If we want to change the world, we need to begin with ourselves. This is the path to freedom."
Praise For Freedom Is an Inside Job: Owning Our Darkness and Our Light to Heal Ourselves and the World…
"Not often does a book hold up a mirror to our souls, helping us to find courage and inspiration from within. Here Salbi gives us an extraordinary personal story, told with touching candidness that, though unique to her life, will deeply resonate with women all across the world. Her human approach to hard issues is shaped by compassion, intelligence, and emotional wisdom. Deeply human, sensitive, and sturdy, Salbi's writing will heal hearts." —Elif Safak, author of the bestselling The Bastard of Istanbul, The Forty Rules of Love, and Three Daughters of Eve

"If you want to know what true self-power is, then read this book. Zainab Salbi, a modern-day icon of empowerment and an inspiration to millions of women and to men like myself, shares her journey from an environment of subjugation and cruel circumstances to inner freedom and leadership. The poet Rumi said, 'Why do you stay in prison when the door is wide open?' The prison is the mind-forged shackles of our own conditioning. Zainab's book will open your inner eye to the beauty of your own being." —Deepak Chopra, MD, author of The Healing Self and The Seven Spiritual Laws of Success

"A true spiritual seeker must eventually search inside her own self. This Zainab Salbi does with great consistency and courage in Freedom Is an Inside Job. Sharing her discoveries with determination and resolve, she demonstrates what is possible for anyone who sincerely desires to be part of a new imagination for changing the world." —Alice Walker, author of The Color Purple and The World Will Follow Joy

"Freedom comes from telling our own story, and empathy comes from listening to the stories of people very different from us. Zainab Salbi inspires us to do both. May her book help create bridges to a much bigger and kinder world." —Gloria Steinem, author of My Life on the Road and Revolution from Within

"What Zainab Salbi has given us with this book is a tremendous act of courage. Freedom Is an Inside Job is a deeply felt revelation of Zainab's heart and mind and her hopes for a better world. She provides for us all an example of what searching within ourselves can look like, and the powerful results of such a journey. We owe her no less than our thanks, but also to follow her exacting lead." —Mychal Denzel Smith, New York Times bestselling author of Invisible Man, Got the Whole World Watching

"In this prescient and timely work, Salbi offers us a path to personal authenticity and freedom. It is an inner journey that demands we see with absolute clarity both the light and darkness we harbor within." —Sharon Salzberg, cofounder of Insight Meditation Society and author of Real Love

"Zainab Salbi has written exactly the book we need for our fear-ridden and divided world. It's time for each of us to do our own work and embody the change we want to see; only then, from a place of fullness, can we light the way ahead. Read this book and then help point the way for others." —Arianna Huffington, founder of Huffington Post and author of On Becoming Fearless and Thrive

"There could not be a more critical time to read this book—and act as it recommends—than now, in these incredibly divisive times. In beautiful prose, and with extraordinarily moving stories, Zainab Salbi shows us how we can open ourselves to ourselves—and then to others—and actually then reach across seemingly impossible divides to achieve healing for the human condition. All of us who seek justice—and anybody who seeks understanding—must start here, with compassion. This book is like a salve for our collective wounds—we all need it now." —Saru Jayaraman, attorney, activist, and author of Forked

"Freedom Is an Inside Job is a remarkable testament to the adage that only what we achieve inwardly can change outer reality. Zainab Salbi's courageously honest journey to excavate her innermost truths and reveal her truest self is a precious gift for anyone who aspires to live their fullest and truest life. It's equally an essential guide for leaders devoted to making the lives of others better. Readers who join Zainab on her quest for true freedom will be inspired to emulate her humble and bold example." —Dov Seidman, bestselling author of How: Why How We Do Anything Means Everything
Sounds True, 9781683641773, 184pp.
Publication Date: October 2, 2018
About the Author
Zainab Salbi is a humanitarian, author, and media personality who has dedicated herself to women's rights and freedom. Salbi is the founder and former CEO of Women for Women International, a grassroots humanitarian and development organization dedicated to helping women survivors of wars rebuild their lives financially and emotionally. Salbi is the author of several books, including the national bestseller Between Two Worlds: Escape from Tyranny: Growing Up in the Shadow of Saddam. She's been featured in People magazine's "25 Women Changing The World," Foreign Policy magazine's "100 Leading Global Thinkers," and Fast Company's "The Most Creative People in Business." Salbi is the host of The Nida Show for Arab and Muslim women, The Zainab Salbi Project original series with HuffPost, and #MeToo, Now What? on PBS.