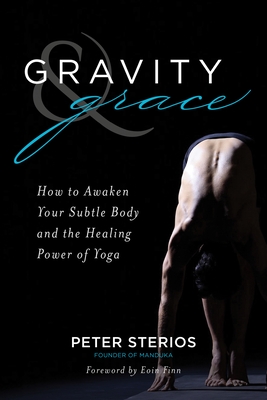 Gravity & Grace
How to Awaken Your Subtle Body and the Healing Power of Yoga
Paperback

* Individual store prices may vary.
Description
Transform your yoga practice into an intimate, creative, and healing experience in this refreshing guide to yoga in the modern world

"An inspiring read for all yogis." —Michael Franti, musician, filmmaker, activist

What if, instead of constantly pushing yourself beyond your limitations, you paused to really listen to your body's needs?

In Gravity & Grace, innovative yoga teacher and trainer Peter Sterios shares a unique set of practice principles to help anyone—from beginners to advanced practitioners and teachers—revitalize their approach to yoga by tuning into the subtle body.

When our yoga practices become too rigid, overly focused on technique, or dependent upon ideals that are not suited to our bodies, we lose the full potential of what yoga offers—a truly personal pathway to physical well-being, emotional unfolding, and spiritual awakening.

In this groundbreaking book, Sterios helps you embrace the full, healing potential of yoga as he shares wisdom gained from over 45 years of exploring yoga and the subtle body. He teaches that by developing a sensitivity to how the natural forces of gravity and grace are at work physically and psychologically, we become empowered to confidently decide how to practice each day.

Through an insightful blend of practical theory and direct instruction, Sterios will guide you to incorporate awareness of physical and subtle anatomy into your practice, utilize the breath for greater well-being, and create flowing sequences that naturally meet your unique needs in each moment.

For teachers looking to deepen their offerings, students who want to bring a more personalized and healing experience to their yoga practice, and anyone working with physical limitations (from injury, body type, age, or any of the myriad obstacles humans face), Gravity & Grace is the "no-style" yoga guide you've been waiting for.
Praise For Gravity & Grace: How to Awaken Your Subtle Body and the Healing Power of Yoga…
A 2019 NAUTILUS GOLD AWARD WINNER FOR HEALTH, HEALING, WELLNESS & VITALITY

"In my years of being a musician, I've learned that music is the sound of feelings; and as a yogi, I've learned that yoga is the way emotions feel in my body. Gravity & Grace encourages us to unlock those feelings, let them come to the surface, sit with them, breathe them, and let go of the expectations we have about them so that they may pass. This is an inspiring read for yogis who've practiced for decades and those who are just beginning their journeys on the mat." —Michael Franti, musician, filmmaker, and activist

"Terrific yoga books, like terrific teachers, reveal ourselves to ourselves. In his profoundly intuitive book, Peter can connect to every reader as easily as he can connect to each student in a yoga class. Gravity & Grace is like having a teacher by your side." —Michelle Jacobi, founder of Centre de Yoga du Marais (Paris, France); professor of yoga, University of South Florida

"Gravity & Grace should be required reading, unquestionably, for all yoga teachers and dedicated practitioners, but more surprisingly to me, for anyone keenly interested in living a happier life. Peter brilliantly illuminates how the conscious movement of our physical body influences our state of being, and therefore ultimately, our mental health and happiness. The book itself is a master yoga class. It changed me." —Blake Beltram, cofounder of MINDBODY

"I loved this book. Peter has written a rare personal story of his own journey—one filled with hard-won insights woven around some serious study and modern research that makes the art and science of yoga very accessible. In this day and age of physical, fitness-based yoga, this is a refreshing change, and any student interested in the healing gifts that yoga promises through awakening the subtle body will find plenty of helpful and inspiring ideas here." —Gunnar Lovelace, founder of ThriveMarket.com

"Gravity & Grace is both a fitting title for Peter Sterios' long-awaited book, as well as a description of his fluid approach to yoga. He fully embodies the grounding nature of gravity as well as the lightness of grace in how he approaches his personal practice, the clarity and understanding in his teaching, his presence, and his thoughtful words. Peter's conversational book explores what it really means to be a practicing yogi in the modern world. It is a must-read—one that explores the central theme of just how we practice, as well as how we navigate the core questions of life. Buy this book and give in. Send it to all of your friends. Read it again and again and listen for the nuances of meaning found within." —Felicia Tomasko, editor-in-chief of LA Yoga and BOSTON Yoga; president of Bliss Network

"Peter is a master in questioning all the rules and pushing the boundaries of how we understand yoga. In Gravity & Grace, he reorients us towards a more present, embodied relationship to yoga. His words instruct us how to develop grounded curiosity in relationship to our bodies, movement, and intuitive wisdom. His stories speak to the profound potential that yoga has to transform and integrate. His experience inspires us to revel in the intersections between science and spirituality. If you are looking for a new perspective on intimacy, in life, and with yoga, this book is for you." —Katie Clancy, founder of Soma Yoga (Durango, CO); writer

"Peter's work, and his delightful book Gravity & Grace, expresses something more—beyond what the modern yoga collective has absorbed—which lights a way for yogis new and old to deeply explore the mysterious hidden quality of yoga that has clearly shaped his life into something magical! This culminating work is obviously not a beginning for him, and yet it is! Where he is headed, only God knows, but he is in league with the Masters that came before him. He will certainly be a beacon for humanity while shedding clarity and light on a path that leads us hOMe." —Marc and Heather Titus, co-creators of Sedona Yoga Festival

"This book is a refreshing corrective to the tendency in our superficial world of today to limit yoga to the cultivation of the physical body, which is but the surface of our human reality. Gravity & Grace documents how the art of yoga came to life within the author and directed the development of his understanding of the deeper realities of embodied life. That very living art provided him transformational insights that he has collected here as an experiential guide for students who wish to get to know what yoga really has to offer." —Dr. Robert Svoboda, Ayurvedic physician and author of Prakriti: Your Ayurvedic Constitution

"To borrow from Taoist yoga, all yogis strive for wu wei ('effortless effort'/freedom), the highest level of mastery wherein the yogi transcends the limited nature of untrained energy. The guidance offered in Gravity & Grace documents one man's journey on this path, which lights the way for us all. With a lucid view of our fragmented western mind, Peter's work is a unifying tour de force that breathes the spirit of yoga back into its individuated parts—in the way that poetry and high art unify the hemispheres of the mind and give space for beauty. His attempt to revive the living subtle body is the bridge we need to move from inertia to energetic flow, to freedom." —James Bailey, founder of Sevanti; ayurveda and yoga educator

"Numerous scientific studies show what ancient 'barefoot' yogis knew—that our body utilizes the earth's electrical potential (ground) to maintain our internal electrical stability, which supports the body's self-regulating/self-healing systems and is an elegant display of nature's role in maintaining our health. Peter's book Gravity & Grace takes that fact even further, showing us through yoga how to access the healing gift of gravity and its opposite—levity—which creates a 'lightness in body' physically and produces the pure experience of grace, a 'lightness of heart,' psychologically. Get this book, take off your shoes, and discover a deeper connection to earth and the healing power both yoga and grounding provide." —Clint Ober, founder of Earthing.com; coauthor of Earthing

"As a filmmaker and a yogi for over 20 years . . . one of my absolute fondest experiences is the collaboration with Peter Sterios to create his breakthrough yoga video series, Gravity & Grace. Combining his other talents as an award-winning architect, Peter has redefined the art of yoga by bringing a rare and beautiful precision to the practice. I'm delighted to know that his masterwork of teaching yoga is now available through his brilliant new book. The insight found within its pages provides a clear and articulate map to a life of health and happiness!" —Mikki Willis, founder of ELEVATE Films

"Gravity & Grace is an essential guide for the modern yoga world, weaving the perfect mix of stories, teachings, science, and subtle body wisdom into a captivating book that brings to life the internal art of yoga. Discover the healing power that is accessible in every practice and how each challenge can be a gateway for deepening intimacy with the whole of your being. This illuminating book is a true gem for yogis of all styles and traditions." —Sianna Sherman, founder of Rasa Yoga, Mythic Yoga Flow, and Ritual

"Rare is a yoga book that guides our imagination into the inner realms of our bodies as articulately as this one and produces a visceral experience of spaciousness, physically and psychologically. The depth of Peter's experience and presence is felt on every page and invites us to open up to what is true for all of us—that being human in this world and universe is often painful, and in turn, ecstatic. I feel blessed to have experienced Peter's teachings many times as a student and collaborator, and as in this book, the insights I discover each time are just what my body and soul need!" —Tristan Gribbin, founder of FlowVR (Reykjavik, Iceland)

"Perhaps the truest yoga is simply and purely being with the ground of what is. In revealing his own process and journey, Peter honestly and humbly invites us on the path to uncover the perennial wisdoms abiding in our own stories and bodies as medicine or empowerment for awakening. Integrating science, physiology, the mat, and the cushion, Gravity & Grace masterfully reveals a method and impeccable way of transcending the habitual perceptions in our practice, on the mat and beyond, to taste the authentic fruit of yoga." —Dr. Robert B. Norett, DC, founder of Stillpoint Health Center (Los Angeles, CA); board certification in Integrative Medicine

"Brilliant! In Peter Sterios's new book Gravity & Grace, he provides clear, beautifully written insights for creating a deeply personal yoga practice. Beyond that, this book helps the reader move into a more integrated, connected life. Whether you are a beginner or an experienced yogi, Gravity & Grace provides a profound path with sure-footed guidance. I recommend it highly." —Erik Olesen, licensed psychotherapist; certified Neurofeedback trainer; author of Mastering the Winds of Change

"Finally! A how-to practice yoga book that has nothing to do with putting the body into required shapes and everything to do with understanding the metaphysical aspects of practice through a practical, scientific lens. Peter shares rich stories from his many decades of practice and teaching that illuminate the subtle nature and power of yoga, and make it SO easy for any practitioner to explore and play with his suggested principles of practice on their mat. Gravity & Grace is a must-have reference for any yoga practitioner or teacher. I LOVE this book!" —Kara-Leah Grant, author of Forty Days of Yoga and Sex, Drugs & (Mostly) Yoga

"Gravity & Grace sums up Peter Sterios's yoga journey for me in one word: trailblazer. As you read his book, I think there's one thing we can all agree on—you can't fake gravity, physically or emotionally. How Peter has overcome adversity through yoga is empowering and inspiring. If you're early in your practice or someone who has been doing yoga for decades, Gravity & Grace is a must-read for your practice, and way, way beyond it." —Diamond Dallas Page, author of Positively Unstoppable: The Art of Owning It; founder of DDP Yoga; former Heavyweight Champion Wrestler/WWE Hall of Fame (2017)

"My first experience of Peter's teaching at a conference was enchanting through his verbal precision with every cue and the subtle nature of what I experienced from pose to pose. It is no surprise to feel that same quality in his book Gravity & Grace. He offers a refreshing new outlook to practicing asana and helps restore the creativity that lives within each of us without forgetting the yoga that got us to where we are. He has found a way to articulate his stories and experiences with intellectual prowess made simple. Peter truly empowers students and teachers alike to trust themselves and paves a realistic path to help us discover and connect with our inner subtle guides. Be ready to break old thinking about westernized yoga and get ready to feel something truly soulful." —John Salisbury, founder of Modern Yoga (Scottsdale, AZ)

"When Peter's 20-year apprenticeship with his long-time teacher ended abruptly, he was sent out into the yoga world figuratively as naked as a new-born baby. With this book, we see how—after many years of intense study, self-investigation, and creative experimentation—he's grown into a full-fledged yoga adult. Gravity & Grace is both an inspiration for all aspiring 'inner' teachers and a remarkable education in the subtle dimension for any teacher from any yoga school, no matter how many years of experience." —Richard Rosen, author of Yoga FAQ, Original Yoga, and The Yoga of Breath

"I'm so excited to finally have this long-awaited book in my hands—to hold, to highlight, to earmark pages, and to refer to as a manual for life on and off my mat. It's a brilliant guide that is also an amazing read (and re-read) for anyone looking to delve within the divine heart space of yoga. Gravity & Grace is more than just an incredible journey in the subtle nuances of the heArt of Yoga. This book is a memoir, a primer, a secret source, and a truly a cherished gift! Thank you, Peter!" —Helena Zera, RN, foundress of Vyana Yoga (Manlius, NY) and Hastapada®

"This book is an excellent read for beginners and advanced students alike. It presents new and fresh research to back ancient tradition and practices. Peter is clearly a master teacher for a reason. After 40 years of personal practice, he lays out a solid foundation for how he came to the concepts of gravity, grace, and levity, and how to practice them. His story is touching and the practices are deeply insightful. I loved learning the minute details in how to achieve space in the body through the subtle layers and have been practicing his techniques each day. A nagging hamstring injury has all but disappeared in just a week, and I even went for a run this morning, which I haven't done in years! We really do have the power to heal ourselves through yoga and the subtle layers of prana." —Ashley Melin, founder of SoulJour (Portland, OR)

"Peter's insights provide a fresh lens for the complex and often contradictory wild world of yoga. His journey to discover how yoga teaches us integrates modern science with traditional yogic philosophy and remarkable insights from his many years of studying with some of yoga's greatest innovators. His approach is the next evolution of this empowering practice—finding the deep connection to one another and uncovering inner peace and joy. Gravity & Grace is a book I will go back to again and again." —Wendy Klein, founder of Nandi Yoga (San Mateo, CA)

"Through his first book, Peter Sterios beautifully elucidates the divine connection of gravity and grace in simple language. The clarity in his writing helps show you how to apply these two terms in the practice of yoga and other life processes. Our body is a composite of the finite and the infinite. Peter shows clearly how that realization can be uncovered. I highly recommend this heartful book for all students of yoga" —Malav Dani, founder of meFree (Mumbai, India)

"Through Peter's first book, Gravity & Grace, I feel like I've journeyed through the mysterious energetic cave of ancient yoga and found the hidden treasure that very few modern teachers are able to express with such profound clarity. His lifetime dedication and authenticity in yoga shine through as he shares the subtle body gifts yoga promises and his articulate teaching so effectively delivers. This is a book I will return to, and often." —Masood Ali Khan, PhD, energy medicine teacher; musician; actor; model.

"Sitting down to read and absorb the insights found in Gravity & Grace was an absolute joy. Peter is one of my guiding teachers of yoga, and I felt the very essence of his teaching transmitted on each page. The book, like his classes, takes the reader on a powerful journey, carefully and seamlessly weaving the threads between the physical body, subtle anatomy, philosophy, story, and asana to create a rich tapestry of wisdom that envelops you. I have practiced for over 20 years and still learned so much from Peter's rich writing. I will be including this book as essential reading in all of my future teacher trainings, which I am sure will inspire teachers and all students of yoga for many years to come." —Nikki Ralston, founder of Urban Ashram studios (Auckland, New Zealand); creator of The Ralston Method

"What an amazing journey this book created for me. I felt like I was being held by divine grace with every page. I experienced healing, a deep exhale, just reading the book. I can only imagine the healing and growth that will come from putting what I learned here into practice." —Amy Punzel, LtCol, USMC

"Gravity & Grace is a brilliant new 'light' on yoga. Peter Sterios combines eloquent stories from his 40-plus years of practice and direct learning from some of the most renowned yoga masters in the world—with meticulous scientific research to offer a fluid and intuitive style of Hatha yoga accessible to all. He invites those of us trained in rigorous, exacting yoga styles to reconsider our practice, much like life, as a journey where each pose offers an opportunity to explore and burnish the hard edges of our physical, mental, and emotional states. The main thesis of the book revolves around the point that the real teacher is within our subconscious. Peter's book is a blueprint for us to find that real teacher within, and to take our practice and experience of life to the next level." —Ramin Heydarpour, founder of FLEX R&D

"Peter Sterios's new book is a wonderful synthesis of his two professions. In many ways, he has developed an original architectural integration of the structure of the mind and body in yoga. He guides readers through their own unique personal voyage of self-discovery, physically and psychologically, by employing our nature's finest gifts of gravity and grace." —Ernest and Kathryn Rossi, PhD, authors of The Collected Works of Milton H. Erickson, MD

"Peter Sterios so emulates what he teaches in his book Gravity & Grace. From the very first moment we met, his grace was palpable. For him to piece together the abstract qualities of the subtle body, and to describe them in a way that can be understood and also benefit even the newest student of yoga, is a testimony of his skills and genuine talent. Thank you, Peter. Your book is a gift." —Rina Jakubowicz, author of The Yoga Mind: 52 Essential Principles of Yoga Philosophy to Deepen Your Practice
Sounds True, 9781683641810, 272pp.
Publication Date: October 15, 2019
About the Author
Peter Sterios is an internationally recognized yoga teacher and trainer with over four decades of experience. He's the founder of LEVITYoGA™, MANDUKA®, and karmaNICA™, a charitable organization in rural Nicaragua. Sterios taught yoga as part of the Obama White House's anti-obesity programs, and in 2018, he was invited to the Pentagon to share yoga's therapeutic effects with the US Marine Corps. His popular yoga video Gravity & Grace is one of Yoga Journal's top 15 DVDs of all time. For more, visit LEVITYoGA.com.
or
Not Currently Available for Direct Purchase