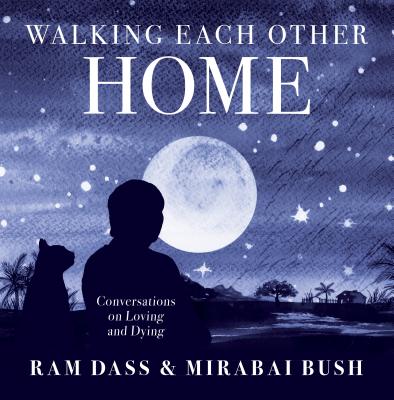 Walking Each Other Home
Conversations on Loving and Dying
Hardcover

* Individual store prices may vary.
Other Editions of This Title:
Paperback (6/21/2022)
CD-Audio (10/1/2018)
Description
We all sit on the edge of a mystery. We have only known this life, so dying scares us—and we are all dying. But what if dying were perfectly safe? What would it look like if you could approach dying with curiosity and love, in service of other beings? What if dying were the ultimate spiritual practice?

Ram Dass and Mirabai Bush began their friendship more than four decades ago at the foot of their guru, Neem Karoli Baba, also known as Maharaj-ji. He transmitted to them a simple philosophy: love everyone, tell the truth, and give up attachment to material things. After impacting millions of people through the years with these teachings, they have reunited once more with Walking Each Other Home to enlighten and engage readers on the spiritual opportunities within the dying process. They generously share intimate personal experiences and timeless practices, told with courage, humor, and heart, gently exploring every aspect of this journey. And, at 86 years old, Ram Dass reminds us, "This time we have a real deadline."

In Walking Each Other Home, readers will learn about: guidelines for being a "loving rock" for the dying, how to grieve fully and authentically, how to transform a fear of death, leaving a spiritual legacy, creating a sacred space for dying, and much more.

"Everybody you have ever loved is a part of the fabric of your being now," says Ram Dass. The body may die, but the soul remains. Death is an invitation to a new kind of relationship, in the place where we are all One. Join these two lifelong friends and spiritual luminaries as they explore what it means to live and die consciously, remember who we really are, and illuminate the path we walk together.
Praise For Walking Each Other Home: Conversations on Loving and Dying…
Independent Publisher Book Award 2020: GOLD AWARD for AGING/DEATH & DYING

"By confronting the idea that death is a mysterious and fearful conclusion to life, Dass and Bush encourage readers to enter the depths of their fears about dying and mortality in order to create more solace in their lives." —Publishers Weekly

"The man who, forty years ago, asked us to show up for our lives is now asking us to show up for our deaths . . . As he moves closer to his own death, he continues to filter all of life's experiences through the lens of love. He and [coauthor] Mirabai Bush apply that lens to being with the dying, grieving, facing death, and recognizing death as spiritual practice. There is a very personal quality to this book. It is a comforting conversation which highlights another landmark in Ram Dass' life." —Anna Jedrziewski, Retailing Insight

"I am going to give everyone I know a copy of Walking Each Other Home. This book, this experience, this path of confronting our fear of death, will radically improve their lives, open them to love and presence and joy. Ram Dass and Mirabai Bush show us—beautifully, deeply, and with such humor—how profound and magical our lives can be as we become less and less afraid of death. I love Ram Dass more than I can say, but at least I can manage to say, 'Thank you, thank you, my brother, my teacher, my buddy, for your company as I make my way home.'" —Anne Lamott, author of Hallelujah Anyway and Traveling Mercies

"A raw diamond of a book. An invitation into love. Of course, it is a how-to manual for dying (and therefore living) and for being with the dying. It is Ram Dass and Mirabai Bush's generous offering to walk us home. But beyond these things, it is an invitation to sit in Ram Dass's presence as he is now. To breathe in the Grace that blows through the Maui air, and that Ram Dass's current state makes space for. If you've ever had the thought that you wish you could sit with Ram Dass, or your own teacher, reading this book is your chance." —Helen Hunt, actress, director, and screenwriter

"Like beautiful music, you can hear Ram Dass's wisdom and heart full of love and Mirabai's deep harmony." —Joan Baez, musician and activist

"As Time moves through us, wearing out our bodies, it becomes more and more important to turn more deeply within and find the Timeless One in the heart. Ram Dass and Mirabai Bush point out the beauty and love to be found in living with loving awareness of the inevitable dissolution of the physical body." —Krishna Das, singer of Kirtan Wallah

"Drawing on deep personal experience, as well as the spiritual teachings of Asia, Mirabai Bush and Ram Dass share with us their intimate dialogue concerning death and dying. We learn to differentiate between the impermanent ego and the enduring soul, and how to shift our attention from intellect to loving awareness. In doing so, our fears of loss of body and self are replaced by an awareness of infinite interconnectedness and the reality of soul. This universal theme is approached with great sensitivity and insight, all of which is carried on the wings of a lifelong friendship between these two remarkable human beings. Readers will thank them for their generosity and wisdom." —Arthur Zajonc, physicist and author of Meditation as Contemplative Inquiry

"Walking Each Other Home is an amazing book on the art of living, loving, and dying by two amazing spirits. A much needed teaching for living in this age of accelerated change and anxiety." —George Mumford, author of The Mindful Athlete

"In Walking Each Other Home, we are invited into Ram Dass's home; we are welcomed guests listening to an ongoing conversation he is having with his dear friend Mirabai Bush. It is a conversation about coming home to our souls, a journey of loving and fearing and learning and laughing and forgiving and mourning and remembering, of sharing and giving and dying and living on and on. This book, full of wisdom and blessings, is a rare gift you will want to share with the people you love." —Rabbi Naomi Levy, spiritual leader of Nashuva; author of Einstein and the Rabbi

"My wife Girija and I followed Ram Dass and Mirabai to India to study with Maharaj-ji. The night before our beloved Baba died, he remarked, 'Tomorrow I will escape from Central Jail.' He may have giggled as he casually predicted his own death. But he was an enlightened being with foreknowledge of his own passing and, apparently, he had a plan. If you are also enlightened or already possess some other kind of get-out-of-jail-free card, you can skip this book. For the rest of us, Walking Each Other Home is a gift, a joy, a reset button of the fear and uncertainty that talking about death usually triggers. It is like eavesdropping on an effervescent plot as two more would-be jail-breakers calmly discuss their own escape plans, replete with giggles. I love this wonderful book, its uplifting and profound stories reminding us that we can live each day fully alive while also knowing full well that this stage of our lives will one day end." —Larry Brilliant, author of Sometimes Brilliant

"The final words Ram Dass speaks in this book are 'I love you.' Those words sum up his life, and perhaps his purpose, in sharing the truth, compassion, and soul captured in this inspiring, intimate exchange. It is his loving gift to us about the most important thing we will do in this life." —Frank Ostaseski, founder and director of the Metta Institute; author of The Five Invitations: Discovering What Death Can Teach Us About Living Fully

"What could be better than sitting in on a conversation between two of the wisest beings around? In Walking Each Other Home, Ram Dass and Mirabai Bush share their understandings of the great mysteries of love and death, and how the two so intimately inform each other. This wonderful book is a heart-opening, wisdom-deepening exploration of our shared human journey." —Joseph Goldstein, author of Mindfulness: A Practical Guide to Awakening

"The intimate and personal material in this wonderful book offers a compelling entry to the larger landscape of aging and dying. And I love the way in which the Mirabai-Ram Dass friendship becomes a third character with its own shape and dimension." —Helen Tworkov, founder of Tricycle magazine

"For nearly fifty years, Mirabai and Ram Dass have been walking together. In their wise new book, these beloved teachers invite us into their lyrical, contemplative conversation about the full circle of life, the twined practices of living and dying. This is the profound story of two old friends speaking in one voice arising from the sacred space of their relationship. We find ourselves right there in the room, gazing out at the Pacific, listening to stories about the things that really matter—love most of all." —Rob Lehman, Chair of the Fetzer Institute Board of Trustees

"All of life is evanescent—one of the most fundamental living truths, and part of the core human experience of every living being on this planet. And yet, we need wise, compassionate teachers to explain it through their own experiences. And as Ram Dass prepares for his great moment of truth, he continues to teach us with great authenticity and vulnerability. Delightful conversations between two lifelong friends who have explored the path together. A thought-provoking life lesson is packed in these pages for the rest of us." —Gopi Kallayil, Chief Evangelist, Brand Marketing at Google; author of The Internet to the Inner-Net

"I became so engrossed by Walking Each Other Home that I read it in one day, and I am comforted to know that others understand the journey of moving from ego to soul. This wonderful, intimate, and soul-stirring conversation is a journey of exploring loving, dying, and friendship. The clarity in understanding the transition from ego to soul envelops the reader in loving awareness of the art of living as preparation for dying. This book is an excellent resource for those interested in what it means to live in the place of love." —Carolyn Jacobs, PhD, MSW, Dean Emerita of the Smith College School for Social Work and Elizabeth Marting Treuhaft Professor Emerita of Social Work

"Ram Dass and Mirabai have died and been born so many times no one I know seems to be able to remember. They are old and deep, luminous souls—spiritual heroes embracing and serving us all—noble, loving, accomplished, although not without struggles and travails of their own. Yet they haven't always been that way. That's why we can relate to them and their warm, palpable humanity, their Everyman's Dharma and Everywoman's Way, where ongoing spiritual seeking and profound practice comes into play, including loving, serving others, and remembering God." —Lama Surya Das, author of Awakening the Buddha Within and founder of The Dzogchen Center

"In this intimate, brave, and far-ranging conversation between dear old friends, Ram Dass and Mirabai take us by the hand on their journey through living, dying, loving, and ordinary life. With the ease of two old farmers sitting on the porch discussing the changing weather, they range from profundity about dying to practical advice about living, while all along the way, they deliver us lovingly into the present moment. This is one trip you'll want to take!" —James Gimian, executive director, Foundation for a Mindful Society

"This is a gorgeous and important offering—practical and mystical all at once. What a relief to ponder living, dying, consciousness, soul, and love as interwoven experiences in and beyond life and time. What a gift to do so with these two wise and beloved teachers." —Krista Tippett, founder and CEO, The On Being Project; host, On Being and Becoming Wise; curator, The Civil Conversations Project

"Read this beautiful book and feel your fear of death fall away! Dip your toes into the sea of love where Mirabai and Ram Dass are swimming. They invite us to dive in and float peacefully on waves of story, letting their powerful current of wisdom and humor carry us to the loving awareness that is our true home." —Trudy Goodman, founding teacher, InsightLA

"I've never died, but I'm very interested in trying it one day. Thanks to Ram Dass and Mirabai's remarkable book Walking Each Other Home, we can all approach the mystery of dying with so much more love, openness, and gratitude than I ever thought possible. If you or someone you love is at risk of dying one day, this book is a must read." —Pete Holmes, comedian; creator and star of HBO's Crashing

"In their poetic and captivating dialogue, Ram Dass and Mirabai Bush reflect on what it means to be human: to live and love; to experience joy, heartbreak, and the fear and freedom that laying it all aside brings as we awaken to our true Self. Walking Each Other Home is a deep and genuine transmission of the heart—a gift for us all." —Chris Grosso, author of Indie Spiritualist, Everything Mind, and Dead Set on Living

"Full of wisdom, compassion, and deep experience, these conversations bring the reader joy as Mirabai and Ram Dass search inside for the interconnections of love, life, and death. Mirabai is a gem. She was a key player in establishing mindfulness at Google, where it is transforming the workplace." —Chade-Meng Tan, Google's Jolly Good Fellow and author of Search Inside Yourself

"If there's one book that should be on everyone's bucket list, it's Walking Each Other Home. Ram Dass and Mirabai Bush share their wisdom on dying, that singular dance we all have on our docket." —Daniel Goleman, author of Emotional Intelligence and Altered Traits (with Richard J. Davidson)

"It's a blessing to have such dear friends explore their thoughts and feelings on a subject many of us find difficult. With the wisdom of loving acceptance, Ram Dass and Mirabai Bush share how we might prepare for the transition out of this life. Walking Each Other Home transcends any praise that could be given." —Sharon Salzberg, author of Real Happiness and Real Love

"Shortly after reading Ram Dass and Mirabai's über-awesome and amazing book Walking Each Other Home, I attended a Pacific Film Archive screening of Woodstock. When Joe Cocker belted out, 'I get high with a little help from my friends!' I instantly added, 'I can die with a little help from my friends. Do you need anybody? I just need somebody to love!' Love, love, love Walking Each Other Home!" —Wavy Gravy, activist, entertainer, founder of Camp Winnarainbow

"On long road trips, my mom would sometimes play Ram Dass lectures, and I would pretend not to listen, hoping she couldn't tell how much I liked them. Many years later, after she passed away from metastatic breast cancer, I was lucky enough to spend an afternoon with Ram Dass at his home in Maui. I said to him 'I wish my mom was here. She loved you.' To which he responded 'She is here.' This book made me feel like I was there again, being reminded that love never dies and that our hearts can open even in the depths of grief. If you think at some point you may die, then this book will be an invaluable tool in helping you transform the mind-crushing terror you're pretending not to feel." —Duncan Trussell, podcaster, The Duncan Trussell Family Hour

"This extraordinary book on being with dying is tender, brilliant, wise, and true. It is a guide and inspiration for a whole and holy living and dying." —Roshi Joan Halifax, author of Standing at the Edge and Being with Dying

"This is an astonishing book—a sacred exchange between two old friends, permeated by wisdom and humor, rooted in curiosity and compassion. By holding up the lamp of his own process of letting go of the body with love, Ram Dass is showing us all the way to die. I find myself looking forward to the adventure." —Mirabai Starr, author of God of Love and Caravan of No Despair
Sounds True, 9781683642008, 240pp.
Publication Date: September 4, 2018
About the Author
Ram Dass (1931–2019) first went to India in 1967. He was still Dr. Richard Alpert, an already eminent Harvard psychologist and psychedelic pioneer with Dr. Timothy Leary. He continued his psychedelic research until his journey to the East in 1967, driving overland to India, where he met his guru, Neem Karoli Baba, affectionately known as Maharaj-ji. Maharaj-ji gave him the name, Ram Dass, which means "servant of God." Everything changed then—his intense dharmic life started, and he became a pivotal influence on a culture that has reverberated with the words "be here now" ever since.


Be Here Now, Ram Dass's monumentally influential and seminal book, still stands as the highly readable centerpiece of the Western articulation of Eastern philosophy and practicing to live joyously in the present moment, be it luminous or mundane. From a backpackers' bible in the 1970s, Be Here Now continues to be the instruction manual of choice for generations of spiritual seekers. Fifty years later, it's still part of the timeless present. Being here now is still being here now. Ram Dass's work continues to be a path of teaching and inspiration to so many. His loving spirit has been a guiding light for three generations, carrying millions along on the journey, helping free them from their bonds as he has worked through his own. For more about Ram Dass's teachings, visit ramdass.org.
Mirabai Bush
teaches practices and develops programs through the application of contemplative principles and values to organizational life. She is a cofounder of the Center for Contemplative Mind in Society, founding board member of the Seva Foundation, and coauthor (with Ram Dass) of
Compassion in Action
. She lives in Massachusetts. More at mirabaibush.com.