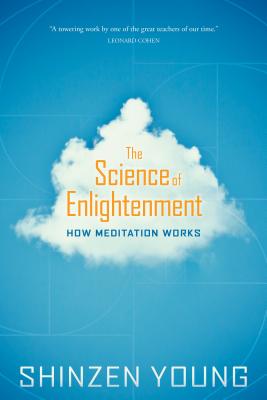 The Science of Enlightenment
How Meditation Works
Paperback

* Individual store prices may vary.
Other Editions of This Title:
Hardcover (9/1/2016)
CD-Audio (1/1/2005)
Description
Enlightenment—is it a myth or is it real? Across time and culture, inner explorers have discovered that the liberated state is a natural experience, as real as the sensations you are having right now.

Few teachers achieve clarity with the application of scientific inquiry to these states of consciousness like Shinzen Young. Now in paperback, The Science of Enlightenment makes Young's essential insights available to readers everywhere. The Science of Enlightenment merges scientific precision, Young's grasp of the source-language teachings of many spiritual traditions, and his rare gift for sparking insight upon insight through original analogies and illustrations. The result: an uncommonly lucid "Aha, now I get it!" guide to mindfulness meditation—how it works and how to use it to enhance our cognitive capacities, compassion, and experience of happiness independent of conditions.

For meditators of all levels and lineages, this multifaceted wisdom gem will be sure to surprise, provoke, illuminate, and inspire.
Praise For The Science of Enlightenment: How Meditation Works…
"Not since the Buddha himself has a clear, intelligent, and practical guide to mindfulness and awakening been available. The Science of Enlightenment brings a modern, technological, and scientific approach to the Buddha's teachings. Polymath and polyglot Shinzen is not shy to explain the nature of the Universe and our place within it as we expand and contract. Anyone who reads this book, embraces the recommended practices, and commits to the wisdom provided will catapult themselves towards an enlightened life. In short, The Science of Enlightenment will blow your mind!" —Arnie Kozak, PhD, author of Mindfulness A to Z and The Awakened Introvert

"Shinzen says that 'to teach about enlightenment is to mislead people,' but that 'to fail to teach about enlightenment is also to mislead people.' It's impossible to perfectly describe and guide others on this paradoxical path. That said, it's a rare thing to have a guide that fails quite so as well as Shinzen does." —Vincent Horn, cofounder of buddhistgeeks.com and meditate.io

"Only a broadly trained and practiced dharma-farer like Shinzen Young could have pulled off this remarkable blend of Zen's nonconceptual immediacy, Vipassana's precision, and the Western scientific perspective, along with numerous other helpful perspectives, into something so readable and practical while yet plunging the depths of practice and awakening. In short, Shinzen has totally rocked it!" —Dr. Daniel M. Ingram, MD, MSPH, author of Mastering the Core Teachings of the Buddha: An Unusually Hardcore Dharma Book

"Shinzen is one of the very best meditation teachers I have ever worked with. His openness to feedback and continuous improvement embodies the essence of science: precision, depth, power, simplicity, and universality. This book is a gift from a unique visionary, presenting ancient wisdom in a manner that exemplifies the contemporary zeitgeist." —Chade-Meng Tan, bestselling author of Search Inside Yourself

"In this remarkable book, Shinzen shares both his personal story and the knowledge of Buddhist practice that he has accumulated over a lifetime. With his unique approach he synthesizes teachings from multiple traditions and presents them in a clear and accessible way. An accomplishment as impressive as it is inspiring." —Susan Kaiser Greenland, author of The Mindful Child and creator of the Inner Kids program

"Shinzen is a genuine meditation master and spiritual teacher, among other talents and abilities far beyond those of mortal monks. His grand vision furthering the unification of science with spirit, as exemplified in this tremendous new work, will help further the integrated science of enlightenment for wise living in this next century." —Lama Surya Das, author of Awakening the Buddha Within and founder of the Dzogchen Meditation Center

"Shinzen is my teacher, my mentor, and my friend. I was a skeptic who came to mindfulness desperately looking for relief, and Shinzen's pragmatic voice, his sheer logic, leveled my distrust. Now, as one of his senior facilitators, I'm grateful and honored to share his brilliantly wrought, unifying system of mindfulness, which has had such a radically positive effect in my life. This book speaks to your ultimate thriving as a human being." —Julianna Raye, senior Shinzen Young facilitator and founder of Unified Mindfulness training programs

"Shinzen Young offers a map of meditation that has the incisiveness of good science, and is fully engaging and refreshing. Whether you are seeking an approachable entry, or wanting to deepen on your spiritual path, this book is a brilliant guide, full of insight and inspiration." —Tara Brach, PhD, author of Radical Acceptance and True Refuge

"Shinzen Young's The Science of Enlightenment is a wonderful and informative book for anyone interested in meditation. Beginners will find clear explanations of what meditation is and how it works to support one's evolution; experienced meditators will find new perspectives that will enhance their practices; and 'ShinHeads' will rejoice at having so much of Shinzen's teaching readily at hand. Highly recommended for anyone who practices meditation." —Leigh Brasington, author of Right Concentration: A Practical Guide to the Jhanas

"Shinzen Young's approach to Mindfulness is both poetic and rigorous. He has already benefitted countless people with his innovative techniques. In The Science of Enlightenment, he demystifies the process of practice and makes it easily accessible, which will undoubtedly benefit both new and experienced meditators." —Maria (Myoshin) Gonzalez, bestselling author of Mindful Leadership: The 9 Ways to Self-Awareness, Transforming Yourself, and Inspiring Others

"In this fascinating, clearly written, and easy-to-read book, Shinzen takes us on a journey that combines autobiographical anecdote with correlations between many different mystical traditions, all leading to a set of principles upon which a science of meditation can be founded. This is an important and groundbreaking addition to world literature on Awakening." —Culadasa, author of The Mind Illuminated: A Complete Meditation Guide Integrating Buddhist Wisdom and Brain Science

"The best book I have read on the full process of Buddhist insight meditation, from the muddy beginnings to the strange and beautiful deep end of practice. Young's primary interest is in making contemplative development more rigorous—to disambiguate the confusions, define the terms, and tease out the fundamental dynamics. Between the two great Magisteria of science and spirit, he explores a middle ground of direct experience. There is simply no teacher alive today who can do this with Young's level of experience and precision. The man has the perceptual acuity of a high-powered microscope, with enough actual scientific discipline to clearly describe what he's seeing without falling into premature conclusions or half-baked interpretive conjectures (the pitfall of too many spiritual books that seek the imprimatur of science). The effect is thrillingly provocative, a dramatic validation of the deepest aspects of what it means to be human. The text is also gracefully written, filled with fascinating personal stories and rich cultural and historical context. Simply wonderful. A must-read for anyone curious about both meditation and the future of science." —Jeff Warren, author of The Head Trip: Adventures on the Wheel of Consciousness (i.e., student number 762)

"Shinzen Young is a genius in making meditation more comprehensible and practical for modern people, writing both from widespread and deep intellectual understanding and from deep personal experience and accomplishment! I give it my strongest recommendations both for those beginning meditation and for those expert in the practice." —Charles T. Tart, professor emeritus of psychology, UC-Davis, and author of Altered States of Consciousness and The End of Materialism

"This is a beautifully rich, integrative work for students of meditation in our time. Shinzen Young speaks with clarity and authority grounded deep in contemplative experience, and informed by serious, modern scientific inquiry. This book will engage and guide anyone interested in the scholarship, the practice, and the science of meditation." —Diane Musho Hamilton, author of Everything Is Workable: A Zen Approach to Conflict Resolution

"Shinzen's writing, like his embodied teaching style, is direct, lucid, and insightful. Through his practice, teachings, and ways of transmitting his teachings, he is able to connect with the seeker and the scientist alike in profound ways. The Science of Enlightenment is a must-read for those interested in how meditation works in everyday, practical terms as well as in logical, scientific terms." —Robert W. Roeser, PhD, professor of psychology, Portland State University

"Shinzen's wisdom shines forth in this practical and helpful guide." —Judson Brewer, MD, PhD, director of research, Center for Mindfulness

"This book meets the most critical test of science excellence in that Shinzen's Unified Mindfulness strategies are both simple and therefore readily learnable, yet deeply transformative. Learning and practicing Unified Mindfulness has the potential to radically facilitate the reader's 'happiness for no particular reason.' Equally important is its potential to reduce suffering in the delivery of human and health services. Our team at The Centre for Conscious Care Canada, together with Shinzen's guidance, has developed a revolutionary, improved way to support individuals who have autism and other developmental disabilities to be all that they can be. Shinzen's unique qualities of competence and compassion—a perfect balance of science and heart—is woven into the fabric of this sacred gift." —Peter Marks, executive director of The Centre for Care Canada and coauthor, with Gareth Marks, of Conscious Care and Support

"Cutting to the heart of the matter, this book explores the essence of meditation across all spiritual traditions, and in wonderfully practical ways, shows readers how to reap the rewards of greater mindfulness, concentration, and emotional balance. Shinzen is deeply trained and wise, and I've personally benefited from his instruction. His book is grounded in science, friendly, clear, relentlessly helpful—and highly recommended." —Rick Hanson, PhD, author of Buddha's Brain: The Practical Neuroscience of Happiness, Love, and Wisdom

"The Science of Enlightenment is a highly practical distillation of the key elements of many contemplative traditions, presented as a balanced, practical, and precise method. Shinzen's personal story will resonate with many and his wry humor peeks out of many sections. This book creates the ability to inquire deeply into oneself and learn the skill of responding skillfully to life, as opposed to reacting. In the words of Victor Frankl, 'Between stimulus and response there is a space. In that space is our power to choose our response. In our response lies our growth and our freedom.'" —Bill Duane, superintendent of well-being and sustainable performance, Google

"This is Shinzen Young at his best—spiritual mentor, guide, scholar of Asian languages, dharma teacher, scientist, and spiritual adept. Shinzen is my teacher, and this book is his master work. It is a gift to those of us who follow the dharma and want to deepen and expand our meditation practice. This slender book offers an extraordinary range of knowledge and wisdom. We are lucky to have it!" —Polly Young-Eisendrath, PhD, author of The Present Heart: A Memoir of Love, Loss and Discovery

"At long last, beloved meditation teacher Shinzen Young lays out his unique meditative vision for us all. This comprehensive manual, peppered with his personal experience and his vast interdisciplinary knowledge, is a testament to his many years of deep exploration and teaching of this terrain. This is sure to appeal to meditators of all levels for the development of wisdom, peace, and freedom." —Diana Winston, director of mindfulness education, UCLA Mindful Awareness Research Center, and coauthor, with Susan L. Smalley, of Fully Present

"The most respected man in Western dharma has published his masterpiece. I've been looking forward to Shinzen Young's book for 25 years. It's here now. And it's fantastic. A tour de force and an instant classic." —Kenneth Folk

"What a joy it is to see this work! Shinzen Young is one of the great meditation teachers alive today. He has a profound understanding of tradition while also innovating for today's world. His rigorous experimentation reminds us that contemplative traditions aren't bound to dusty, tired ways of expression but are living and dynamic forces that still speak to us. The original Science of Enlightenment deeply influenced how I experienced my life and what I should do with it. I'm thrilled that another generation can learn from this master's ever-fresh voice." —Jeremy Hunter, PhD, founding director, Executive Mind Leadership Institute, and associate professor of practice, Peter F. Drucker Graduate School of Management

"With warmth, wisdom, and stunning precision, Shinzen Young maps out his unique path through and out of the realms of suffering; a towering work by one of the great teachers of our time." —Leonard Cohen, Grammy® Award-winning singer/songwriter and poet

"I am not a big fan of the language of 'special meditative states' or 'enlightenment' as the most skillful ways to think about or broadly cultivate access to the full range of our intrinsic wisdom and warm-heartedness. Nevertheless, Shinzen's brilliant, wide-ranging, deeply passionate, and very clear developmental approach here can give anyone who cares about wisdom and compassion a precise and compelling perspective—both scientifically rigorous and culturally inclusive—on what it might mean to be fully who and what we already are, in other words, fully human, and how to realize it and let it ripen us through the systematic lifetime cultivation and application of mindfulness/heartfulness writ both seemingly small and inwardly, and seemingly large and outwardly. The fate of the world hangs in the balance, so Shinzen's highly disciplined methods and message are best taken seriously, and yet at the same time, approached with a light touch and a sense of humor, as he himself emphasizes, so we do not take ourselves and the possibility of our attaining 'special states' too seriously, especially since they are already here in this moment and there is no one to take them seriously anyway. Seriously." —Jon Kabat-Zinn, author of Mindfulness for Beginners and co-editor, with Mark Williams, of Mindfulness: Diverse Perspectives on its Origin, Meanings, and Applications
Sounds True, 9781683642121, 264pp.
Publication Date: August 1, 2018
About the Author
Shinzen Young became fascinated with Asian culture while a teenager in Los Angeles. Later he enrolled in a PhD program in Buddhist Studies at the University of Wisconsin. Eventually, he went to Asia and did extensive training in each of the three major Buddhist traditions: Vajrayana, Zen and Vipassana. Upon returning to the United States, his academic interests shifted to the burgeoning dialogue between Eastern meditation and Western science. Shinzen is known for his innovative "interactive, algorithmic approach" to mindfulness, a system specifically designed for use in pain management, recovery support, and as an adjunct to psychotherapy. He leads meditation retreats throughout North America and has helped establish numerous mindfulness centers and programs. He also consults widely on meditation-related research, in both the clinical and the basic science domains. He often says: "My life's passion lies in exploring what may arise from the cross-fertilization of the best of the East with the best of the West."