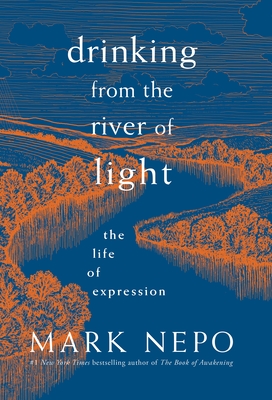 Drinking from the River of Light
The Life of Expression
Paperback

* Individual store prices may vary.
Description
A deeply heartfelt weave of reflections and poems about what it means to live the creative, expressive life.

"I cherish the wisdom and embrace the practices offered in this luminous book." —Mirabai Starr, author of Caravan of No Despair and Wild Mercy

"Meaningful art, enduring art—and the transformative process it awakens—keeps us alive," writes Mark Nepo. With Drinking from the River of Light, this bestselling poet and philosopher will lead you on a journey to discover just how art and authentic expression can bring our deepest truths to bear in the world.

In this collection of interconnected essays and poetry—covering subjects ranging from the importance of staying in conversation with other forms of life to a consideration of how innovators such as Matisse, Rodin, and Beethoven saw the world—Nepo presents a lyrical ode to the creative urge that stirs in each of us. Whether it's the search for a metaphor to reveal life's beauty or the brushstroke that will thoroughly capture the moment, Drinking from the River of Light examines what it means to go ". . . beyond the boundaries of art, where the viewer and participant are one."

Here you will discover:

· The importance of openly embracing the full scope of your emotions
· The need for raw honesty and self-exploration in education
· Why a new perspective always waits only a "quarter turn" away
· The importance of staying in constant conversation with other creative voices
· The crucial difference between giving and getting attention
· Concrete guidelines for respectful peer review
· What it means to channel the sound of your innermost being—and the universe

In Nepo's words, "This book is meant to be experienced and journeyed with." Including dozens of journaling prompts and personal exercises meant to enliven the reader's creative instincts, Drinking from the River of Light traces the search for our most essential selves and the importance of the life of expression to bear witness to the sorrow, depth, and joy of life.
Praise For Drinking from the River of Light: The Life of Expression…
Independent Publisher Book Award 2020: SILVER AWARD for SELF HELP

A 2019 NAUTILUS SILVER AWARD WINNER FOR PERSONAL GROWTH & SELF HELP

A passionate testament to the spirituality of expression." —Publishers Weekly

"Mark Nepo will guide you to the very source of your own creative spirit and inspire you to inhabit, trust, and express its radiance. This beautiful book is a gift on the journey of awakening." —Tara Brach, author of Radical Acceptance and True Refuge

"Hundreds of thousands of readers, including me, have found new life in Mark Nepo's writing. We know that a great 'river of light' flows through this good man and out into artistic expression. In this heartfelt and beautiful book, Mark aims to help his readers find the river of light within themselves and learn how it wants to express itself. As Mark says, 'all forms of expression . . . are meant to awaken the love that is possible in the world.' Want to become a bearer of love and light in a world that too many find dark and loveless? This new offering by a spiritual virtuoso of our era will help you find the way." —Parker J. Palmer, author of On the Brink of Everything, Healing the Heart of Democracy, and Let Your Life Speak

"I love all of Mark Nepo's books, but this one is especially beautiful, luminous, wise, and helpful—a river of light for the thirsty traveler. We need beacons of light to guide us through these times. Mark offers a river." —Elizabeth Lesser, cofounder of the Omega Institute and author of The Seeker's Guide, Broken Open, and Marrow

"Sacred seeing is an art, and creative expression is a sacrament. In Drinking from the River of Light, Mark Nepo invites us into a living encounter with the Holy, as the birthright of all humans in relationship with the wild beauty of creation. As a writer dedicated to naked authenticity, I cherish the wisdom and embrace the practices offered in this luminous book." —Mirabai Starr, author of Caravan of No Despair and Wild Mercy

"In Drinking from the River of Light, Mark Nepo's words land like dew on a thirsty leaf. He helps us see the artist within and takes the reader on a dance between oneself and Nepo's shared wisdom. I couldn't put it down and drank in every word of it." —Zainab Salbi, author of Freedom Is an Inside Job

"Mark Nepo's latest book is filled with achingly moving and poetic anecdotes, wise reminders, and terrific quotes you'll never find on quotes.com. The invitation is writ large among these pages to pay attention to the world (and your presence within it) in all its rough glory—to love the truth of what is, using whatever mode of expression enchants you—as your very gateway to the divine. This is a book of refined wisdom, insight, and great reminding. Crack the spine of this gem, drink fully from the river of light, and as Whitman advised, go forth to 'Sing the body electric!'" —Albert Flynn DeSilver, author of Writing as a Path of Awakening

"As a poet, Mark Nepo commands language with a fierce truth that is difficult, if not impossible, to turn away from. His voice and person serve that light that shines so brightly in the darkest corners of the world." —Richard Frankel, Indiana University School of Medicine

"Mark Nepo is that rarest of literary birds: a Renaissance-style writer who dares to bring his whole hybrid self to the page—literary poet, unabashed mystic, homespun philosopher, cancer survivor, and impassioned seeker singing the glories of the world. This wonderful book is a deep dive into the universal art of self-expression, exploring how to give voice to our deepest, most original self in a world where we often feel unheard, and how to hear the voice of God in our own when we listen closely to what is inside us. Candid, rich, and consistently profound. I loved it." —Mark Matousek, author of Sex, Death, Enlightenment and When You're Falling, Dive
Sounds True, 9781683642305, 320pp.
Publication Date: September 3, 2019
About the Author
Mark Nepo is a poet and philosopher who has taught in the fields of poetry and spirituality for over 35 years. ANew York Times#1 bestselling author, he has published numerous books--including The Book of Soul, The One Life We're Given, and Drinking from the River of Light--and recorded multiple audio projects.

Mark has been interviewed three times by Oprah Winfrey as part of herSoul Seriesradio show, and was interviewed by Robin Roberts onGood Morning America. As a cancer survivor, Mark devotes his writing and teaching to the journey of inner transformation and the life of relationship. Mark's work is widely accessible and used in spiritual retreats, healing and medical communities, and more. His work has been translated into 20 languages, and he continues to offer readings, lectures, and retreats.