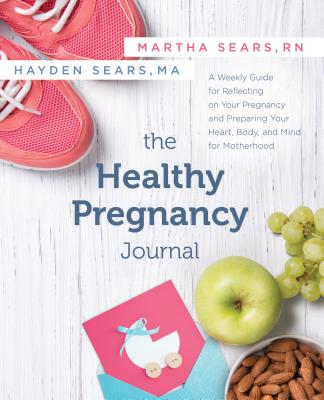 The Healthy Pregnancy Journal
A Weekly Guide for Reflecting on Your Pregnancy and Preparing Your Heart, Body, and Mind for Motherhood
Paperback

* Individual store prices may vary.
Description
A week-by-week guide and beautiful keepsake for a mother's pregnancy journey, from America's favorite childcare and attachment-parenting experts

Pregnancy is a time of tremendous change. As you carry new life into the world, you undergo an initiation into an entirely new way of being. The massive changes you experience—to your body, your lifestyle, even your relationship with yourself—will be both joyful and challenging.

The Healthy Pregnancy Journal will help you navigate the beautiful chaos of your journey into motherhood with a safe space to reflect and prepare, work through all you're experiencing, and stay on track for a healthy pregnancy.

Highlights include: Creative and inspiring journaling prompts about everything from food cravings and dreams to fears and feelings of uncertainty
• Helpful guidance on all things pregnancy-related—nutrition and exercise, stress relief, birthing methods, breastfeeding, self-care, and more
• Open space to record your hopes and dreams in a way that resonates with you—photos, love letters to your baby, drawings, quotes, or even magazine clippings
• "Pro Pregnancy Tips"—sex and intimacy, recipes, community, sleep, even getting off the couch when you feel huge, and more
• Weekly information around the development of your baby to help you more deeply connect with what's happening in your body
• Chronicling the birth of your baby—including vital statistics, pictures, your birth story, and your own sweet words to the newest love in your life
The Healthy Pregnancy Journal, by Martha Sears, RN, and her daughter, Hayden Sears, MA, of the Sears family parenting legacy, is the perfect complement to The Healthy Pregnancy Book, co-written by Martha and her husband, Dr. William Sears—parenting experts and bestselling authors of over 25 books.

"The sweet spot of pregnancy gives way, oh so quickly, to the whole new world of motherhood. We look forward to guiding you on this momentous and spectacular journey." —Martha and Hayden Sears
Praise For The Healthy Pregnancy Journal: A Weekly Guide for Reflecting on Your Pregnancy and Preparing Your Heart, Body, and Mind for Motherhood…
"This book is a hug of wisdom, empathy, guidance, and inspiration, and is rife with hard-won knowledge. I wish this book for anyone wanting to navigate pre-pregnancy, pregnancy, and postpartum as healthily and as gently as possible, under the watchful and validating eyes of two powerful forces in the journey of pregnancy and parenthood." —Alanis Morissette, artist, activist, attachment mom

"How sweet it would be to glance back through this pregnancy journal with my fleeting feelings, thoughts, hopes, and dreams captured—and see them now! This is the gift the Sears give us with The Healthy Pregnancy Journal, which contains space for you to place what will later become sacred treasures along with their practical, easy tips for a healthier pregnancy and birth, as well as a more knowledgeable you." —Aviva Romm, MD, author of The Natural Pregnancy Book and Natural Health After Birth

"With sensitivity, humor, wisdom, and grace, Martha and Hayden Sears—two highly respected authorities on all things pregnancy—take you on the most incredible journey with the most personal and informative assistance. What a blessing this book is for women who want to be educated and actively engaged with this process in order to set themselves up for the ultimate preparedness as they embark on the greatest ride of a woman's life." —Mayim Bialik, PhD, actress
Sounds True, 9781683642473, 216pp.
Publication Date: May 7, 2019
About the Author
Martha Sears, RN, is a registered nurse, former childbirth educator, La Leche League leader, and lactation consultant. With renowned pediatrician, William Sears, MD, Martha is the coauthor of more than 25 parenting books, drawing on her experience with their eight children (including Stephen, who has Down syndrome and Lauren, their adopted daughter). She contributes to the content of AskDrSears.com and is noted for her advice on how to handle the most common problems facing today's mothers with their changing lifestyles. Martha lives in Southern California and is blessed to spend tons of time with her 15 (for now) grandchildren. She enjoys reading, gardening, sailing, and ballroom dancing with her husband of 53 years.

Hayden Sears Darnell, MA, mother of three, is a certified health and nutrition coach who loves helping families and individuals on their journey toward better health. The oldest daughter of Dr. William and Martha Sears, she has worked with the Sears Family Pediatrics medical practice for over 15 years as Wellness Coordinator. She also contributes to the content of AskDrSears.com; has been a guest on TV shows and news stations sharing nutrition tips, healthy meal options, and the benefits of babywearing; and is excited to co-host the Dr. Sears Family Podcast. Hayden owns a Juice Plus+ virtual franchise and travels all over the world speaking about how to keep ourselves and our families healthy. She received her MA from Azusa Pacific University and resides in Southern California. Having homeschooled for 10 years, she now volunteers at her kids' schools and enjoys dancing, performing arts, and yoga.
or
Not Currently Available for Direct Purchase