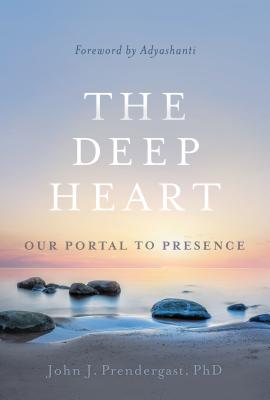 The Deep Heart
Our Portal to Presence
Paperback

* Individual store prices may vary.
Description
An experiential guide for exploring the convergence of psychological healing and spiritual awakening that happens most clearly and powerfully in the depths of the heart

"The Deep Heart is what I call a living book, that rare gem of a book that is alive with the presence of its author . . . A book like this should be felt and experienced as much as it should be read." —Adyashanti

The great human quest is to discover who we really are—a discovery that changes our lives and the lives of those around us. With The Deep Heart, spiritual teacher and psychotherapist Dr. John J. Prendergast invites us on a pilgrimage within, using the heart as a portal to our deepest psychological and spiritual nature.

The "deep heart" is Prendergast's term for our heart center—a subtle center of emotional and energetic sensitivity, relational intimacy, profound inner knowing, and unconditional love. "The heart area is where we feel most deeply touched by kindness, gratitude, and appreciation, yet it is also where we feel most emotionally wounded," writes Prendergast. "Whether we realize it or not, the heart is what we most carefully guard and most want to open."

Throughout The Deep Heart, Prendergast expertly combines the boundaried wisdom of psychotherapy with a spacious, embodied path to liberation, bringing attention to both the joys and pitfalls of each approach with the compassion of a friend who's walked the path for decades.

In this experiential guide, Prendergast invites you to tune into your inherent wisdom, love, and wholeness as you journey into the deep heart. Through precise and potent meditative inquiries, insightful stories, and reflections drawn from Prendergast's intimate work with students and clients, you'll begin to open your heart, see through your core limiting beliefs, and discover the true nature of your being.
Praise For The Deep Heart: Our Portal to Presence…
"Prendergast lays out a strategy…to make 'a spiritual pilgrimage from the head to the heart' and escape the ego's endless 'agenda for self-improvement' in this inviting inquiry. Readers...will appreciate (his) enthusiastic take on deconstructing self-imposed limitations." —Publishers Weekly

"The Deep Heart is an invitation to discover our sacred calling and unveil the core of our very being. Tapping into our natural curiosity and wisdom, John Prendergast guides us on a transformational journey from head to heart—and to the full and pure essence of love." —Tara Brach, PhD, author of Radical Acceptance

"With tender clarity, John Prendergast draws us deeper on every page. A master teacher and beautiful writer, he lays out a clear path to our true home, and then walks it with us with practical heartfelt suggestions. This book is profound, powerful, and true. What a gem." —Rick Hanson, PhD, author of Buddha's Brain: The Practical Neuroscience of Happiness, Love, and Wisdom and Hardwiring Happiness: The New Brain Science of Contentment, Calm, and Confidence

"The Deep Heart is a beautifully written and masterful guidebook that eloquently shows us how to recognize and embody our essential wholeness in everyday life. Both profound and practical, this seminal work reveals the road we all must travel to embody our potential as fully alive and authentic human beings. A must-read!" —Richard Miller, PhD, author of The iRest Program for Healing PTSD: A Proven-Effective Approach to Using Yoga Nidra Meditation and Deep Relaxation Techniques to Overcome Trauma; iRest Meditation: Restorative Practices for Health, Resiliency, and Well-Being; and Yoga Nidra: A Meditative Practice for Deep Relaxation and Healing

"The Deep Heart is a beautiful, wise, and practical guide to opening to our true nature, guiding us toward waking up, as well as down and in. Integrating and distilling wisdom teachings and his own insights and inner explorations, John Prendergast has translated complex information into a clear, accessible, and contemporary form. The meditations and inquiries are wonderful invitations to explore the depths of the heart for ourselves. I highly recommend The Deep Heart for anyone who wishes to embody their true nature as loving awareness." —Laurel Parnell, PhD, author of Rewiring the Addicted Brain with EMDR-Based Treatment and Attachment-Focused EMDR: Healing Relational Trauma

"If, as you read this exquisite book, you feel into the depths from which the author writes, you will find yourself drawn into your own depths from which healing and wisdom arise." —Roger Walsh, MD, PhD, professor of psychiatry, philosophy, and anthropology, University of California at Irvine, author of Essential Spirituality: The Seven Central Practices to Awaken Heart and Mind

"The Deep Heart leads us on a journey of awakening from head to heart, where it becomes safe for the heart to freely shine. This book is a deep dive into the heart of who we really are. John Prendergast offers us beautiful words and unique forms of meditative inquiry, so that we can directly experience the Deep Heart, which is so needed in our world today." —Loch Kelly, MDiv, LCSW, author of The Way of Effortless Mindfulness

"This is a wise, inspiring, beautifully written book. It points to our true nature, and to the love, compassion and acceptance that naturally arise in us when we experience who we really are. The deep love that motivated the writing is present on every page and has the gentle power to deepen and open the heart of the reader." —Judith Blackstone, PhD, author of Belonging Here, Trauma and the Unbound Body, and The Enlightenment Process

"A book of great wisdom and heart from an authentic and experienced teacher of Presence. John's wise, loving, and deeply insightful words about meeting our raw experience with honesty, courage, and grace will be of immense benefit to people all over the world." —Jeff Foster, author of The Way of Rest and The Joy of True Meditation

"The Deep Heart carries the taste and flavor of an author who has himself spent a lifetime immersed in the Deep Heart where soul and spirit meet. This book is a truly elegant and practical road map that seamlessly weaves soul work into the timeless wisdom of spiritual practice." —Roger Housden, author of the Ten Poems series, and Dropping the Struggle: Seven Ways to Love the Life You Have

"The Deep Heart is one of those books that is more like a Friend or Guide that Sufi tradition speaks of. While it is filled with deep clarity and insight, its primary effect is not the conveying of information, but the revelation of an inner landscape. This landscape is unique for each of us, not one that we create, but that we attune to by way of our own sensitivity. It is the Heart itself that is the organ of this sensitivity, which John helps to awaken with his wise and skillful invitation.
"Paragraph by paragraph, with empathy and kindness, John shares the fruits of his decades-long exploration of the Heart and its mysteries. By shining a light into the hidden and darkened places, he offers us a guided tour of the Self in a way that is contemporary, accessible, and practical.
"What is unique about John's writing is his ability to convey the deepest realizations of the contemplative traditions while remaining sensitive to the physical, energetic, and relational dimensions of our human experience. Teachings on 'Presence' are often taught from a narrow, limited viewpoint and 'from the neck up.' But John reminds us that our bodies are alive with the divine spark, that deep within the caverns of the Heart there is something miraculous occurring.
"The Deep Heart is a warm, merciful invitation for each of us to tend to this miracle and fully participate in it—in all of life's glory and chaos—for the benefit of others as well as ourselves." —Matt Licata, PhD, psychotherapist, teacher, and author of The Path Is Everywhere: Uncovering the Jewels Hidden Within You and A Healing Space: Befriending Ourselves in Difficult Times

"The spiritual journey does not end with awakening to the Infinite, but begins a life lived more and more consciously from the loving and immanent Presence that has awakened itself within. Writing with exquisite clarity and compassion, John Prendergast explores these two dimensions of the awakening process in his newest book, The Deep Heart. His intimate knowledge of the human psyche through his many years functioning as a gifted psychotherapist and educator deeply informs his work and writing as a spiritual teacher.
"John writes from authentic experience of both the challenges of being a conditioned human being and the freedom of simply Being. Through numerous guided meditations and exercises, he invites the reader to deeply inquire into the truth of experience, and to allow the wounded heart to be touched and transformed by the Deep Heart that is undivided and whole. John approaches with great sensitivity the human experience through the single Eye that sees the inseparability of the Heart of Awareness and its expressions as life itself." —Dorothy Hunt, spiritual director of Moon Mountain Sangha and author of Ending the Search: From Spiritual Ambition to the Heart of Awareness

"Psychotherapist and spiritual teacher John Prendergast has devoted his life to exploring the intersection and intermingling—indeed, the inherent inseparability—of the psychological and spiritual dimensions of being. In this profound, practical, and potentially life-changing meditation on the Heart in all its subtlety and complexity, he guides us on the journey home to our essential nature, with meditations and inquiry that lead us into and through our trauma and pain to our deepest inner knowing. If you read only one book on the spiritual journey this year, let it be this one!" —Stephan Bodian, psychotherapist, spiritual teacher, and author of Wake Up Now and Beyond Mindfulness
Sounds True, 9781683642527, 208pp.
Publication Date: December 10, 2019
About the Author
John J. Prendergast, PhD, is a psychotherapist, retired professor of psychology, spiritual teacher, and founder and editor-in-chief of Undivided: The Online Journal of Nonduality and Psychology. For more, visit listeningfromsilence.com.

Adyashanti is an American-born spiritual teacher devoted to serving the awakening of all beings. His teachings are an open invitation to stop, inquire, and recognize what is true and liberating at the core of all existence. His books include Emptiness Dancing, The End of Your World, True Meditation, The Way of Liberation, and Falling into Grace. Asked to teach in 1996 by his Zen teacher of 14 years, Adyashanti offers teachings that are free of any tradition or ideology. "The Truth I point to is not confined within any religious point of view, belief system, or doctrine, but is open to all and found within all. For more information, please visit adyashanti.org.
or
Not Currently Available for Direct Purchase