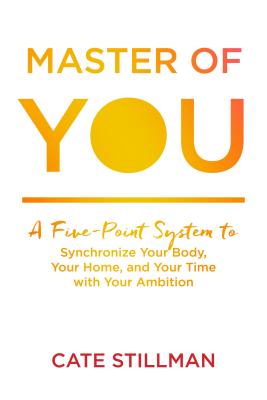 Master of You
A Five-Point System to Synchronize Your Body, Your Home, and Your Time with Your Ambition
Paperback

* Individual store prices may vary.
Description
Wellness Expert Cate Stillman Walks You Through a System for Evolving Every Aspect of Your Life Through the Five Elements of Ayurveda

Do you ever sense that there's a gap between your full potential and how you live your day-to-day life? If so, wellness expert Cate Stillman has a breakthrough solution. In Master of You, Cate presents an innovative program for embracing and accelerating your true capabilities—all through the five fundamental elements of Ayurveda.

Master of You shows you how to align every aspect of your life with who you want to become next. Rather than quick fixes and life hacks, Cate offers element-by-element instruction on how to organize your home (space), optimize your biorhythms (earth), clarify your ambitions (fire), realign your relationship with time (air), and embody integrity and flow in your daily life (water).

Through concentrated inquiry, dozens of practices, and a deep dive into the alchemical power of Ayurveda, Master of You will guide you in how to clear away obstacles and empower your own evolution. Here you will discover:

- Practices for checking in on your body, mind, and spirit with clear eyes
- How to recognize and bridge the gaps in your personal integrity
- Important habits for honoring and nurturing your body's natural rhythms
- How to confidently step up for your dreams through pilgrimage and vision quests
- The five bodies you need to consider and nourish as you progress
- How your past experiences and ingrained habits shape you from the cells up
- The inherent paradoxes of mastering the element of air (time)
- How to practice fasting for better nourishment (and enjoyment!) from food
- Why mastering integrity and flow is the linchpin of the elemental process
- How to discern the signs pointing toward your true dharma

"What if you met your present realities, challenges, and opportunities facing forward, rooted from within, activating support from all around you?" writes Cate. "What if you could design for and actualize the life beyond your wildest dreams? Who could you become?" With Master of You, you too can take the reins of your life, reorient toward what makes you thrive, and bridge the gap between the possible and the actual.
Praise For Master of You: A Five-Point System to Synchronize Your Body, Your Home, and Your Time with Your Ambition…
"Cate Stillman is the leading voice in cutting-edge, evolutionary Ayurveda. This book is a take on ancient Five Element Theory, unlike anything I've ever read (but always secretly wanted). Ayurveda is a core wisdom that must evolve alongside us, and no one gets the need to modernize Ayurveda more than Cate. Read this book if you want all the sacredness of the ancient synthesized by the great mind of this woman. Read it if you want to add jet fuel to your life dreams." —Katie Silcox, New York Times bestselling author of Healthy, Happy, Sexy and founder of The Shakti School for Women

"For more than 25 years, I've known Cate Stillman to live a life aligned to global positive impact and freedom. With Master of You, she innovates on ancient human wisdom to wake each and every one of us up to the core of our unique life and personal purpose. You'll get clarity on what you are here to do with your life, how to take immediate action, and enjoy the ride." — Jimmy Chin, Academy Award® winner in Best Documentary for Free Solo (2018)

"Master of You is masterful map to help you actualize your potential in the world. Cate Stillman guides you to awaken the five elements of Ayurveda to attune your ambition into action, become competent in your unique power, and design your life to result in the vitality and success you want to experience." —Elena Brower, author of Practice You

"In Master of You, Cate Stillman has manifested a bold blueprint for living your best life. Drawing from the holistic wisdom of Yoga and Ayurveda, she gives readers a clear path to achieving things great and small. This book provides a proven and methodical way to reflect on your past, rewrite your personal history, and build a grand vision for your future––to show the world (and yourself) who you are capable of becoming." —Yogarupa Rod Stryker, author of The Four Desires, founder of ParaYoga, and creator of the meditation and yoga nidra app Sanctuary

"Cate Stillman digs deep into ancient wisdom and modern practice to synthesize a marvelous and engaging journey to a better you. Master of You is the ultimate antidote to rampant narcissism haunting every aspect of our lives. She asks you to find your superpower, recognize the rhythms and cycles in your life, and tune in. She provides a path to purpose through caring for others. Read it—your friends, family, and coworkers will thank you!" —Richard E. Boyatzis, professor at Case Western Reserve University and coauthor of the international bestseller, Primal Leadership and the new book Helping People Change

"Ayurveda is clear: to be a Master of You, you must first pull back life's bow, hold it perfectly still, and then release yourself into the world from this calm and powerful place of heightened awareness." —Dr. John Douillard, DC, CAP, founder of LifeSpa.com

"Master of You is like having a skilled, compassionate coach take your hand and direct you to live your best life. Cate Stillman's expertise and enthusiasm shine through every page. Using the power of the five elements, you will learn how to uplevel your health and time with joy." —HeatherAsh Amara, author of Warrior Goddess Training, Warrior Goddess Wisdom, and The Warrior Heart Practice

"Master of You is a user-friendly life guide. This book offers a no-nonsense approach to knowing what you want, and making it happen. It is clear that Cate Stillman's decades of working and living in the modern world have arrived at a clear methodology for improving quality of life and setting the stage for self-evolution. This book is also an excellent guide for motivation for those on the spiritual path." —Kate O'Donnell, author of The Everyday Ayurveda Guide to Self-Care and The Everyday Ayurveda Cookbook

"Cate artfully adapts Ayurveda for modern times to help us calm and reinvigorate our distracted minds and bodies. Master of You is a guide to awaken a new 'you' through newfound purpose, giving you the power to become the master of your new destiny." —Brian Solis, author of Lifescale: ?How to Live a More Creative, Productive and Happy Life

"A practical and compelling case to heed ancient wisdom in modern times to enrich your life and the lives of those around you." —Paul Jarvis, author of Company of One

"Cate poses a provocative question—Do you dare to dream big?—and then proceeds to brilliantly map out a manifestation process through Five Element Theory. Cate is a master at taking esoteric Ayurveda and yoga philosophy and grounding it into our lives with clarity and relevance." —Marc Holzman, renowned yoga teacher and Ayurveda practitioner
Sounds True, 9781683642619, 256pp.
Publication Date: March 17, 2020
About the Author
Cate Stillman has guided a global online tribe into thriving in body, family, and community through innovative yoga and Ayurvedic teachings since 2001. She hosts the Yogahealer Real Life Show, a weekly podcast featuring dozens of experts in the field, and is the author of Body Thrive. She splits her time between Wyoming and Mexico. For more, see yogahealer.com.

Cate Stillman has guided a global online tribe into thriving in body, family, and community through innovative yoga and Ayurvedic teachings since 2001. She hosts the Yogahealer Real Life Show, a weekly podcast featuring dozens of experts in the field, and is the author of Body Thrive. She splits her time between Wyoming and Mexico. For more, see yogahealer.com.
or
Not Currently Available for Direct Purchase