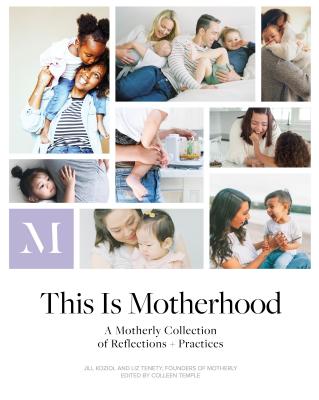 This Is Motherhood
A Motherly Collection of Reflections + Practices
Paperback

* Individual store prices may vary.
Description
By Moms, for Moms—Redefining Motherhood for a New Generation

With This Is Motherhood, the cofounders and contributors of the Motherly online community present a collection of essays and practices to celebrate motherhood in all its complexity.

Here you'll find reflections on each phase of "the wild ride of motherhood," including the soaring highs of meeting your new baby, the ground-shaking lows that make you doubt everything you've ever known, and all the beauty and pain in between. Each chapter closes with practices from Motherly's team of wellness experts to help you define, clarify, process, and celebrate your journey.

This book was created to inspire and guide you through some of the most miraculous and stressful milestones of your life, such as:

• New Mama—get ready for the mysterious, unpredictable, and beautiful start to your new life as a mother
• Firsts—each step is brand new to you and your baby . . . and a chance to discover your way to learn and love
• Mental Load—even with the worries, the to-do lists, the midnight emergencies, you deserve time and attention, too
• Village—how to find the support that's all around you, because you aren't meant to do this alone
• Transformation—discover and embrace the powerful, loving, capable woman who's been molded by motherhood

There are many ways to get motherhood right. It's not your mother's path or your sister's path or that seemingly-perfect mom from your kid's preschool's path. It's yours. You get to define—and redefine along the way—your experience of motherhood.

And you are not alone.

Each essay in This Is Motherhood is a letter to you, from one mama to another, to remind you that your feelings are normal. That you're doing an amazing job. That you're stronger than you even realize.

Most of all: You've got this, mama.
Praise For This Is Motherhood: A Motherly Collection of Reflections + Practices…
"This coffee table–style book offers an attractive and quick read, celebrating the incredible diversity that is motherhood." —Library Journal

"Motherhood is a vast up-and-down terrain where strength, joy, laughter, tears, doubt, and fear all come into play. In this beautiful collection of essays, mothers share the experience of becoming and being a mother, loving and letting go, struggles and triumphs. The book is a tribute to the incredible power of mothers and the all-encompassing nature of motherhood—it's a gift to mothers young and old, new or experienced." —Dr. Tovah Klein, a.k.a. "The Toddler Whisperer" + author of How Toddlers Thrive

"Each essay takes you on a beautiful emotional rollercoaster which ends at a destination that's nothing short of reassuring. It's raw, relatable, and oh so real—a must-read for mothers and fathers." —Reema Sampat, actress, Orange Is the New Black

"This collection of essays and practices captures the richness of the experience of what it means to be a mother. Every mom needs a village—and this book reminds us that we're all part of the vital fabric of motherhood. The perfect gift for all mothers." —Natalie Gordon, founder + CEO of Babylist

"This Is Motherhood is a delightfully encouraging read. This beautiful compilation of stories offers a glimpse into the hearts and minds of mothers who have traveled this path before us and alongside us to provide a faithful reminder that we are not alone." —Rebecca Eanes, author of The Gift of a Happy Mother + founder of Positive Parenting: Toddlers and Beyond

"Uplifting, empowering, and heartwarming: This Is Motherhood mothers the new mother, reminding her that there are millions of women who share her joys, sorrows, and triumphs. A perfect gift for the expecting or new mom." —Nina Spears, The Baby Chick

"So beautiful and thoughtful—a must-read for all new moms!" —Catherine McCord, author + founder of Weelicious
Sounds True, 9781683642657, 304pp.
Publication Date: March 12, 2019
About the Author
JILL KOZIOL is the CEO and cofounder of Motherly. She resides in California. For more, visit mother.ly.

LIZ TENETY is the Chief Digital Officer and cofounder of Motherly. She resides just outside of New York City. For more, visit mother.ly.
or
Not Currently Available for Direct Purchase