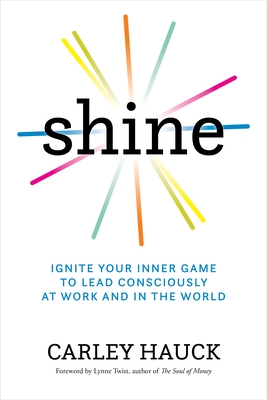 Shine
Ignite Your Inner Game to Lead Consciously at Work and in the World
Hardcover

* Individual store prices may vary.
Other Editions of This Title:
Digital Audiobook (2/22/2021)
MP3 CD (2/23/2021)
Compact Disc (2/23/2021)
Description
A top conscious business consultant shares the essential inner skills you need to be a force for change—in your workplace and in the world.

The way we do business is changing. Every day, we see new evidence that we've got to move away from the status quo that is burning out workers, enabling greed, and endangering our planet. Yet how do you develop the skills and practical tools to prioritize people, planet, and prosperity? "Everything starts with your inner game," teaches conscious business consultant Carley Hauck. "In this book, I'll share the most powerful methods I know for learning to fully embody your highest values, lead with compassion and generosity, and create soul-nourishing workplaces that become forces of good in the world."

With Shine: Ignite Your Inner Game to Lead Consciously at Work and in the World, Hauck distills the research-based methods and game-changing skills she's brought to corporate settings such as LinkedIn, Pixar, Genentech, Clif Bar, and more. Here you'll learn tools and practices for cultivating the six "inner game skills" for conscious leadership:

• Self-Awareness—understand your strengths, blind spots, motivations, and behaviors, and how these impact others
• Emotional Intelligence—learn how to navigate challenging feelings and develop the qualities of empathy and attunement
• Resilience—how to adapt gracefully to the constant state of change in business and the world
• Love—lead from the heart, create a caring and collaborative workplace, and build lasting connections based on shared passion and ideals
• Well-Being—self-care techniques to prevent burnout in the workplace and promote sustainability for the planet
• Authenticity—embracing the shadow sides of yourself and your workplace through vulnerability, forgiveness, and trust

Leadership in a conscious workplace is not just about CEOs and executives—everyone has a role to play to create a healthier, more equitable, earth-friendly way of doing business. "I want to support you in cultivating a strong, brilliant inner game that will help you inspire greater collaboration, innovation, and belonging," says Carley Hauck. "We need each other's support for a collective response to today's complexities. When we grow the qualities that allow us to shine from the inside out, we each contribute our light to the creation of a better world."
Praise For Shine: Ignite Your Inner Game to Lead Consciously at Work and in the World…
"An important book for the complex and transformative times we are living and leading in. Carley Hauck charts a pathway forward of the essential, game-changing inner skills leaders and employees need to create a workplace and world that serves everyone. By embracing all parts of ourselves—the dark and the light—and leaning into learning new skills, Shine teaches that we can bring our best and whole self to work and to our changing world." —Chip Conley, American hotelier, hospitality entrepreneur, speaker, and author of Wisdom at Work

"Shine is the book for you if you want to awaken the next level of leadership and business in yourself, at work, and be a force for good in the world. Carley Hauck illuminates a pathway for anyone with the call to lead with research, tools, practices, and compelling stories that will truly inspire you. You will never see leadership the same way." —Sheryl O'Loughlin, CEO of REBBL, cofounder of Plum Organics, and former CEO of Clif Bar & Company

"Shine is a dynamic, practical, and visionary book at the cutting edge of a new wave of thought leadership centered on sustainability and self-awareness. Carley Hauck introduces innovative exercises that will help leaders with diverse lifestyles hone a solid foundation of resilience and tenacity, proving that the most effective leadership development begins within. The seamless blend between real-world stories and data-driven studies illustrates how the modern-day paradigms of power and business require a new standard of leadership, one that Carley is well equipped to usher in. More than an insightful toolkit for anyone looking to thrive in pressurized corporate environments, Shine is an emotional detox for the soul." —Jennifer Brown, diversity and inclusion consultant and author of How to Be an Inclusive Leader

"Shine is an important book that highlights the essential leadership skills for today's world. Carley guides you through the important inner game one must cultivate to lead consciously at work and in life. The practices, research, and authentic stories will inspire you to create a new kind of workplace and world that prioritizes people and the environment." —Mike Robbins, author of We're All in This Together

"In this illuminating and kind book, Carley Hauck provides a field guide, brimming with wisdom and practice, to 21st-century leadership. Shine is such a timely and deeply needed book, one urgently requiring attention during our complex times. This wonderful book will give you hope, courage, and a sense of wonder at what we might become." —Dacher Keltner, PhD, director of the Greater Good Science Center and author of The Power Paradox

"An important contribution by Carley Hauck to help businesses and individuals live in authenticity and wholeness. Shine exudes an honest and earnest care, and blends science, personal story, interviews, and optimism in a mix that will help any who crosses its path." —Fred Luskin, PhD, director of the Stanford University Forgiveness Projects and author of Forgive for Good

"Carley Hauck gives us a playbook to build our self-awareness, strengthen our resilience, and live and lead with our lights on. The world needs all of us to Shine a little brighter right now." —Scott Shute, head of mindfulness and compassion programs, LinkedIn

"Carley Hauck offers us a valuable platform from which to both know one's own self better, and then to bring that more aware self to the role of leadership by tuning in to what matters most. Shine will help us all realize exactly what we need to do first, next, and always to create a better workplace and world." —Scott Kriens, cofounder of 1440 Multiversity, former CEO of Juniper Networks

"Carley Hauck has been teaching others how to use their gifts to make this a better world for a long time now. In Shine, she's finally put her experience into a wonderful, engaging book that can show us how to bring out the best in ourselves to support the flourishing of our workplaces and planet." —James Baraz, author of Awakening Joy and Awakening Joy for Kids, cofounder of Spirit Rock Meditation Center

"Carley Hauck has done the unimaginable. She has woven the practical and the spiritual, the mindful and the heartfelt, the individualistic and the relational, in the perfect sacred balance. With her tools and insights, we are finally ready to co-create the kind of conscious capitalism that is utterly essential for humanity going forward. Without this, we are lost. Shine lights the way home." —Jeff Brown, author of Grounded Spirituality and An Uncommon Bond

"Carley Hauck has compiled an extremely useful collection of research-backed exercises and advice for anyone who wants to become a better, happier, more effective contributor to the lives of those they touch." —Amy Edmondson, PhD, Novartis Professor of Leadership and Management at the Harvard Business School, author of the Fearless Organization: Creating Psychological Safety in the Workplace for Learning, Innovation, and Growth
Sounds True, 9781683642671, 304pp.
Publication Date: February 23, 2021
About the Author
Carley Hauck, MA, is a leadership consultant to top conscious businesses in the San Francisco Bay Area and beyond. She created the year-long Shine Leadership System, which she has taught in corporate settings such as LinkedIn, Bank of the West, Pixar, Genentech, Clif Bar, and high-growth startups. Carley teaches at the business schools of Stanford and UC Berkeley and writes for Conscious Company and Mindful magazines. She is a climate activist and graduate of Al Gore's Climate Reality Project Leadership Corps training, and hosts the podcast Shine: Lead Consciously at Work and in the World. For more, visit carleyhauck.com.
or
Not Currently Available for Direct Purchase