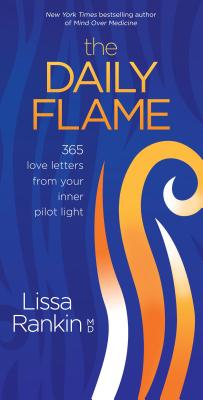 The Daily Flame
365 Love Letters from Your Inner Pilot Light
Hardcover

* Individual store prices may vary.
Description
Receive daily messages of love, wisdom, and encouragement with a 365-day reader from New York Times bestselling author, physician, and mystic Dr. Lissa Rankin.

If your deepest, most divine self had a message for you, what would it be? In The Daily Flame, acclaimed physician Dr. Lissa Rankin presents 365 love letters from your Inner Pilot Light—the guiding voice of your innermost truth. As Lissa explains:

"This book is intended to support the kind of intimacy, comfort, nourishment, and grace that happens when you make contact with the Source of all love that fuels your very existence. Regardless of your spiritual orientation, consider this book a prayer of sorts, one that invites you to gently, quietly reunite with the purest, most loving core of your being, the part that will help you navigate the in-between space in your spiritual life."

Each new message from your Inner Pilot Light will bring you inspiration and encouragement for the day ahead. The letters cover a wide range of themes, from abundance and health, to following your dreams, to finding your tribe, and persevering through challenges. Some readings offer practices and reflection questions, while others offer deep wisdom and spiritual insights. You might get a motivating kick in the patooty one day, and an unbridled love letter the next!

As you read each day, you'll learn to embrace your own authentic knowing and trust the voice of your divine self. Enter the mysterious landscape of the soul and let your light shine bright with The Daily Flame.
Praise For The Daily Flame: 365 Love Letters from Your Inner Pilot Light…
"Rankin unites healing and spirituality in letters from one's "inner pilot" (that original spark of the divine) that serve to encourage, inspire, and soothe...The pilot light puts readers in touch with spiritual parts of themselves, and by connecting with these aspects, they will find the strength to endure and thrive in the midst of misfortune or tragedy. Rankin's unique offering will be appreciated by
anyone open to enhancing their spirituality." —Library Journal

"Wow, what an amazing book! I view it as my guide to reconnect with what is real, honest, and most needed (and often most neglected)—that deep, loving part of myself who is courageous, loving, and fierce. If you are feeling lost, overwhelmed, or self-critical, The Daily Flame will give you the tools to breathe, relax, and fall back in love with yourself and your life." —JJ Virgin, CNS, CHFS, four-time New York Times bestselling author of The Virgin Diet and JJ Virgin's Sugar Impact Diet

"If you're feeling directionless or just need support for your journey, Dr. Lissa Rankin is your ideal guide. This book can help you practically, emotionally, and soulfully." —Chris Guillebeau, author of Side Hustle and host of the daily podcast Side Hustle School

"When the beneficent Universe is writing me love notes, I'm listening. Thank you, Dr. Lissa, for ushering the sweet offering of these letters through to all of us." —Elena Brower, author of Practice You and Art of Attention

"As you read from this beautifully written book, each day you will be inspired and transformed. These are love letters from your essential, undamaged goodness to the burdened parts of you that struggle in their myriad ways to keep you safe, or that have been hurt. These letters become daily reminders of who you really are and how much love and compassion is in you and flows through you." —Richard Schwartz, PhD, author and founder of Internal Family Systems (IFS)

"The Daily Flame is a potent, profound, magical, and at times hilarious blast of Divine Remembrance that is desperately needed on this planet and in our hearts. Thank you, Lissa, for helping us stoke our inner flame one day and one heartbeat at a time. Brava!" —Sera Beak, bestselling author of Red Hot and Holy: A Heretic's Love Story and Redvelations: A Soul's Journey to Becoming Human

"If you desire relief from doubt and struggle, these daily love letters are your medicine. Lissa gently guides you to reconnecting to the part of you that you can trust 100 percent. Each day you will get closer to clarity, truth, and inspiration. The words in this book will touch a place deep inside that knows the Truth, and you will be ignited to live from love rather than fear." —Christine Hassler, author of Expectation Hangover, master coach, and podcast host

"This inspired collection of self-love letters beckons us toward the beauty, courage, and creativity of who we really are. Speaking to both the depth of our consciousness and to our wild dancing souls on planet Earth, these daily morsels are playful and profound, deeply sacred and delightfully spicy, totally human and totally divine. Delicious! The Daily Flame serves up real soul nourishment, healing, and transformational wisdom from someone who walks her talk with courage, creativity, and alignment with the flow of life. Savor every bite and follow the guidance of your Inner Pilot Light—your world will be transformed." —Maja Apolonia Rodé, PhD, philosopher, artist, and advocate for a more beautiful world

"The Daily Flame features user-friendly love letters from our core Divinity—our Inner Pilot Light—to our everyday selves. The tone is warm, affectionately down-to-earth, and often playful, again and again inviting us to deepen our access to the heartland of our Divinity no matter what our condition may be. Each love letter is compassionately presented and offers us a support that we may have assumed was just not there. Considering them can be a breeze, a light-hearted dance, and it also can be a challenge. Sometimes what's offered is a tasty hors d'oeuvre—other times a substantial meal, something to really bite into—but at all times there's a sense of a feast close at hand." —Robert Augustus Masters, PhD, author of Spiritual Bypassing, Transformation through Intimacy, and Bringing Your Shadow Out of the Dark

"Lissa Rankin is an exceptional example of inspiration, wisdom, integrity, and heart; and her new book, The Daily Flame, is filled with all of these things and more. Honest and illuminating, these 365 love letters from 'the part of us that always knows' are a source of connection, comfort, and awakening for those who long to feel closer to their own soul. I'm grateful for Lissa's continued influence in my own life and work, and I sincerely believe the world is much better off because of her presence and work in it. Read these offerings and please find out for yourself." —Chris Grosso, author of Indie Spiritualist, Everything Mind, and Dead Set on Living

"Pick up this book whenever you doubt that the flame of light and love burns eternally within you. You'll find short, ecstatic messages that will caress you with love and inspire you to transcend any temporary setbacks and limitations. Lissa Rankin shares how during difficult times in her life journey, she had to surround herself with a 'faith bubble' to protect herself from the naysayers—both those in her environment and those in her mind. This book is your daily bubble to keep your faith intact. Equal parts wisdom, laughter, and passion, it will attune you to your own guidance while opening the gates through which synchronicity, awe, and gratitude can flood your life." —Dawson Church, PhD, author of Mind to Matter: The Astonishing Science of How Your Brain Creates Material Reality

"Lissa's new book gently, deliciously, and powerfully confronts one of the major challenges along the spiritual path: the difficulty many of us have of taking in teachings and practicing spiritually on a frequent and regular basis. Her Inner Pilot Light's love letters to all of us are so sweet, passionate, and tender; so sincere, unconditionally loving, and well-meaning that I've found myself touching in on them often. Flowing with nondual wisdom and love, her book is a read that keeps on giving—a must-have for everyone on a spiritual Path—in fact, for everyone." —Asha Clinton, MSW, PhD, developer of Advanced Integrative Therapy (AIT)

"The Daily Flame is superfood for our innermost self: Intimate. Gracious. Penetrating. Lissa's reassuring mastery of this inner realm encourages us to dive fully into what truly matters to us. It's never too late for this kind of profound intimacy." —Dr. Saida Désilets, author of Desire and advocate for Sexual Sovereignty

"Lissa's teachings on the Inner Pilot Light help us get in touch with the unharmed, whole, and holy space within us. Most of us don't know what we think or feel or even who we are, and as many tools as there are to teach us, our truths can often remain elusive! With this body of work, practiced by hundreds of thousands worldwide, Lissa shares her essential wisdom with us. Immediately applicable and essential access to our inner wisdom." —Shiloh Sophia, artist, poet, teacher
Sounds True, 9781683642701, 416pp.
Publication Date: February 12, 2019
About the Author
Lissa Rankin, MD, New York Times bestselling author of Mind Over Medicine, The Fear Cure, and The Anatomy of a Calling, is a physician, speaker, founder of the Whole Health Medicine Institute, and mystic. Passionate about what makes people optimally healthy and what predisposes them to illness, she is on a mission to merge science and spirituality in a way that not only facilitates the health of the individual, but also uplifts the health of the collective. Bridging between seemingly disparate worlds, Lissa is a connector, collaborator, curator, and amplifier, broadcasting not only her unique visionary ideas, but also those of cutting-edge visionaries she discerns and trusts, especially in the field of her latest research into "Sacred Medicine." Lissa has starred in two PBS specials and also leads workshops both online and at retreat centers like Esalen and Kripalu. She lives in the San Francisco Bay Area with her husband and daughter. For more, see LissaRankin.com.
or
Not Currently Available for Direct Purchase